In 1997, Decathlon founded Quechua dedicated to hiking and camping. Fast forward to 2015, we set up Forclaz for trekking products' creation. Our global design centre is based at the foot of Mont Blanc for developing innovative products to meet your needs. This location makes a real meeting place between our teams (designers, product managers, engineers...) and outdoor sports enthusiasts from around the world!
FORCLAZ TENT MT 900 2 PERSONS

Dedicated lab and field tests not only allow us to identify more durable colours, but also ensure the tents are lightweight and have strong resistance against rain and wind. Good ventilation also helps limit humidity inside the tent, making it last longer.
FORCLAZ TREKKING BACKPACK MT900 UL 45+10L

Well aware of the hikers' need, we design our backpacks to be light and ensure greater freedom of movement. Most of our backpacks have a ventilated back structure and comes with a mesh fabric that makes it breathe more and dry quickly.
QUECHUA WATERPROOF MOUNTAIN HIKING SHOES MH500

Mountain lovers can hike in comfort with the thick cushioning and split leather upper that shapes to the foot, and hike safely with the waterproof upper and a rubber toe bumper. Our waterproof range has an extremely grippy rubber sole with spikes and can keep your feet dry for 6 hours in all weather.


Need some shopping inspiration for camping items? Check us out!
WHAT DOES SERIES 100/500/900 REPRESENT?
Most Decathlon own brands are categorised as 100/500/900, made with different designs and materials and reflecting models suitable for entry-level, intermediate, and advanced sports users. They can decide which product is right for them based on their camping environment or the conditions of the hiking route.
OUR INNOVATION, YOUR PEACE OF MIND
All our products are built to perform and made to last. On average, the development of a product takes about 18 months, from design to market.
We test the airflow and develop the ventilation technology for our backpacks and tents in our lab.
All of our products are tested by real users in both mountains and labs, before launching onto market. We make use of 11 different materials to make our shoes more comfortable while keeping your feet well protected!
We try to lower the possible environmental impact by Eco-designing, making the entire manufacturing chain as sustainable as possible. From 2026, we want 100% of our products in our catalogue to be eco-designed.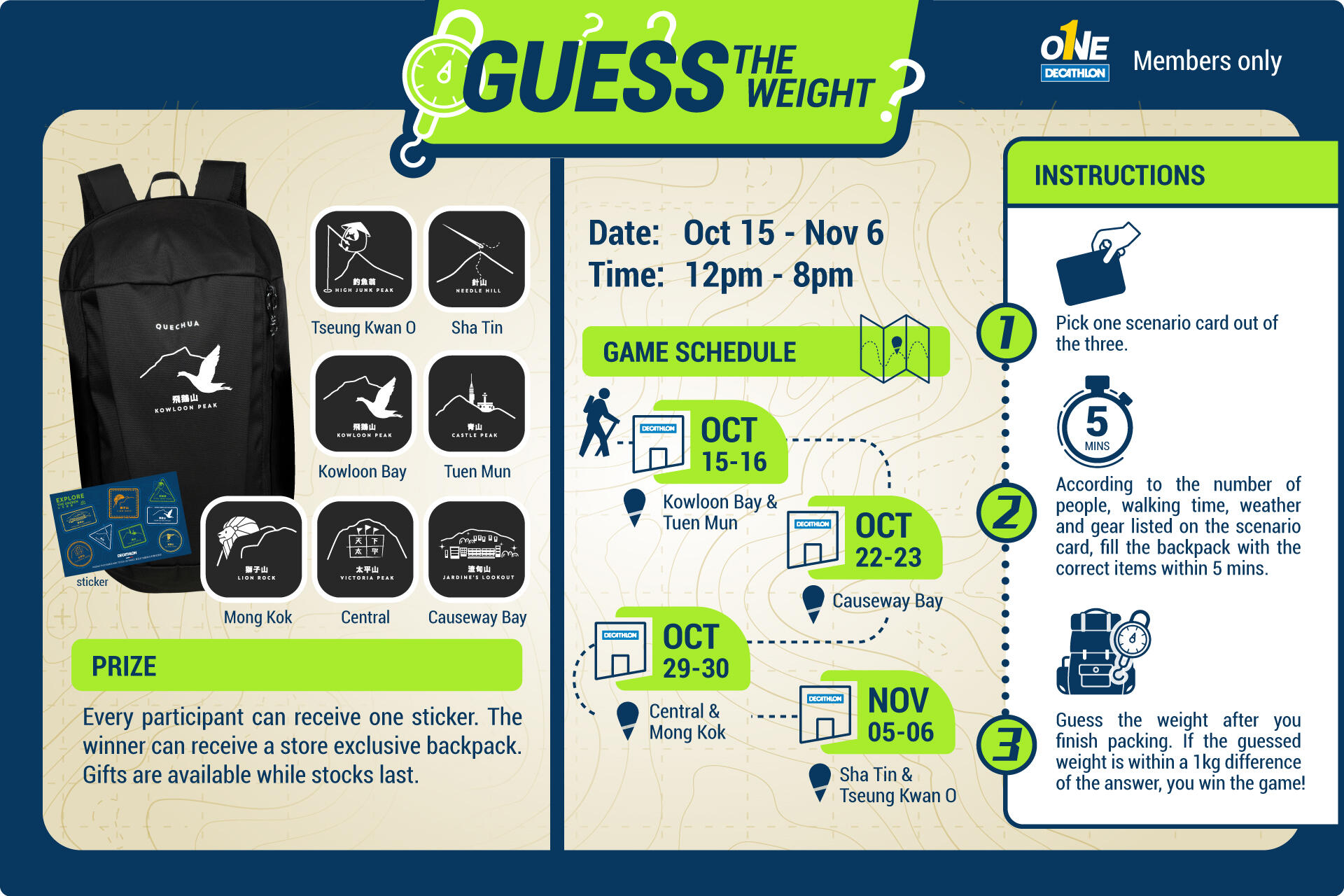 TERMS AND CONDITIONS
1.This event is organised by Decathlon Hong Kong. Details as follow: Decathlon Kowloon Bay: 12nn-8pm from 15th October 2022 to 16th October 2022; Decathlon Tuen Mun: 12nn-8pm from 15th October 2022 to 16th October 2022; Decathlon Causeway Bay: 12nn-8pm from 22nd October 2022 to 23rd October 2022; Decathlon Central: 12nn-8pm from 29th October 2022 to 30th October 2022; Decathlon Mong Kok: 12nn-8pm from 29th October 2022 to 30th October 2022; Decathlon Tseung Kwan O: 12nn-8pm from 5th November 2022 to 6th November 2022; Decathlon Shatin: 12nn-8pm from 5th November 2022 to 6th November 2022 2.Participants of this event agree that they have read, understood and agreed to be bound by the terms and conditions. 3.The event is held at Decathlon Hong Kong stores. 4.Participants must provide their Decathlon Hong Kong membership number for participating the event. 5.Each membership number is eligible for one game per day. 6.Prize is non-exchangeable for cash and other products. 7.Decathlon Hong Kong has the sole discretion in determining game mechanism, game rules, participants' list, eligibility, prizes and any dates and time in relation to this event. 8.Decathlon Hong Kong Company Ltd. reserves the final right to suspend, modify or terminate this event and/or any of the terms and conditions without prior notice. In case of any dispute, the decision of Decathlon Hong Kong Company Ltd. shall be final. 9.These terms and conditions are prepared in English and Chinese. In case of any conflict or discrepancy between the two versions, the English version shall prevail. 10.For enquiries, please call Decathlon Customer Service team at 5993-3727. Each participant shall be physically fit and has the ability to participate in the Event. Staff of Decathlon Hong Kong reserve the right to disallow/disqualify any person known or suspected by the Organizer/Event Producer to be physically unfit to participate in the Event and such person shall accept such decision of the staff of Decathlon Hong Kong accordingly.