Sup | 4 route recommendations in hong kong
Want to try stand up paddleboarding this summer? Discover the trails in Sai Kung, Tai Po, Ma On Shan and grab your gear!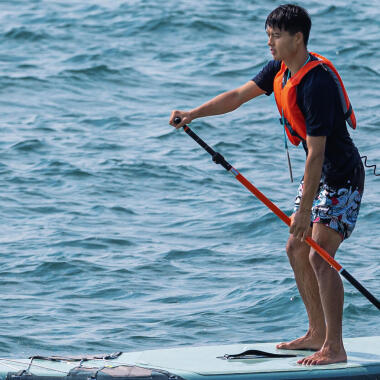 1.Ma on shan, wu kai sha
Route: wu kai sha beach > pak shek beach > starfish bay > nai chung beach
From Wu Kai Sha Beach to Pak Shek Beach, the journey takes about 30 minutes including a break. As you turn into Tolo Harbour, the waves will be bigger. Stay aware! After passing the Pak Shek Barbecue Site, you will reach a private beach called Pak Shek Beach. The sand is soft but the oyster shells are washed up to this beach too. Wear aqua shoes if needed. In 15 minutes, you will arrive at Starfish Bay, which is a restricted conservation area. If you can make time, you can even enjoy the sunset at Ma On Shan on the way back.
2. Sai kung city
Route: sai kung sha ha > pak sha chau > kiu tsui > snorkeling > sai kung sha ha
Paddling from Sha Ha to Sai Kung Hoi, you will pass by several small islands on the way. It is recommended to go further to Pak Sha Chau. It is worth visiting as the beach is cleaner with clearer water. There are two other beaches on the island, called Kiu Tsui Swimming and Half Moon Bay, also known as Ha Mun Bay.
3. Sai kung acacia bay
Route: acacia bay > green egg island
It takes about 45 minutes to 1 hour to go from Acacia Bay to Green Egg Island. The route is very simple and suitable for beginners.
4. Tai po
Tai po sam mun tsai > ma shi chau geopark > mangrove forest > hidden rock beach - pak sha tau rock beach > tai mei tuk lung mei beach > view of cishan temple avalokitesvara > return trip
From Sam Mun Tsai towards Ma Shi Chau, the sea is quite calm and very suitable for kayaking or stand-up boarding beginners. On the way, you will see the mangrove forest, which has great ecological value. If you continue in the direction of the dam, you will reach Pak Sha Tau Beach, where you can enjoy the view of Pat Sin Leng and Ma On Shan. If you go further along the dam, you will see Lung Mei Beach. After passing through Lung Mei Beach, you will be close to Yang Chau and find the Avalokiteshvara statue of Cishan Temple from afar!
Other spots for sup yoga:
1. Silver Mine Bay, Mui Wo
2. Repulse Bay
3. Acacia Bay, Sai Kung