Enjoying badminton with family and kids
As a badminton enthusiast of course you would like to play all the time, with your friends, family and your kids. However, in special circumstances like now we'd prefer to keep social distancing by staying home or avoiding populated places. It is especially a good time to spend more time with your family and playing badminton is a nice way to bond with your loved ones. In Decathlon we understand your needs and have everything you need to play badminton, indoor or outdoor, with or without court, and equipment for your kids too!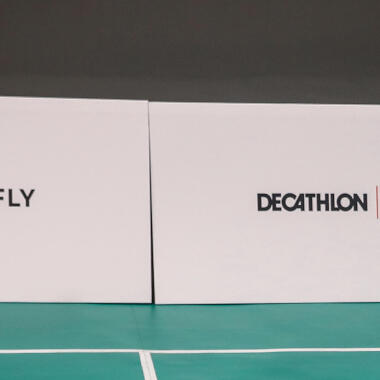 1/ Build your court anywhere
Our Easy Net allows you play anywhere with this portable net. Lightweight, easy to carry and set up, your perfect companion to enjoy the badminton fun with your family.

STABILITY

The 4 contact points and stability bar make it stable no matter where you are!

EASY ASSEMBLY / DISMANTLING

The telescopic tubes make it easy to assemble and dismantle.

EASY TO MOVE

The storage box is light and easy to carry.

Gear for the small ones
Designed for an introduction to badminton for children. These rackets are smaller than adult ones, allowing kids to play badminton matches against their parents. The set contains two rackets for kids, as well as a foam ball and a shuttlecock. Kids will be able to learn badminton at their own pace.

 

DURABILITY

Thanks to their steel head, these rackets are very sturdy.

POWER

The larger sweet spot allows you to achieve more power.

HANDLING

The ideal rackets for your kids' first rallies.

 
Teenagers can play too!
Kid beginner badminton player who looks for racket which is easy to handle with great value price ratio. Kid racket helps your child learn to play badminton easily. Its sturdiness and easy use make playing badminton fun for children!

 

DURABILITY

The aluminium head and steel shaft make the racket very solid.

POWER

The larger sweet spot allows you to achieve more powerful shots.

HANDLING

The racket's length is suitable for children.
Choose the right shuttlecock
Playing badminton can be costly as feather shuttlecocks are consumables. They break easily and don't do well playing outdoor. This plastic shuttle will provide you with stable trajectories thanks to its plastic skirt. A small touch of colour keeps the shuttle nicely visible while in play.

 

DURABILITY

The plastic skirt makes for a long-lasting shuttle.

CONTROL

The plastic skirt allows you to achieve stable trajectories.

USER COMFORT

The foam tip is comfortable on impact—good for beginners.