How to dress efficiently for tennis in ever-changing weather?
It is important to stay warm when heading to the court while maintaining convenience as you start the game.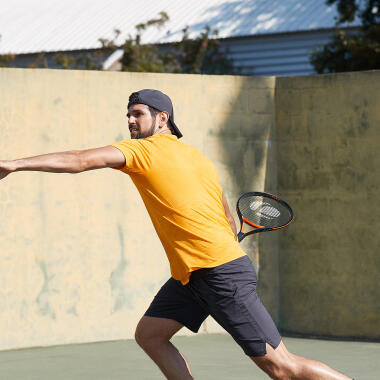 Jacket
Decathlon Tennis Team recommends a breathable tennis jacket so you won't feel stiff on your way to the court or when doing warm up exercise. The zipper design lets you take the jacket off easily.
Tee
The right tennis tee should be stretchy that increases your agility on court. Our tees contain mesh fabric at the back that makes it breathable and perspiration wicking.
Bottoms
Apart from providing warmth and comfort, our bottoms also come with large pockets to hold 3 balls. There are also zip ankles for easy dressing without taking off your shoes.
Socks
The thick knit of our socks offers good abrasion resistance. There are also thick plush loops under the foot which reduce the risk of blisters. The socks also contain plush loops, and the softness of combed cotton provides comfort and ventilation.
Shoes
A pair of lightweight shoes can facilitate propulsion on the court. The EVA injected foam midsole could create cushioning and protect your feet. There is also thick rubber outsole with reinforcements for maximum abrasion resistance.
Cap
The mesh material keeps you cool as you play. The cap also has an adjustment system at the back for a snug fit.