Cycling | 3 Kids Cycling Parks To Go With Your Children
Cycling at the kids cycling park is great for fun family time. Check out Tsuen Wan Park, Po Kong Village Road Park, and Kowloon Bay Park on weekends!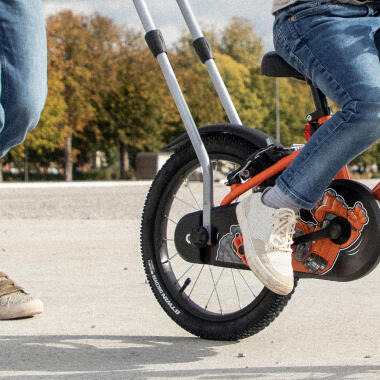 There are several kids cycling parks that provide a safe environment for cycling practice in Hong Kong.
Better yet, some offer bicycle rental services, making them extremely convenient.

Here are 3 of the major kids cycling parks:
1. Kowloon bay park
One of the best kids cycling parks is Kowloon Bay Park. Because it is not in the heart of the city, fewer people go there, and it has earned the reputation as a hidden gem.

- The track is designed as a figure of 8, and it has elevated bridges,
separate areas for different level - beginners
- Parents can rest assured that there is a wide variety of areas perfectly suited
for different skill levels
- Additionally, since you can easily rent bicycles at this kids cycling park, there is no need to worry about bringing your own
- If cycling around the park was not enough, there is also a children's playground
nearby to let your kids burn off excess energy

Address: 18 Kai Li Road, Kowloon Bay, Kowloon
Opening hours: 7:00AM-11:00PM
Bicycle rental: Yes
How to get there: Walk for about 15 minutes from Kowloon Bay MTR Station;
                          or take the minibus 51M;
                          or take bus 5D, 107, 13X, 15A, 24, 28B, 74A, 107, 224X or 641
2. Po kong village road park
Our second recommended kids cycling park is also located in Kowloon.
As Hong Kong's first elevated cycling track, Po Kong Village Road Park offers over 1 km of track.

Built up in the air, you can enjoy a fresh breeze as you cycle.
There is no age limit for entering the elevated bicycle track,
but we still recommend everyone to wear a suitable helmet.

This kids cycling park also has a flat path for beginners, ideal for children to practise and
master the basics before heading onto the more challenging areas.

Address: 140 Po Kong Village Road, Diamond Hill, Kowloon
Opening hours: 8:00AM-10:30PM
Bicycle rental: Yes (Business hours: Monday to Friday 10:00AM-7:00PM;
                                Saturday, Sunday, and public holidays 10:00AM-8:00PM)
How to get there: Take the minibus 19M;
                              or take bus 3B, 3D, 3M, 116, or 203E
3. Tsuen wan park
Tsuen Wan Park is one of the largest parks in Hong Kong, covering an area of about 6.9 hectares.

Convenient enough, it is only about 10 minutes away from the Tsuen Wan West Rail Station.

There is enough space and covering 2,800 square metres for the children to practise cycling.
The main cycling track has flat roads, ramps, and winding routes that make it super fun!

Address: 59 Wing Shun Street, Tsuen Wan, New Territories
Opening hours: open 24 hours
Bicycle rental: No
How to get there: Walk about 10 minutes from the Tsuen Wan West Rail Station
Cycling is good for both the body and mind
It is also a great way to improve your relationship with your kids.

Bicycle parks offer a safe environment for children to learn, and they remain completely free of charge.

Lastly, remember to prepare suitable cycling clothing and equipment before you leave.

Cycling shorts, helmets, gloves, elbow and knee pads and more can keep your children well protected. 
How do i choose the right bike size for my child?
Choosing the right bike size will boost your child's confidence and sense of balance.