CYCLING | DECATHLON IN-STORE BIKE SERVICES
If you're tired of spending your weekends at busy shopping malls, why not plan a cycling trip? Following the recent opening of the New Territories Cycle Track Network, there has never been a better time to get into cycling!

Bike rental fees can soon mount up, so it often makes sense to purchase your own bike. Decathlon offers a wide range of bikes for adults and children, as well as comprehensive before and after-sales services.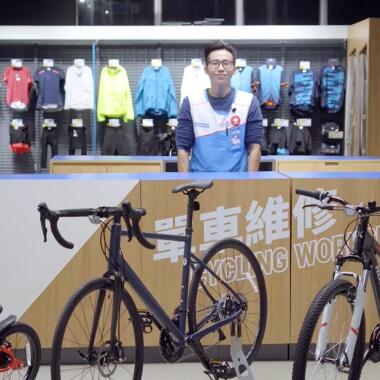 1. "TEST & BUY" Service
Before investing in a new bike, it's essential to go for a test ride to make sure that you choose the right type and size of bike for your needs. Decathlon has launched a new "TEST & BUY" service, which allows you to try four different types of bike during the rental period (Folding bike, Hybrid bike, Mountain bike or Road bike). You can also try out different sizes to find the bike that's best for you.
MONG KOK STORE
Mong Kok store address: B/F, Grand Plaza (take exit E1 from Mong Kok MTR station)

* For more information, please visit our Mong Kok store and contact cycling ambassador in the bike department.
* The 10-day rental service costs $1000, which is redeemable against the purchase of any Decathlon bike within 60 days.
* If you do not purchase a Decathlon bike within 60 days, the rental fee will not be refunded.
* Subject to availability; Decathlon reserves the final right of decision.
2. Test ride facilities
(Tseung Kwan O store)
Have you been to Hong Kong's largest sports store?

Boasting a huge floor space covering 72,000 square feet, our Tseung Kwan O store features an outdoor sports terrace where you can try out our bikes before making a purchase.
The store also stages regular sports-themed events
Including presentations by professional cyclists.
3. Bike repair workshop
(Mong Kok and Tseung Kwan O stores)
In addition to a wide range of cycling gear and accessories, Decathlon also offers a comprehensive bicycle repair and maintenance service.

Regardless of whether you purchased a Decathlon bike, our cycling experts will be happy to offer professional advice and tips.

To find out more, visit our cycling workshops in our Mong Kok or Tseung Kwan O stores.
4. BIKE CLEANING PRODUCTS
(TSEUNG KWAN O STORES)
Specialist bike cleaning products from the UK-based firm Muc-Off are now available from select Decathlon stores. Regular cleaning helps to keep your bike in optimal condition.

To find out more, visit us in-store and ask one of our cycling experts.
MUC-OFF PRODUCTS (MONG KOK STORES)