CYCLING | TEST RIDE ON NEW CYCLE ROUTE BETWEEN SHEUNG SHUI & YUEN LONG
A new cycle track linking Yuen Long with Sheung Shui has opened to the public in September. It has become a popular leisure destination for families.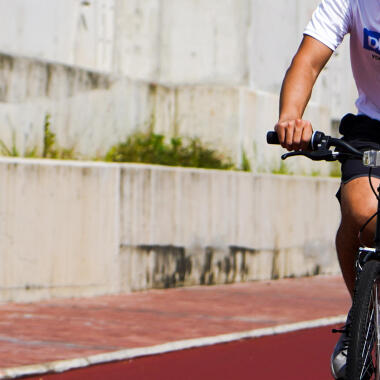 60 km Cycling Track
From Tuen Mun to Ma On Shan has become a popular leisure destination for families.

Our cycling expert Andy has been to explore the newly opened route between Sheung Shui and Yuen Long,
which passes by a number of local attractions including Long Valley, San Tin and Kam Tin River.
Overview of Sheung Shui – Yuen Long Route
Route:
Sheung Shui Bike Kiosk > Sheung Shui Ambulance Depot > Kwu Tung (Lung Tang Kok) >
Ho Sheung Heung Road > San Tin Public Transport Interchange > The Boxes > Shek Wu Wai Road > Yau Pok Road > Fairview Park Boulevard > Pok Wai > Pok Oi Interchange > Yuen Long Cycling Hub

Distance:
Approx. 18 km

Duration:
Approx 2 hours (including breaks and photo stops)

Physical Effort:
1.5 / 5 (short route, mostly flat)

Technical Difficulty:
2.5 / 5 (Kwu Tung section crosses numerous busy roads and bollards)

Public Transport Access (Starting Point):
Take exit A3 at Sheung Shui MTR station and walk along the pavement
until you reach the Sheung Shui Bike Kiosk

Public Transport Access (End Point):
When you reach the Yuen Long Cycling Hub, turn right onto Long Ming Street,
where you will see Yuen Long MTR station (exit H)
'The Boxes' Shopping Centre at San Tin
The newly opened route between Sheung Shui and Yuen Long has an excellent surface
that is perfect for cycling and passes a number of scenic attractions.

In addition, the route is mostly flat and is therefore not physically demanding.

In addition to cycling through Long Valley and enjoying the sunset next to Kam Tin River,
you can also take a break at The Boxes shopping centre in San Tin
(the Fujiwara Tofu Shop is a popular photo spot).
Beware of Traffic When Crossing Roads
At the weekends, the route between Sheung Shui and Yuen Long can get very busy,
especially when people stop to take photos.

The route also crosses a number of roads, where cyclists are required to dismount.

This is especially the case along the Kwu Tung section of the route, which crosses
several roads over a distance of just 1 km.

To reduce the risk of an accident, beginners and family groups are recommended to
dismount along the narrow sections of the route near Kwu Tung.
Bicycle Rental Guide
Bicycles are available to rent from the Sheung Shui Bike Kiosk next to the Shek Wu Hui Post Office near Sheung Shui MTR station.

The bicycles can be returned to the Yuen Long Bike Kiosk at the end of your tour.

The Sheung Shui Bike Kiosk has bathroom and drinking water facilities for visitors.

Before setting off, remember to check that the gears and brakes are working smoothly and
that the tyres have enough pressure.
Recommended Bicycle Type: Hybrid Bike
If you don't want to rent a bike, we recommend choosing a hybrid bike.

Hybrid bikes are designed for riding in parks or on smooth off-road trails and
have tyres that are wide enough to ride over gravel tracks and gentle slopes.
SEE MORE IMAGE
We used the hybrid 100 RIVERSIDE for our test ride.