Decathlon Spring & Summer Collection 2021!
5 new innovative products for a better exercise routine

Take a look at these five products that are guaranteed to take your fitness routine to the next level!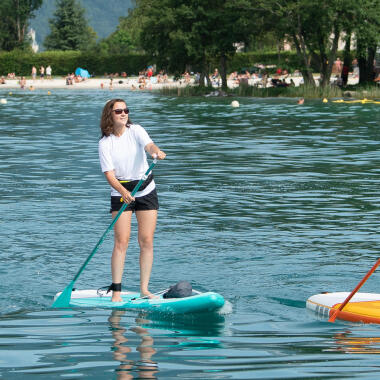 In an ever faster world, we all need inspiration to face up to new challenges. Sport is about much more than keeping fit – it also helps us to stay motivated. That's why it's so important to ensure you have the right gear – products that are not just practical, but which also feature innovative functions, smart technology and intuitive designs. If you're looking to kit yourself out with the latest gear, take a look at these five products that are guaranteed to take your fitness routine to the next level!

ST 500 ROCKrider Kids Mountain Bike
Never underestimate your little one's ability to learn new skills! Children under 10 years of age don't have to ride a tricycle – after careful training, they can also learn to ride a mountain bike in off-road terrain. This 20" mountain bike is designed for children with a height of 120 to 135 cm and features 6 gears to help your little one ascend hilly terrain with ease. It also has front suspension and high-grip mountain bike tyres that provide increased stability and help young riders to conquer any mountain or road routes.
 easily change gears (6 speeds)
Mountain Bike Skinwall Tyre
 easily change gears (6 speeds)
Mountain Bike Skinwall Tyre
Mini electric massage gun
Say goodbye to post-workout muscle pain! This massage gun helps to relax your muscles so that you recover more quickly from tough workouts. There's no need to spend a fortune on expensive massage devices – this mini version is easy to use with a simple on/off button and can be used to massage numerous muscle groups, including the feet, arms, chest and neck. This new eco-friendly version uses 35% less plastic and charges via USB, which is more environmentally friendly!


11" inflatable stand-up paddle board
This touring inflatable stand-up paddle board can be used in lakes or the sea and ideal for a fun day out at the seaside. Designed by our team of fellow paddlers, this 11-foot stand-up board is made from a durable, impact-resistant dropstitch & PVC construction and is designed for half-day trips for beginners weighing more than 80 kg. It can accommodate a load of up to 320 kg. The large dimensions, intuitive design and durable materials mean that it is suitable for both cruising and small waves.
Air 100 inflatable body board
No more forgetting your air pump when you go to the beach!  Decathlon's AIR range of inflatable body boards come with a waterproof bag that doubles up as an air pump and pumps the body board in less than one minute. This body board features soft edges and a comfy deck, making it ideal for beginner and intermediate-level bodyboarders in waves of up to 1 metre. The waterproof bag can also be used to store fins, ponchos or wetsuits and can be compacted to 20 litres for easy transport.
35 L sports rucksack
If sport is part of your daily after-work routine, a practical rucksack that can accommodate your sports gear and other everyday items (e.g. a laptop) is an absolute must. This 35 L features a number of separate compartments as well as a padded back for increased carrying comfort. Thanks to the water repellent exterior, you don't need to worry about your belongings getting wet when you're out and about.

At Decathlon, we are committed to providing innovative products that will help you to achieve new goals, whatever the challenges you may face. Are you looking for new ideas and products to keep you motivated this spring or summer season? Take a look at these two recommendations!