How to choose your kids dinghy sailing clothing?
 Want your kids try new activities? Broaden their horizons? Dinghy sailing requires kids independent thinking, analyse and quick react.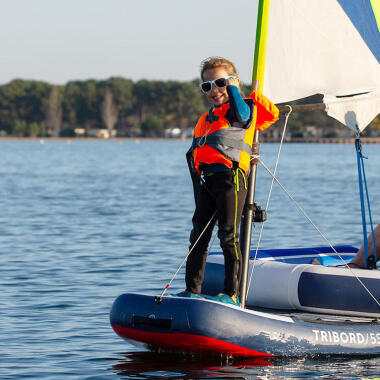 Good sailing clothing is essential to ensure your safety and comfort, so you can focus on enjoying sailing in a dinghy or catamaran.
1. In winter
In winter or when you're likely to face very cold temperatures opt for:

- A fleece thermal top as the first layer, especially if you tend to feel the cold

- A neoprene suit that's well adjusted to your height will enable you to keep warm without restricting your movement during your sailing session

- A smock is effective against chilly winds
2. In summer
Even if it's hot, you always need to wear a neoprene suit . You're more likely to get wet in a catamaran or a dinghy which, added to the effect of the wind, increases the chilly feeling.

The suit should prove sufficient to make you feel comfortable, however, it might be a good idea to take a smock with you on the boat in case the cold becomes a real problem.
3. A few more tips
In order to protect your hands, choose the right gloves for your type of sailing.

There are three types of gloves:

- in hot weather, choose fingerless gloves~- in cold weather, deckhand gloves are recommended as they help grip ropes more easily~- in very cold weather, opt for neoprene gloves as they will provide you with better thermal comfort

To ensure your feet remain comfortable, consider investing in boots designed for sailing. They have reinforced insteps to limit the wear of the straps, and non-slip soles.