Discover coros award winning multisport gps watches
COROS watches are GPS sport watches are to be used for all athletes, designed for road runners and trail runners. Discover more on COROS advanced technology, becoming an Award winning multisport GPS watch.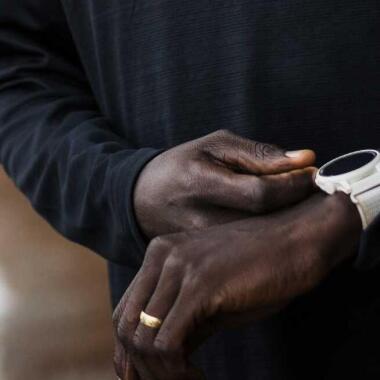 Used by the world record marathon holder
Eliud Kipchoge beat the world Marathon champion the first time in Berlin in 2018, completing the 42 km race in 2:01:39. He then became the first and only Marathoner finishing a race under 2 hours in Vienna in 2019.
Designed, tested and perfected for athletes, by athletes
The COROS team of Atlhetes PRO have all used COROS products extensively in the world's most challenging situations. Most importantly, they share the same passion for making the best products for athletes around the world. COROS users have set world records and gone to the highest points on the planet.
Award winning gps watches
The COROS VERTIX is awarded as the best altimeter watch by Outdoor Gear Lab.
The COROS APEX wins the award for Best Equipment 2019 by Runner's World.
COROS APEX Pro awarded best equipment by BelieveInTheRun.
The COROS APEX is listed as one of the best pieces of equipment of 2019 by Triathlete magazine.
COROS APEX wins the 2019 Editors' Choice Award from Runner's World magazine.
Buy coros watch in hong kong
Coros pace 2 premium gps sport watch - blue
1.2 in. 240 x 240 Display size
35g-36g
Corning® Glass
60 Hours
Sleep Monitoring
3rd Party Integration (Strava, TrainingPeaks, etc)
Structured Workouts & Training Programs
5ATM (50 Meters/164 Feet) Water resistance
Apex 42mm premium multisport gps watch - white and black
1.1 in. 218 x 218 Display size
49g
Sapphire Glass
80 Hours
Breadcrumb Navigation
Back-To-Start Navigation
Apex 42 have 7 sports more than pace 2
10ATM (100 Meters/328 Feet) Water resistance
Coros pace 2 premium gps sport watch - blue
1.2 in. 240 x 240 Display size
35g-36g
Corning® Glass
60 Hours
Sleep Monitoring
3rd Party Integration (Strava, TrainingPeaks, etc)
Structured Workouts & Training Programs
5ATM (50 Meters/164 Feet) Water resistance
Apex 42mm premium multisport gps watch - white and black
1.1 in. 218 x 218 Display size
49g
Sapphire Glass
80 Hours
Breadcrumb Navigation
Back-To-Start Navigation
Apex 42 have 7 sports more than pace 2
10ATM (100 Meters/328 Feet) Water resistance
Coros pace 2 premium gps sport watch - white
1.2 in. 240 x 240 Display size
35g-36g
Corning® Glass
60 Hours
Sleep Monitoring
3rd Party Integration (Strava, TrainingPeaks, etc)
Structured Workouts & Training Programs
5ATM (50 Meters/164 Feet) Water resistance
Gps coros adventure vertix dark rock
1.2 in. 240 x 240 Display size
54 grams, making it the lightest watch in its class.
Diamond-like Coating Sapphire Glass
150 Hours
Action Camera Control (GoPro, Insta360)
24/7 Blood Oxygen Monitoring at High Altitudes
Landscape Map Layer
Altitude Mode
15ATM (150 Meters/492 Feet)
Coros pace 2 premium gps sport watch - white
1.2 in. 240 x 240 Display size
35g-36g
Corning® Glass
60 Hours
Sleep Monitoring
3rd Party Integration (Strava, TrainingPeaks, etc)
Structured Workouts & Training Programs
5ATM (50 Meters/164 Feet) Water resistance
Gps coros adventure vertix dark rock
1.2 in. 240 x 240 Display size
54 grams, making it the lightest watch in its class.
Diamond-like Coating Sapphire Glass
150 Hours
Action Camera Control (GoPro, Insta360)
24/7 Blood Oxygen Monitoring at High Altitudes
Landscape Map Layer
Altitude Mode
15ATM (150 Meters/492 Feet)
Advice from edmond, decathlon running offer leader
Running in Hong Kong with Coros Pace
Cadence: Number of steps a runner takes per min
Runner power is align with HR & Pace, reflect intensity
During LT1: same pace for 3-5 hours
Vo2 max is a measure of the maximum amount of oxygen your body can utilize during exercise
Heart rate reserve: Max HR-resting HR