Fishing | get your first fish - best spot, fishing kit and rules
New to fishing? Check out where and how to get started before setting out on a fishing trip. Find out how to release a fish and choose a fishing spot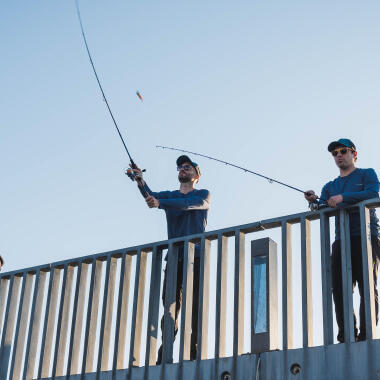 For young and old alike, fishing is a great way of discovering, or rediscovering, the fascinating underwater world. What's more, you don't need a great knowledge of nature to catch your first fish or collect shellfish. With simple equipment, a little healthy curiosity and armed with some good advice you are ready to go. Whether you want to fish from the shore with a rod or discover the underwater world on the beach, here are some recommendations to help you have fun by the sea.
First trip, first fish
During your holiday you have no doubt met fishermen making the most of the sea and enjoying the stunning scenery. Perhaps you have even asked yourself how and what essentials you need to catch a fish. Simple and affordable techniques are available for everyone to catch their first fish at the seaside.

The best way to get started is to fish from the shore, targeting the small fish that live along our coastline.  It's easy and you can do it anywhere. Accessible to all, it's a great way to have fun with family and friends. It is also an excellent way of introducing children to fishing and teaching them to respect nature.

For shore fishing you can catch small fish armed with a ready to fish set, comprising a 3-4 metre rod with rigged line and some baits. You may also want to take a box of weights with you to adjust the weight of the rig if need be. For fishing more than 5 metres from the shore, you could use a set with a reel.

Ready to fish sets
Complete kit with line, hook, float and baits.  All-in-one, perfect for on the go.
Releasing the fish
Releasing the fish back into the water should be done in a way to give it the best chance of survival. The fish should be handled gently and the hook removed delicately. To do this, crush the barb of the hook to make it easier to remove. Wet your hands before handling to avoid damaging the fish. Do not throw the fish back into the water, but place it gently on the surface and it will swim away by itself.

If the fish finds it difficult to swim away, help resuscitate it with forward and backward movements.

Tip : Use a floating keepnet to keep your fish in the best possible condition. Then you can take a photo of your catch, which can then swim away easily.

Choosing a fishing spot
The sea's vastness poses a dilemma when we have to choose a good spot to fish. Luckily, when you are just starting out with family and friends, the best spots for beginners are usually near holiday-makers' favourite sites. Harbours, sea walls and rocky shorelines are perfect food sources for fish who go there to feed. Prawns, crabs and worms are just a few of the delicacies available to them. These are the areas to go and catch fish.
A few general rules for shore fishing
Respect is a fundamental principle when fishing, as it is in all aspects of life. If you behave with courtesy at the water's edge, other fishermen will be more willing to help you if the need arises. Here are a few rules to help you enjoy your time at the seashore:

1- Do not set up next to another fisherman. Maintain a respectful distance of around ten metres.

2- Do not throw anything near another fisherman's line. There are more appropriate places ….

3- Do not cast your line under the nose of another fisherman. Apart from the risk of the lines becoming tangled, it is also impolite.

4- If you fish in a harbour, be aware of boats. If you cast too near you run the risk of hitting them and your line could become entangled in ropes. As a beginner, choose more open areas.

5- The coast belongs to everyone and should be respected. Make sure you don't leave anything lying around (hooks, litter etc.) while you fish and take everything with you when you have finished.

Shellfish collecting
Our shoreline is home to an extremely rich diversity of living species, including shellfish, prawns and crabs. Collecting shellfish is an ideal activity for children to discover life beneath the sea. Every summer many holidaymakers enjoy this type of fishing. It is important to respect good practices (rules, minimum size) so that the fishery remains sustainable for the benefit of all.
Advice
1- It is your responsibility to check before each fishing trip that there are no local or temporary fishing bans. You can find this information at the tourist office, town hall, harbour, etc.…

2- Find out the times of high and low tides to avoid getting trapped. These times are readily available at the nearest tourist office, at the harbour or on the internet…

3 – Each rock you turn over must be put back in the same place so that anything it shelters is not dried out in the sun… This simple action makes all the difference.

4- Protect yourself against sunburn. The cool sea breeze is deceptive and we often don't feel too hot, but the sun is still there.

5- To avoid sprains and cuts, do not go barefoot.

6- You should not touch the equipment of professional fishermen (oyster parks, nets, etc.).

You now know all you need to enjoy fishing with the family during your summer holidays. See you soon on the shore!