Fitness | home workout - cardio training
Let's break a sweat at home!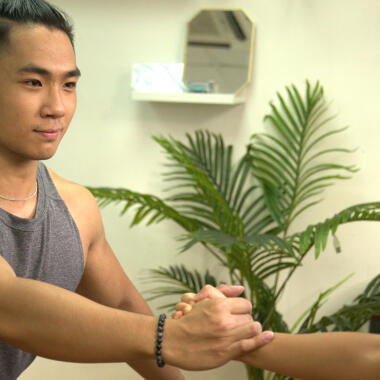 Build your cardiovascular fitness at home even when you have no treadmill By using different simple equipment, you can design different sessions of cardio training at home
Battle rope
By altering different battle rope exercises within the session, your upper body, core muscles and lower body could all be trained effectively. Battle rope training offers a whole body and high intensity training which also improves your cardiovascular function. It is a less time-consuming but still effective cardio training. For beginners, you can try these four battle rope exercises in our previous sport advice first. You can start with 2 to 3 exercises per cycle and perform 3 to 4 cycles.
Kettlebell
Limited space and budget could never stop you from your training. All you need is just one kettlebell to build a effective cardio interval training. Kettlebell cardio training helps to burn fat and train your body coordination at the same time. Kettlebell exercises like swing, clean and squat press are not only functional to your weight training but also your cardio training. With only one kettlebell, you can still achieve your goals even when you have limited workout tools and space.
Rope skipping
You want to burn fat and yet jogging is too boring for you? Try to put rope skipping into your training. Rope skipping could burn a huge amount of calories within a short period of time. Moreover, you can learn and perform different skipping tricks which make it a lot more fun for you cardio session. We recommend beginners to learn the correct posture and landing techniquSe when approaching rope skipping. Then, you could try to prolong the duration and perform more tricks to intensify your workout.
Bodyweight exercise
You need no equipment and no experience to perform a simple bodyweight training session. We suggest you to start with a few of beginner level of exercises. By altering the exercises within the session and keeping the intensity high enough, it is effective enough to improve for your cardiovascular fitness. For beginners, you can start with 1 to 2 sessions per week to build up a habit of exercise. Remember to keep hydrated and do your warm-up.
Equipment you may need...
Just fell in love with your cardio training session at home? 
TO TRAIN YOUR SUMMER FIGURE, YOU WILL NEED WEIGHT TRAINING AS WELL. BROWSE THE REST OF OUR HOME WORKOUT TRAINING ADVICE. HOME GYM IS ALWAYS YOUR BEST GYM WHICH OFFERS YOU NO EXCUSE TO STOP YOUR TRAINING