Fitness | Home Workout - Upper Body Crusher
We need summer body all year round!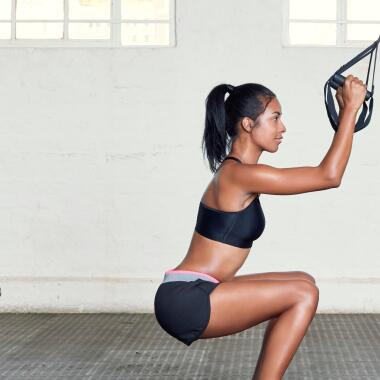 IS IT THE WORST SUMMER IF THERE IS NO GYM FOR YOU TO TRAIN FOR YOUR SUMMER FIGURE? TRY THIS UPPER BODY WORKOUT AT HOME WITH OUR SPORT LEADER DON NOW. NO GYM IS NOT AN EXCUSE TO STOP YOUR TRAINING!
Home training - upper body
Home training - upper body
Face Pull
Stand upright facing the anchor point and hold onto the handles with your arms extended. Then, bring your feet in closer to the anchor point to allow yourself leaning back slightly. Pull the handles towards your ears, keeping your elbows pointed out to the side.
Dip
Hang yourself above the Training Station 100 with your arms straight. Lower yourself by bending your elbow. Keep your torso leaning forward slightly. Lift yourself back up to the starting position.
Inverted Row
Grab the handles from the bottom and hang down directly under the Training Station 100 with just the heels touching the ground. Pull yourself towards to training station. Mare sure you brace your core throughout the entire exercise.
Push Up
Grab the push-up bar with a neutral grip (palms facing each other) at around shoulder width. Lower your body towards the floor, then push yourself back to the starting position. Remember not to let your elbows flare out.
TRYING THE UPPER BODY CRUSHER ALONE COULD NEVER BRING YOU THE BEST RESULT. BROWSE THE REST OF OUR HOME WORKOUT TRAINING ADVICE. HOME GYM IS ALWAYS YOUR BEST GYM WHICH OFFERS YOU NO EXCUSE TO STOP YOUR TRAINING:
Equipments you may need...