The attraction of futsal
Futsal, a sport different from the traditional 11-a-side football. 

Liu Yik Shing - Hong Kong Futsal Representative - introduces you the sport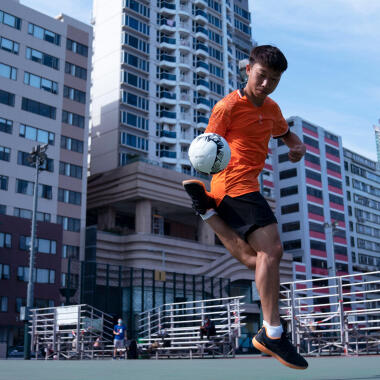 The rules of futsal
The biggest difference between futsal and 11-a-side football is the futsal pitch is smaller and the distance between players is closer. You have to make decisions faster.

In addition, there are no limit for substitution of players in futsal. And the player who has been substituted can go back to the match again. Goalkeepers need to throw the goal kick by hand only instead of using feet. Many players will stay inside the penalty area because there is no offside rule in futsal
The attraction of futsal
When you need to give a pass in a high level 11-a-side football match, you have to consider which feet you need to use and how hard you kick the ball. You have to think even more thoroughly in futsal. Otherwise, you will get punished by your opponent easily. For example, in 11-a-side, if you give a bad pass, your teammates can cover your mistake by running more. In a futsal match, you will easily concede a goal once your pass is intercepted by your opponent.

Because of the smaller pitch, players' decision making needs to be quick, and endurance needs to be high. It makes the match more exciting due to the quick change in the offensive and defensive.
The features of futsal
The bigger difference between futsal and 11-a-side is that the ball is less elastic and bouncy. In futsal, high ball is seldomly used. It helps players control the ball easily. Besides, futsal players tend to dribble the ball with the sole. Low elastic and less bouncy football will be easier to dribble. Some famous Brazilian football players Neymar and Marcelo used to touch the ball with the sole.
 The choice of futsal shoes
"Choosing futsal shoes can be very personal. Some players will opt for a thicker toe cap, because they can shoot or pass with the toe cap. Thick shoes are suitable for this situation.

Some will choose lighter-weight and comfy ones if they like dribbling or passing. These are different preferences."