Football| beach football tips: how to play beach football and its benefits!
Why are professional players practice football on the beach? A lot of trainers believe running on the beach has less stress, which is easier on our joints. Our partner Destiny, coach of the Young Talent Football Team, will teach you how to play beach football and its benefits.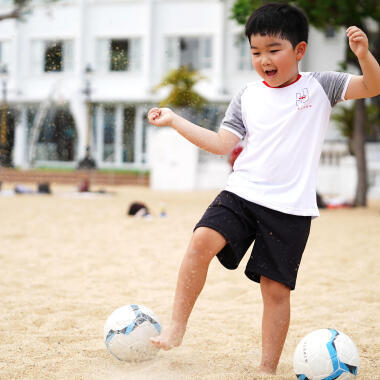 How to play beach football
Playing football on the field is totally different from playing football on the beach. The beach is covered by sand, so how to play beach soccer? If you want a match, there are certain rules that you need to follow. Each team should have 5 players, one goalkeeper, and 4 outfield players. Different from football, beach football does not allow players to form a wall when a free kick is taken. Also, that are certain requirements on the equipment for the professional games, like a portable goal, flags, and full-size football. But if you are just playing for fun, just get the one you like. The most important thing is to wear a suitable football to protect your foot.
ONCE YOU GET PERFECT HERE, IT BECOMES MUCH EASIER TO PRACTICE ON THE FIELD.
Sand creates resistance to run
The sand is your greatest advantage when running on the beach. Since the sand will create resistance, you'll use far more energy running on sand. Also, It requires more stability, speed and strength especially around the core to control the body, burning more calories as a result. Studies suggest that you can burn 30 percent more calories running on sand than on the pitch.
Sand makes dribble harder
Dribbling is the basic skill in football, it is the most difficult skill to learn on the beach also.

As the beach has an unbalance surface, sand will stop the ball moving freely. Players need to spend extra energy and concentrate on each touch, therefore it will improve the dribble accuracy simultaneously. When they come back to hard court or grass pitch, it will be much easier for them to dribble.
Build up core muscle
Beach soccer is great for any soccer player who wants to improve their skill and control, as well as build leg and core strength. With the difficult condition on the beach, players inevitably spend more energy on each training, therefore it helps them to have better strength and endurance.

Moreover, most of the drills from beach soccer emphasis on agility, coordination and balance. When players complete the training on a hot and unstable surface, it also builds up players' mental strength.
Follow the professional
Another way to know how to play beach football is to follow the professionals. Players like Ronaldinho, Neymar, JJ Okocha always practice on the beach in offseason. It is a way to enjoy football and train in difficult condition at the same time. Most of the players can benefit as they grow much more physical, not to mention it trains your basic skills with a much more difficult playground.

Once you get perfect here, it becomes much easier to practise on the field or hard court.
Destiny
Head coach of young talent football team
Destiny from Nigeria is a former professional football player who has led the team to win the championship many times in his 14 years of a coaching career. His coaching style is full of interaction and challenge, and he is good at exploring the potential of students and building team spirit. Coach Destiny established the Young Talent Football Team in 2018 with the belief of "develop with passion", to provide professional English football courses in 15 locations in Hong Kong, with the ages of 1.5-12, and share his enthusiasm for football.