Hiking | how to clean your sunglasses?
Sunglasses - like regular glasses - must be cleaned with care. Check how to clean your sunglasses by following our advice!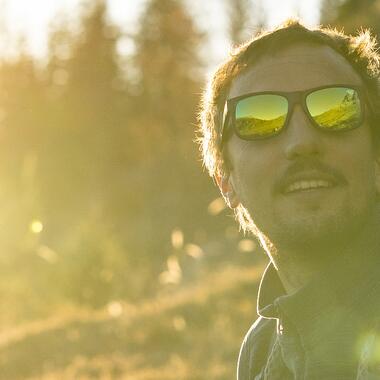 1/ Good habits for cleaning your sunglasses
How to quickly clean for a small smudge or a bit of dust on your sunglasses

Small smudge, dust or fingerprints: use a special microfibre cleaning cloth to give your sunglasses a quick clean. This 100% microfibre cloth helps prevent scratching of the lens.

Fold the cloth over both sides of the lens and gently clean by rubbing in small circular motions.

Stand facing a light source to check if any traces of dirt remain on your glasses. Repeat the process if necessary.

Small and economical, you can take the microfibre cloth with you wherever you go… When hiking, you can just take out your microfibre cloth and clean your sunglasses in an instant!

How to clean larger marks on sunglasses more effectively

Have you just got back from a long outing? How to clean your sunglasses after a strenuous and messy mountain walk? To remove larger marks, run your glasses under clean, cold or tepid water.Clean them with a lens cleaning spray, a drop of liquid soap or PH-neutral washing up liquid and wipe your sunglasses using your microfibre cloth.

Note: if you use washing up liquid, rinse your glasses thoroughly to prevent product residue from irritating your eyes. This more thorough clean requires careful handling to avoid damaging your glasses.
2/ Things to avoid when cleaning your glasses:
Never clean glasses when dry

Have you ever wondered how to clean off a splatter or splash on your sunglasses when your lenses are dry? There is no possible way. When hiking or training, use a little water from your bottle to clean your glasses. Always make sure you run your sunglasses under a bit of clean water before wiping them...it's the best way of preventing scratches!

Hot water should be avoided

Clean your glasses using cold or tepid water, never hot, as you risk damaging your glasses and lens coatings by causing a thermal shock.

Do not use a t-shirt, paper handkerchief or paper towel

If you haven't yet got into the habit of taking a microfibre cleaning cloth with you, don't use a t-shirt, paper handkerchief or paper towel to clean your glasses instead. We strongly recommend that you avoid using these kinds of paper and fabrics as they can easily scratch your lenses.

Stay clear of household cleaning products, disinfectants and acetone

Don't use household cleaning products, disinfectants or acetone to clean your glasses either. These products can damage the lenses and their coatings. The only products you should apply are a cleaning spray for glasses, liquid soap or washing up liquid, which you must then rinse thoroughly.
How to choose your glasses case for your clean sunglasses?
Cleaning sunglasses is important to maintain clear vision and extend the life of your glasses.

To protect your glasses and prevent them from getting dirty when carrying them, remember to get a suitable case.
Amadine - specialist editor, eye health advice
"Remember to protect your eyes and your children's eyes when hiking. My advice: check that the lenses offer 100% UV-protection and choose polycarbonate lenses which provide high impact resistance!"