Hiking  | sunrise or sunset hike : ma on shan ngong ping and lantau peak
Want to to explore some interesting hiking trails in HK? We've been looking for the best places to enjoy the sunrise for you. Check out 2 HK most popular hiking trails in Ma On Shan Ngong Ping and Lantau Peak. Let's hike!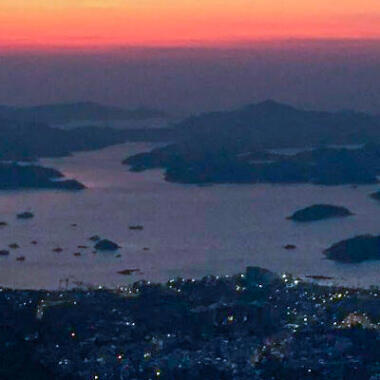 Sunset hike recommendation 1:  hike to ngong ping plateau from ma on shan
Ngong Ping Plateau is situated between Sai Kung and Ma On Shan, this should be an easy hike .Sitting at an altitude of 390 metres above sea level, it is one of Hong Kong's few highland plateaus and offers stunning views over the Sai Kung coastline. During autumn and winter the plateau is covered with silvergrass, and in recent years it has become a popular attraction. Looking east, you can enjoy a spectacular Hong Kong hiking view of the sunrise from the sea. Towards the north is the 536 m summit of Pyramid Hill, which also offers stunning views, although the path is not suitable for beginners, as you will need to scramble during the ascent/descent.

Don't confuse this place with Ngong Ping on Lantau Island – make sure you arrange to meet your friends in the right place!
Hiking routes
There are numerous routes for you to hike to Ngong Ping – the plateau can be reached from Ma On Shan, Sai Kung, Sha Tin, Tai Wai and even Tsz Wan Shan. Today's route starts from Ma On Shan Village and ends at Tai Shui Tseng near Sai Kung. The route is 4.9 km in length and takes approximately 1 hour and 40 minutes. The path is relatively flat and suitable for beginners.

The route begins with an easy section along a concrete path. After passing Ma Dai stream, you will reach the official start of this Hong Kong hiking trail. Most of the trail consists of natural gravel paths – although the route is not difficult, don't forget to watch your step. There is a rest pavilion at the half-way point, and then continues to hike for another 5-10 minutes, when you will reach Ngong Ping Plateau. The plateau is home to a large population of cattle, so watch where you step, and keep your distance from any wild animals! With lots of cows along the route, this walk is the perfect way to enjoy the weekends with families!

The Ngong Ping plateau is also an excellent place to enjoy the sunrise – a must-see for photographers. Early morning visitors are rewarded by breathtaking views of Hong Kong's hilly landscape, surrounding islands and the sun reflecting off the surface of the sea. After taking in the view, you can return to the trail and continue south towards Tai Shui Tseng. When you reach a fork in the path, descend along the Ma On Shan Country Trail. The path is rocky in places, so don't forget to wear a pair of hiking shoes with a good grip, and use a hiking pole for support if necessary.
These entry-level hiking shoes have an excellent grip and feature 4 mm crampons designed for rocky and muddy paths. The upper is made from eco-friendly recycled plastic, an ideal choice for beginner hikers, also perfect for the hike from Ngong Ping to Ma On Shan.
When you see the village houses, you are almost at the end of the hike. At Pak Kong Au Road, you will see the Hung Fa Village public toilet. At the junction there is a bus stop at the pavilion, from where you can take a minibus back to Sai Kung town centre, where early risers can enjoy breakfast there. Alternatively, turn right at the junction onto Po Lo Che Road and walk for 15 minutes until you reach Hiram's Highway, from where there are a number of minibus routes connecting to destinations across Hong Kong.
Route info
Distance: Approx. 4.9 km
Duration: Approx. 1 hour 40 minutes

Transportation
From MOSTown to Ma On Shan Village (depart at last stop)

1. NR84 (refer to timetable, village residents are given priority)
2. Alternatively, take a taxi to Ma On Shan (green taxi)
Destination info
1. After reaching the Hung Fa Village public toilet on Pak Kong Au Road, you will see a pavilion at the junction, from where you can take a minibus back to Sai Kung town centre.
2. At the junction, turn right into Po Lo Che Road and walk for 15 minutes until you reach Hiram's Highway, from where there are a number of minibus routes connecting to destinations across Hong Kong.

Sunset hike recommendation 2  : highest mountain of lantau - lantau peak trail
Experienced hikers can choose routes far away from the city with a broader view, to enjoy maximum refreshment in the countryside. Lantau Peak, 934m in height, is the second highest mountain in Hong Kong, while the highest one is Tai Mo Shan. Tai Mo Shan's summit is a restricted area not open to the public. If you want to reach the highest hiking point in Hong Kong, Lantau Peak is one of the best place for sunset hike.

Find out more about the hiking trails for the Year of the Tiger – Tai Mo Shan:
Sunset hike route at lantau peak
There are many routes to hike to Lantau Peak. The routes from Tung Chung or Shek Pik are the most demanding. The most family friendly route is from Pak Kung Au to Ngong Ping Market, which is the third section of hike is the Lantau Trail. Starting from Pak Kung Au the trail is paved with stones, and then it becomes a mountain hiking trail. The closer the trail gets to the peak, the more rugged it becomes. The downhill trail is slippery after raining. Remember to wear non-slip hiking shoes to protect your feet and prevent injuries. As Lantau Peak is a middle-to-high level route to hike, it is suitable for those who have hiking experience in Hong Kong.

This walk requires a pair of good hiking shoes. The mid-height hiking shoes in the MH500 range feature 5 mm studs for optimal grip and are made from a waterproof material to keep your feet dry during long mountain hikes. 
Lantau Peak gives you a wide and open view across the whole South Lantau. There are no high mountains surrounding the Lantau Peak, and the trail is exposed to the weather. It is recommended to bring a windbreaker, hat and sunglasses. There is an emergency shelter on the summit. If the weather turns bad, you can go inside and wait until the weather gets better before descending. Remember to bring at least 2 liters of water and some food, as there is no supply along the way!
Before reaching Ngong Ping for a mountain hike, you will walk through the Wisdom Path. The steles display the Chinese version of the Heart Sutra, based on the calligraphy of Professor Jao Tsung-I. This large-scale outdoor sculpture combines art and philosophy, illustrating "infinite" as the theme. You will walk forward to Po Lin Monastery and visit this Buddhist building complex with a history of more than 100 years. The Big Buddha was built in 1993. It is the second largest outdoor bronze Buddha in the world. You can feel the peaceful atmosphere all around Ngong Ping.

This 3 and a half hour trial involves a lot of elevation and descension! If you feel tired on the way, try to slow down and take a deep breath. Or you may even take a break to enjoy the scenery of South Lantau. Finally, don't forget to save some time to visit nearby attractions!
Hiking information
Pak Kung Au > Lantau Peak > Wisdom Path > Po Lin Monastery > Ngong Ping Market
Distance : about 5km
Duration : about 3.5hr
Transportation
To Pak Kung Au: MTR Tung Chung Station and take bus no. 3M / 11 / 23, get off from Pak Kung Au station.
Leaving Ngong Ping Market: Take bus no. 23 or cable car to Tung Chung.

Whether you decide to come for the sunrise or to camp for a night during your mountain hike in  Year of the Tiger 2022, remember to plan your arrival – don't miss the first or last connection! The better you prepare, the more time you will have to enjoy the breathtaking views along the route.
Tips for sunrise hikes
Torch/headlamp
If you're planning to visit for sunrise, don't forget to bring a torch or headlamp to ensure that you can hike safely in the dark. Avoid pointing your torch in different directions, as this may disturb the local wildlife or other hikers.
Keeping warm
Chinese New Year is the coldest time of year, and Hong Kong often experiences cold morning temperatures and fog. After reaching the peak, you may need to wait for a while until the sunrise, so don't forget to bring plenty of warm clothing – a windproof and waterproof jacket is ideal. Decathlon offers a range of hiking gear for different weathers. Click on the link below to find out more.
Not everyone is used to exercising in the early morning, so it's essential that you come prepared. Before setting off, don't forget to eat breakfast, and bring a hot drink and some snacks to keep you going on the mountain hike.
Known for their stunning sunrise, these two routes are an ideal way to welcome in the New Year. Start planning your hike now and kick off the Year of the Ox in style!