Hiking trails for the new year|Hike to Tai Mo Shan (957 m) via Chau Ma Kong and Sze Fong Shan
This year, why not start the new year with a hike to Hong Kong's highest peak Tai Mo Shan? Situated at an altitude of 957 m, the peak offers stunning views from the Tai Mo Shan Weather Radar Station, and is also home to the People's Liberation Army Radar Station.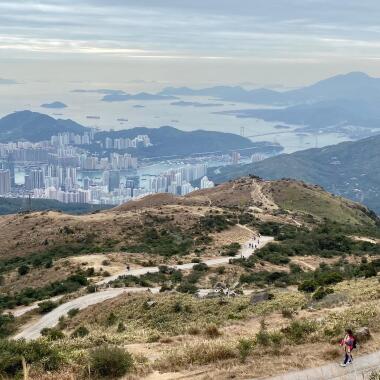 Distance: Approx. 8 km

Difficulty: Medium

Route: Tai Wo > Kam Shan Rd > Shek Lin Rd > Lin Au > Chau Ma Kong > Sze Fong Shan > Tai Mo Shan > Tsuen Kam Au

Note: The route is hilly and there are no facilities until the Tai Mo Shan Visitor Centre.
Tai Wo to Chau Ma Kong
Start from Tai Wo and walk along Kam Shan Road, passing by Pun Chun Yuen. When you reach Shek Lin Road, continue straight and pass through Lin Au village until you see a sign for the Wilson Trail towards Chau Ma Kong. The uphill path is quite narrow and passes through forest. The path is also surrounded by thick vegetation, so basic hiking gear is essential (e.g. long trousers, long sleeve top, gloves and trekking poles). After walking for just over 2 hours, you will reach the peak of Chau Ma Kong (588 m).
Chau Ma Kong to Tai Mo Shan (via Sze Fong Shan)
After Chau Ma Kong, the path continues through the forest towards Sze Fong Shan. This part of the hike is 4 km, but due to the rugged terrain and hilly path that ascends to an altitude of 957 m at Tai Mo Shan, don't forget to control your pace and take plenty of breaks. The path towards Sze Fong Shan passes through a bamboo forest and ascends to a group of large rocks, from where you can enjoy a stunning view towards Tai Mo Shan.
Tai Mo Shan PLA Radar Station
After reaching Sze Fong Shan, the path descends to Sze Fong Shan Pavilion. From here, a concrete path ascends towards the PLA Radar Station. After passing the stone wall and barbed wire on your approach to the radar station, you will see 6 Chinese characters on the top of the building, which mean "Listen to the party and follow the party". After reaching the peak, you can descend via the narrow road, which is famous for its many twists and turns. When you reach Rotary Park, follow the road for 5 minutes and take bus no. 51 towards Tsuen Wan.
The new year is the coldest time of year. Hong Kong Observatory has issued numerous frost warnings in January. For this reason, do not attempt to hike to the summit without proper warm clothing. We recommend Decathlon's warm jacket for fast hiking FH 900 hybrid, which weights
just 300g, that keeps you comfortable down to 5°C.