hiking | PROPERLY LACE UP YOUR TREKKING SHOES
You've chosen the anti-shock option for your new pole but can't work out how to activate the system. Follow the guide!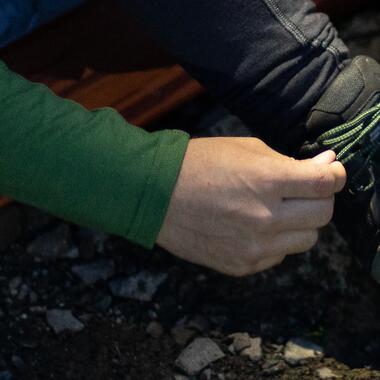 Antoine's lacing method
Often neglected, the lacing of shoes is an essential part of a comfortable trek. For this we recommend a shoe with high upper for better support of the foot and ankle, and also self-locking hooks.

It all starts with putting the shoe on and we advise you to do this on a slight incline so that your heel is properly wedged into the shoe. This avoids the foot sliding forward which happens all too often when you wear your shoe on the flat.


Then let's get onto the lacing itself. The self-locking hook enables you to detach the lower part from the upper part. For the lower part of the shoe, let's fit this to your body shape.
> For those who have a wide foot for example, loosen the front lace well so that the foot remains mobile and is not compressed when walking.
> For those who have a narrow foot, double cross the lacing to tighten the shoe.
> For those who have a strong kick, opt for a lacing style known as straight bar at the location of the kick.
> Finally, for those who lack volume in the shoe, add a sole to make up for this.


Once you've adjusted the bottom of your shoe to fit your body, lock this adjustment with the self-locking hook. (If your shoe does not have this type of hook, simply pass the lace over and under)
Finally, go back over the top and then underneath once more to facilitate the final tightening.



Now, how can you test your fastening? Find a slope, and twist your ankle laterally to make sure that the support is right for you. Proper lacing should be comfortable.
TIP: YOUR FEET WILL GAIN VOLUME DURING WALKING. SO REMEMBER TO REDO YOUR LACING WHILE YOU'RE TREKKING.