FOOTBALL|HOW TO CHOOSE THE RIGHT FOOTBALL
A complete guide to choose the right football. Before you head to the pitch, discover what makes one football different from another so you can choose the one that's best for you.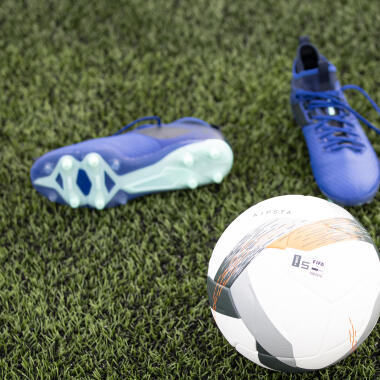 FOOTBALL SIZE
It is very important to pick the right football because playing with an incorrectly sized ball can have long-term negative effects on a player's technique. When younger player uses a larger football, they will usually compensate the heavier weight by shooting with wrong posture, thus will develop a bad shooting form. Additionally, different pitches have various needed of balls in terms of size and material.
PITCH
Depends on pitch and ball touch. There are 4 levels in choosing football: beginner, intermediate, advanced, futsal. (1 is the lowers and 5 is the highest)
Intermediate: F550
Suitable for people who are master most of the football skills
Ball Touch: 4pt.
Durability: 4pt.
Stability: 4pt.
Qualify with IMS(International Match Standard)
Advanced: F900
Suitable for people who have high intensity training
Ball Touch: 5pt.
Durability: 5pt.
Stability: 5pt.
FIFA approved
Made with 12-panel cover with thermobonded construction. Excellent stability and durability.
Futsal: F900 Futsal ball
Suitable for futsal match
Ball Touch: 5pt.
Durability: 5pt.
Stability: 4pt.
FIFA approved
Low bouncing for futsal match.
BEST FOR OUTDOOR PITCH
Different football compose with different materials, while it is durable enough to withstand dirt, moisture, and other elements, ultimately extending the life and playability of the football.