How To Choose Your Ski Jacket 
What to pay attention to when choosing a ski jacket?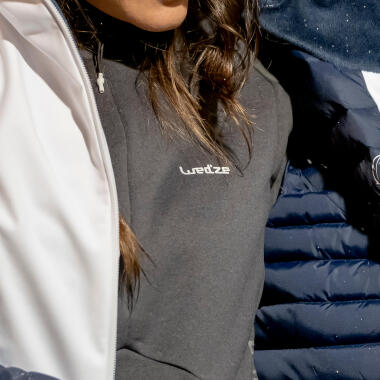 You should choose your ski jacket based on 3 criteria: warmth, how waterproof the jacket is and the breathability of the fabric. 
Recognised for their high thermal insulation, down and feather also provide an excellent weight/heat/compression ratio. However, remember that the heat provided comes from the combination of the weighting of down/feathers and the expansion capacity of the jacket. Indeed, together, they provide you with warmth and insulate you from the cold. (Padding 50% down and 50% feathers in the body, recycled wadding 100g/m² at the bottom of jacket and arms, 60g/m² on the collar).
The membrane is a very fine component applied to the inner surface of the outer fabric of the vest. This hydrophilic component prevents water from seeping in while wicking away the perspiration produced by the body. The membrane is unbeatable when it comes to staying warm and dry. We measure a fabric's resistance to water pressure, expressed in terms of the height of a water column in mm (based on the ISO 811 standard). The higher the pressure, the more waterproof the fabric. A component with water-resistance of 8000mm therefore withstands the pressure exerted by 8000mm of water.
 

This is a product that can release the water vapour produced by your body when exercising. To see if a fabric is breathable, we measure its resistance to evaporative heat (RET) in a standardised ISO 11092 test. The lower the RET, the more breathable the fabric. The jacket 500 has an RET of 11. However it is the technical solutions (zips, vents, mesh) that Wedze uses, which limit the condensation inside the garment and maximise breathability.