Kayak | 4 top kayaking spots in hong kong + essential gear list!
Are you planning to try kayaking this summer? Do you know where to go kayaking in Hong Kong? Do you know what to wear for kayaking? This article recommends 4 top sea kayaking spots in Sai Kung, including Hoi Ha Wan and Green Egg Island. So let's gear up and go!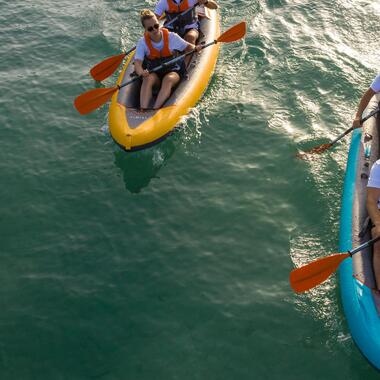 The pandemic has encouraged many people to discover Hong Kong's great outdoors. In addition to stunning camping destinations, Hong Kong is surrounded by water that is ideal for snorkelling, kayaking, open water swimming and other water sports. This article introduces four of Hong Kong's best water sports destinations. Regardless of your level, you're bound to find something that's suitable!
Top kayaking spot in hong kong #1: sharp island
Located in the Hong Kong UNESCO Global Geopark, Sharp Island is known for its crystal-clear waters, coral reefs and rich marine life. It offers a comprehensive range of facilities, including beaches, changing rooms, shower facilities, toilets and barbecue pits, and is a popular destination for swimmers, snorkellers and other water sports enthusiasts. Many people come here to see the tombolo that connects Sharp Island to the nearby Kiu Tau island.

Sharp Island is also one of Hong Kong's most popular spots for kayaking and stand up paddleboarding. The island is situated to the west of Kau Sai Chau, which acts as a barrier against large waves. Many people like to make the journey to Sharp Island by kayak – there are a number of smaller islands to stop off at along the way (e.g. Yeung Chau, Cham Tau Chau and Pak Sha Chau), and the return journey is around 5-6 km, making it ideal for beginners. There is a small kiosk on the island, as well as a regular kaito ferry service to Sai Kung town centre if you wish to arrive by public transport or leave the island in an emergency. Experienced kayakers can visit the three Hong Kong famous sea caves at the south of the island by kayaking. This part of the island is close to shipping lanes and is not sheltered. Therefore it is only suitable for experienced paddlers.

If you don't have your own boat for kayaking, you can also rent a kayak from the water sports centre at Sha Ha Beach, which is approximately a 10-minute walk from Sai Kung Pier. Whatever you do, don't forget that Sharp Island is a protected area within the Hong Kong UNESCO Global Geopark. It is forbidden to damage or remove any stones or coral from the island.
Top kayaking spot in hong kong #2: green egg island
Also known as Lan Pai, Green Egg Island is situated along a row of rocky reefs in Clear Water Bay on the eastern side of Tai Leng Tung. From a distance, it is shaped like a fried egg with a green yolk, hence the name 'Green Egg Island'. Until recently, the island was very much off the beaten track. Surrounded by crystal-clear water and fine sand, the island has become increasingly popular over the past year, attracting a large number of water sports enthusiasts.

Most people depart from Sheung Sze Wan Beach or Lung Ha Wan. If you don't have your own boat, you can rent a kayak or stand up paddleboard from the local water sports centre. The route goes southeast along Clear Water Bay and is approximately 3-4 km there and back. There are no facilities en route, so bring your own supplies. Experienced kayakers can explore some of the nearby sea caves such as Tiu Chung Cave. However, the waves here are much choppier, so this route is not recommended for beginners.
Top kayaking spot in hong kong #3: yim tin tsai
Around 300 years ago, Yim Tin Tsai island was home to a Hakka community who produced salt on the local salt pans. Today, the island has been restored and has received a UNESCO Asia-Pacific Award for Cultural Heritage Conservation. In addition to its Hakka heritage, the island is home to the 19th century St. Joseph's Chapel, Hong Kong's best protected rural church. There are also a number of restaurants serving Western food, barbecue chicken, traditional Hakka cuisine and noodles.

The island can be reached from a number of locations, but is usually accessed via Tai Mong Tsai or Sha Ha (a 2-4 km trip by kayak). If you are departing from Tai Mong Tsai, you will need to bring your own boat or reserve a kayak at the nearby water sports centre. Alternatively, you can rent a kayak from Sha Ha for kayaking (approximately a 10-minute walk from Sai Kung Pier).
Top kayaking spot in hong kong #4: hoi ha wan
Hoi Ha Wan Marine Park is one of Hong Kong's oldest marine parks. The park is rich in biodiversity – in addition to a wide range of animal and coral species, the crystal-clear water offers views of the sea bed several metres below the surface. The area is very popular with water sports enthusiasts, who come here for a close-up view of sea cucumbers, sea urchins, starfish and other marine animals.

Thanks to its sheltered location, the sea around Hoi Ha Wan is usually very still and therefore ideal for beginners or people with no prior kayaking experience in Hong Kong. Hoi Ha Wan is accessible via minibus. You can rent kayaks and other gear from the village store and explore the marine wildlife before returning to the shore for lunch.
Experienced kayakers can leave the bay and take a longer tour to Devil's Fist or Grass Island. However, this requires a good fitness level and excellent kayaking skills, as the area outside the bay can be choppy and there are no stopping points en route. Beginners are likely to get lost and should not attempt without supervision! Finally, do not take any wildlife or shells with you as a souvenir, even if they are already dead. Instead, use your eyes to discover the local wildlife and take photos to capture the most memorable moments.

Once you've decided where to go, you'll need to make sure you've got the right gear. Read on to see our list of recommended gear.
What to wear when kayaking?
-       Life jacket / Buoyancy aids
-       UV sun protection
-       Shoes that cover your heel and toes
-       Water
-       Hat
-       Gloves
-       Sunglasses & leash
-       Sunscreen (SPF 30+ and water resistant)
-       Dry bag
-       Waterproof phone case
Touring equipment
If you're planning a longer kayaking tour, you'll need some extra gear in addition to the basics listed above.

-       Waterproof whistle
-       Spray skirt (for sitting in a kayak)
-       Towline
-       First aid kit
-       Headlamp/light with spare batteries
-       Bilge pump/sponge
-       Snacks
-       Maintenance kit
-       ID card
-       Small amount of cash
To ensure that you have a safe and enjoyable tour, do plenty of research and prepare the right gear before setting off. Also, don't forget to make the most of the opportunity to discover Hong Kong's stunning natural scenery!
Natalie y.
Watersports site leader
I am an outdoor sports enthusiast who likes to experience the world from new perspectives. I started practising paddle sports 10 years ago, such as dragon boat, canoeing, canoe polo, stand-up paddle boarding, windsurfing and diving, and later became a kayak/SUP instructor. I hope to share the joy of sports with more sport users!