It's time for pilates!
When the long holidays is over, it's time to get back on track with your fitness goals! What could be better than starting fresh and do pliates?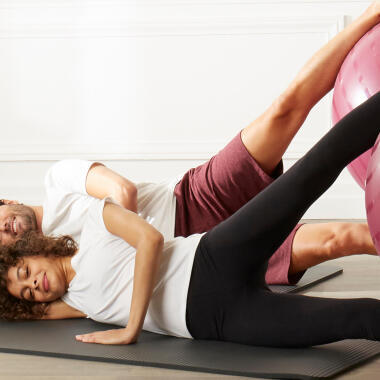 Why not try an activity you can do at home, with very little equipment and that anyone can do, no matter your age, shape or athletic ability? How does Pilates sound?
Tone those muscles
While it might be described as gentle gymnastics, it will work your deep core muscles through some 500 different exercises and focused breathwork. The aim is to strengthen your core – particularly the transverse abdominis – from the inside to improve muscle tone. If you've been a little lax with your major muscles lately, Pilates will bring your abs, glutes and back in line in no time.
Say goodbye to back pain
Or maybe you do a lot of standing without moving around much? If you're starting to feel the effects, Pilates may be just what you need. Besides toning the muscles that improve your posture, Pilates requires you to stay properly aligned, keeping your upper body straight before starting any exercise. Over time, you'll gradually start to stand up straighter and strengthen your spine. This goes a long way in preventing lower back pain, joint pain and muscle fatigue.
Get results you can see
With just an exercise ball, resistance bands and a mat, you'll be all set to go. Plus, because you can do it at home, it's easy to find a few minutes to squeeze in a couple of exercises. You'll start to feel the burn in no time and will find it's a great way to decompress after a long, stressful day.
Pilates can help you undo some of the damage from the holidays and keep you fit over the long term. Not only that, but you don't need much in the way of equipment or time. You'll soon start to see and feel the many benefits for your body. Pilates is one resolution that won't be so hard to keep! So what are you still doing here? Go on and get out your mat!