Roller academy: the ideal sport for children
Speed skating is an excellent activity for youngsters – it provides a full-body workout and allows your child to have fun and keep fit at the same time!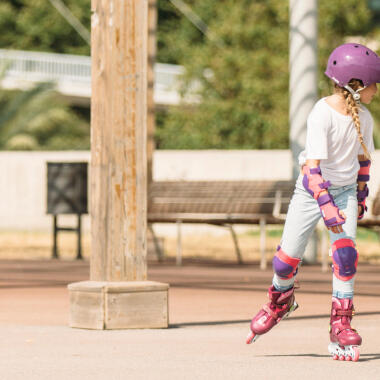 Children in Hong Kong have intense schedules. In many cases, they have even more to do than their parents! As well as weekend homework, there are endless extracurricular activities and after-school lessons to attend. However, education isn't the only thing to consider – having fun is also very important. Speed skating is an excellent activity for youngsters – it provides a full-body workout and allows your child to have fun and keep fit at the same time!
Utilizes all the muscles in the body and improves coordination
Roller skating works all the muscles in the body and requires good coordination, physical fitness, endurance, balance, flexibility and agility. The coordination skills learned during roller skating will also help to boost your child's learning ability, logical thinking skills, emotional control and concentration.
Improves willpower – practice makes perfect!
Learning a new move takes time and practice. Falling over is all part of the learning process, as is learning how to stand up after a fall. Nevertheless, the sense of achievement from mastering a new move can help to build your child's confidence and encourage them to keep learning. It also teaches them that practice makes perfect and demonstrates the importance of not giving up after a setback!
Boosts physical fitness and cardiovascular function
In the midst of a global pandemic, nothing is more important than keeping healthy. As a child, I wasn't very fit and was often ill – even the doctor remembers me! My mum wanted me to do more exercise, but I wasn't interested in most sports. I remember going to watch a skating show, after which you could try out skating. My mum asked me to have a go, and we stayed until closing time! I've been skating ever since, and my fitness has never stopped improving – the doctor doesn't recognise me any more!
Improves teamwork and social skills
My skating classes are usually in groups, so students can help and encourage each other. The numerous opportunities for interaction help the children to improve their social skills.
Angelina wong
Decathlon sports ambassador
former hong kong representative for speed skating
hong kong's best female speed skater from 2000-2006
With over 20 years of skating experience, Angelina represented Hong Kong at speed skating competitions for 11 years and was Hong Kong's fastest female speed skater for 6 consecutive years. Her best performances include 5th place in the 500 m short track race at the Asian Speed Skating Championships, and runner up in the 5000 m elimination race at the China National Speed Skating Championships. After retirement, she obtained a coaching license and became a referee for international speed skating competitions. She has also founded a speed skating school in Hong Kong, which aims to encourage more children to take up speed skating.