WHY DO YOU DIVE?

Carrying heavy gears and plunging into the depths… Why are divers obsessed with this unusual sport that challenges the human limits? Decathlon Diving Sport Leader Amie is here to share what motivates her in this journey.
Amie C./ Diving Sports Leader

 ↓ Read on ↓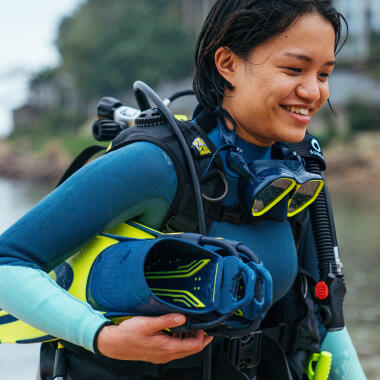 Diving is more than just a sport. It lets us explore nature and our relationship with it."
Experiencing the ocean
I used to work in the advertising industry. Back then, I sometimes worked overnight and didn't really take time to relax. Until one summer, a friend invited me to snorkel, so I went to Sai Kung Crescent Island and took my first dip. Despite being a swimmer, I was nervous at first as my feet could not touch the bottom. Later, I got more comfortable around water and started appreciating the surroundings. To my surprise, I saw clown fishes and corals! Since then, I have been missing the ocean and the tranquility under the sea.
Learning scuba diving
Not long after, a friend asked if I am interested in scuba diving. I thought: Why not learn more about it, especially when 70% of the earth's surface is ocean? However, becoming a diver was challenging. At first, I wasn't comfortable being fully submerged. One time when I was practicing mask clearing, I choked on water and stopped taking lessons.~~Yet, I reflected on my purpose of learning diving, that is to witness and embrace the ocean in person. At last, I overcame my fears and became an Open Water Diver in October 2018.
What diving means to me
Weightlessly I hover in the depths of the vast blue, listening to my own breath while immersing myself in ocean. To me, diving is more than just a sport. It lets us explore nature and our relationship with it.
Joining Decathlon
One day, when visiting Decathlon I saw a recruitment poster, asking "Love Diving? Join Us!" That's how I joined the Decathlon Diving Team. My role as a Diving Sport Leader motivates me to promote diving sports. At work, I explore diving knowledge, and share with sport users my diving journey or even the underwater photos I took!
Hong Kong beneath the surface
In Hong Kong's waters, you can see beautiful seaweeds, fishes or nudibranchs. Meanwhile, it is heart-wrenching to see lots of trash such as plastic bags, batteries, disposable cutlery… After becoming a diver, I realised natural resources are precious and deserve protection. Since then, I pick up trash in the sea when diving. As divers, we can enjoy what the ocean offers and give back by supporting environmental preservation.
Preserving the ocean
Little drops of water can make the ocean. Through diving and my mission in Decathlon, I wish to promote this meaningful sport and the messages behind it. As Hong Kong people, we should preserve and protect our beautiful ocean environment.
Amie C.
Decathlon Snorkelling and Diving Sport Leader
I am a passionate scuba diver and an avid underwater photographer. I love capturing beautiful moments in the sea and share them with other ocean lovers.