4 Best snorkeling spots in hong kong!
Hong Kong's special geographical location breeds its own diversified, vibrant marine life. Indulge in snorkeling in Hong Kong with your children! There are many places where you can explore the natural beauty of Hong Kong, we have sorted the 4 best spots in Hong Kong that you can check out for snorkeling.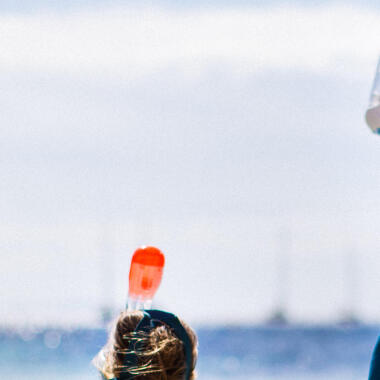 #Best snorkeling spot 1: sharp island
Sharp Island is located near Sai Kung Town Center. Regular boats leave for Sharp Island from Sai Kung Public Ferry Pier and the journey only takes 10 minutes. Left to the Sharp Island Pier is a beach, an ideal spot for younger children to explore the waters and snorkeling. Walk past the beach and tombolo, there is a snorkelling spot! Located 20m offshore, the water is shallow without currents which is perfect for beginners. Reefs with leaf corals, brain corals and daisy corals can be found, along with colourful fishes and rich biodiversity!

Before your departure, check the tides from the Hong Kong Observatory. The tombolo will appear when the tide is lower than 1.4 meters. Do not attempt to cross the tombolo when it is submerged!
#Best snorkeling spot 2: hoi ha wan marine park
Hoi Ha Wan, one of the first established Marine Parks in Hong Kong, is situated North of the Sai Kung West Country Park. To visit, take a 30-minute minibus ride from Sai Kung Town Centre. You can rent kayaks and paddle with your children to various snorkelling spots scattered around the area, where the ocean is calm and filled with all kinds of corals and fishes. A special feature is the artificial reefs installed years ago, that now developed into habitats for a wide variety of marine animals!

The minibus no. 7 departs from Hoi Hai Bay back to Sai Kung at 6:55pm from Monday to Saturday (6:45pm on Sunday) , remember to reserve time for your return journey!
#Best snorkeling spot 3: yim tin tsai
Situated off the coast of Sai Kung between Sharp Island and Kau Sai Chau, Yim Tin Tsai is famous for its salt fields that were established by the Hakka Chan clan around three centuries ago. The island was abandoned in 1998, but in 2004 some of the former inhabitants returned to assist with restoration efforts. The salt mines are now once again operational, and the island is also home to a number of other interesting landmarks such as St Joseph's Chapel and Ching Po School (now the Yim Tin Tsai Heritage Exhibition Centre), which was completed in 1920.

Yim Tin Tsai is surrounded by mangrove forests that support animals such as mudskippers, fiddler crabs and starfish. It is one of the best spots for snorkeling – the area to the right of the pier is home to hard coral reefs, and snorkelers can explore the surrounding waters by kayak. However, the sea bed is covered in shells, so a pair of water shoes is essential.
#Best snorkeling spot 4: tung ping chau
Tung Ping Chau is Hong Kong's easternmost point and boasts a unique geology and ecosystem that are well worth the 1.5-hour ferry journey. The ferry departs from Ma Liu Shui Ferry Pier. On Saturdays, there are two departures at 9 am and 3.30 pm, with the return service departing at 5.15 pm. On Sundays there is only one departure at 9 am. Extra departures may be available during peak times, but visitors are recommended to book tickets online or arrive at the pier 30 minutes before the scheduled departure time. The island has Hong Kong's youngest sedimentary rocks, the results of local sediment being compacted under high pressure. Other must-see sights include Cham Keng Chau, a chunk of land that has broken away from the island, and Kang Lau Shek, a set of rocks that is a popular spot for seeing the sunrise. In addition to its unique geology, Tung Ping Chau is surrounded by calm seas, which is suitable for snorkeling, that are home to 47 species of coral, as well as over 100 species of fish and dozens of species of seaweed that will make you see another side of Hong Kong. Before departing for Tung Ping Chau, make sure to do plenty of planning, and note that mobile network coverage is poor!
Points to note
When enjoying the fun of snorkelling, don't forget to protect the ocean:

1. Corals are extremely fragile and take a long time to grow. Don't kick or step on them, or use sunscreen with chemicals that might harm the marine animals.

2. Take away the trash in sight, but not souvenirs such as shells or stones. Do not touch marine animals or corals.

3. Be prepared! Do prior research of the site, use a mask, snorkel, sun protection top, fins or Aquashoes to protect yourself and the children.