Snorkelling |10 reasons to take up snorkelling & basic gear guide
Snorkelling is a fun aquatic activity not only easy to practise, but it's also something that anyone can do with basic gear,  from children to adults! Hong Kong has a lot of beautiful beaches and outlying islands where you can indulge in snorkelling.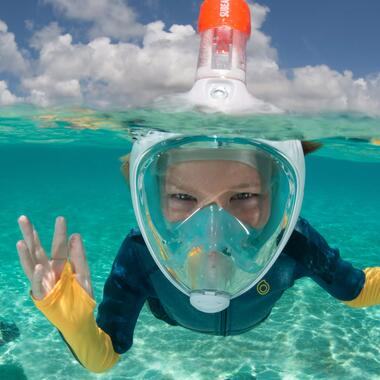 Let us give you 10 good reasons to take up snorkelling!
An accessible aquatic activity
Snorkelling is a simple and fun activity that every family member can join - children, parents or even grandparents! The only requirement is the snorkellers must know how to swim and be moderately comfortable in the water. For younger children, accessories such as buoys, inflatable float and vest give them extra buoyancy. They can save effort swimming and enjoy longer snorkelling experiences.
Simple equipment – snorkelling gear
Getting started with snorkelling is easy and relatively inexpensive! All you need is some basic snorkelling gear: 

– A mask 
– A snorkel 
– A pair of fins (optional for beginners who may prefer using aquashoes while learning proper finning technique) 

Other than the basic FMS (Fins, Mask, Snorkel) kit, you can utilise other equipment, such as a top or shorty to keep you from the cold and rocky bottoms. 

If you don't feel comfortable with a snorkel, try Subea's Easybreath full-face mask. This innovative product allows you to breathe underwater through both your nose and mouth. 

If you want to keep your head dry, you can still enjoy the snorkelling experience with Olu, our new observation buoy that enables you to explore the aquatic life!
The ideal vacation activity
Unlike surfing or windsurfing, snorkelling gear doesn't take up a lot of room, that makes it a perfect activity to enjoy whether you're traveling by road, sea or air! What better holiday moments than exploring the ocean?
Guaranteed enjoyment !
Snorkelling allows anyone to easily have fun at no risk. Contrary to popular belief, it isn't necessary to dive deep to admire the aquatic flora and fauna…You can start staying on the surface.  There is no need for hours of training: the excitement starts from the instance you get in the water. Thousand wonders await you!
Discover the underwater world
Get ready for astonishing aquatic experiences with a simple FMS kit. The waters represent 70% of our planet: a world that is unknown and fascinating to us. It's full of life, colors, shapes and unexpected encounters – a thrilling topic to share as you head back up to the beach! The best places to enjoy the show are shallow, crystal clear waters… You'll feel as though you're swimming in an aquarium!
It's an aquatic activity... but a physical one too!
Though snorkelling is seen as a leisure activity, it is a sport that takes effort, just like jogging or cycling. For every fin kick, you burn calories, work your heart and your abdominal muscles, tone up your legs and keep in shape. You can have an easy workout while having fun. Plus you won't get all hot and sweaty, even in the summer! Not bad for an exercise, right?
Sharing
For safety, it's important for snorkelling beginners to go out as a group. You'll soon discover that it is a perfect opportunity to share unforgettable moments with friends and family in an underwater universe!
Relaxation
You might not relate snorkelling with relaxation, but that's only because you haven't tried it yet. It is a uniquely relaxing experience different from our daily lives. Here, there is no competition, no performance, no pushing yourself…  It's time to relax. Your only job is to swim around and observe the wonders that marvel around you.
An activity for all
As you have now understood, snorkelling is an activity that's perfect for all swimmers and all budgets. But there are certain rules to secure your safety: 

- Always go out in a group (For beginners and experienced snorkelers) 
- Check the weather and water conditions before entering the water 
- Plan your route, locate your entry point and several exit points 
- Snorkel within your physical abilities.
Snorkelling, the first step towards scuba diving…
When snorkelling, you have to breathe through a snorkel, maintain your balance in the water and get around using fins. These are all essential skills for scuba diving. Even though these two activities share common features, they are quite different! For scuba diving, introduction and training provided by professionals are essential. Are you ready to take the next step and give scuba diving a try?