Bodyboarding guide: how to choose a bodyboard for beginners and kids
Bodyboarding is a great water sport, suitable for all levels! Our Sport Leader will introduce the sport and teach you how to pick a bodyboard for beginners and kids. Check out now!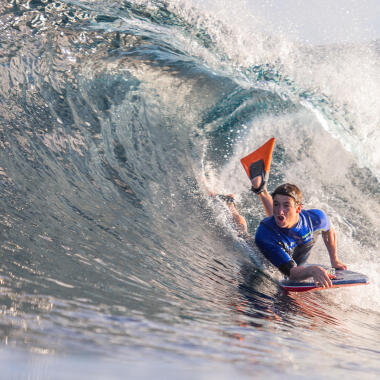 Discovery bodyboard for kids
Try the Discovery collection that is specially designed for kids! That bodyboard comes with handles, so they can grab hold easily. When on waves, hold on with your elbows placed on board. Ride along the white waters when the waves crash!
Beginners - bodyboard 100
Bodyboard 100 is designed for bodyboarding beginners, it comes with a preformed front area for good grip and position of hands. It is suitable for waves smaller than 1m.
Intermediate - bodyboard 500
Intermediate users can select the 500 model. The board is constructed by fibre double stringers which gives it more stiffness and stability. It can be used in waves <1.5m and does not break easily.
Advanced - bodyboard 900
Bodyboard 900 is co-designed by Decathlon and 3-time bodyboarding champion Nicolas Capdeville, made suitable for all types of waves. Other than fibre stringers design, it was made from Polypropylene material which allows more flexibility for advanced bodyboarders to perform tricks!
All of our bodyboards are equipped with a hand leash. Remember to fix the leash on your upper arm(lower arm for children), to keep the board within your reaching distance. It can provide you with extra buoyancy after a wipeout and is essential for safety! 

Do not hesitate to speak with our Sport Leaders if any questions!