Swimming / how to choose swimming goggles 
The choice of swimming goggles is very important. They not only help you see well underwater, but they also protect your eyes. Lasting anti-fog treatment, comfort and field of vision are all important advantages! Hard to choose? No worries, Nabaiji is here!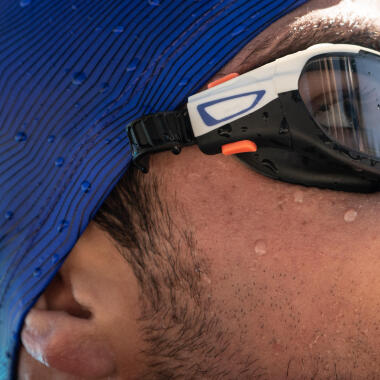 Choose your swimming goggles according to 3 criteria: training frequency, goggle size, and lens colour.
Practice levels
According to the practice levels and training frequency, users can choose different types of the goggles to cater their needs in terms of comfort, adjustment and stability. 
Beginner
Goggles for beginner swimmers have been designed for comfort and easy adjustment (with straps or notched nose bridges). If you want a wider field of vision, you can also opt for a swimming mask. With medium stability, it offers a panoramic field of vision so that you can see everything happening around you and feel at ease.
Intermediate
Swimming goggles for regular use are designed with a more flexible nose bridge and a narrower field of vision. They are still easy to adjust and offer greater stability when swimming lengths. There are also swimming masks with these characteristics if you prefer them to goggles.
Advanced
Goggles for advanced swimmers are designed for a perfect hold on the face, a precise field of vision and great stability when swimming. They are hydrodynamic and ideal to help you reach your performance goals. There are two types of adjustment. Some goggles have removable nose bridges, so you can choose the one that suits your face best. However, "Swedish" type goggles must be set up yourself by adjusting the strap and the nose bridge so that the goggles are perfectly adapted to your face. These are the best and they are meant for extreme comfort and ultra clear vision.
Swimming goggle size 
Our swimming goggles come in 2 sizes: Size S and L. Size S is for children or adult with smaller size of face. Size L is for children or adult with bigger size of face.A very simple test to help you choose:1. Place the lenses of the goggles over your eyes and press, but don't put the strap around your head.2. If the goggles create suction and stay in place, they are the right size. If not, try another size.3. Then adjust the goggles at the strap and nose bridge. Don't pull them too tight, in order to avoid injury,    but do ensure that water cannot get in under the lenses.
Colour of lens 
The colour of your lenses must be adapted to where you swim.  
Mirrored lens
If you swim outdoors or in a pool with bright lighting.
Smoked lens  
If you're swimming in areas with average brightness.

Clear or lightly coloured lens 
If you're swimming in areas of low brightness. Where the pool is rather dark and poorly lit.