How to choose your table tennis shoes
Do you know? Indoor sneakers (specially table tennis shoes) have particular requirements about the material and weight of the soles, because fast movements and emergency stops frequently happened in the indoor activities. If you choose the shoes incorrectly, you may slip or even get hurt. Let's take a look at some of the important factors in choosing table tennis shoes!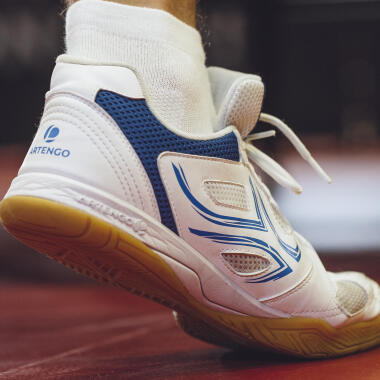 Size of the shoe
DECATHLON recommends buying the same size of your usual shoes. The heel should be secure in the shoe and will not sway even if the activity is active.
Weight of the shoe
Indoor sneakers are designed for fast movement, so sneakers must be lightweight to provide proper protection and strong support for your feet.
Sole material
Shoes for indoor sports generally made by rubber as the bottom material. it can better to grip on the floor so user can easier to do some "emergency stop" action to avoid slipping and falling into the ground to make an injury.
Durability
Because of the sole materia for indoor sport, the bottom pit pattern will be gradually flatten due to the friction of the floor. It will become smooth and slippery after a long time. Therefore, if user found that the phenomenon of sole is become smoothing, it's time to change your shoes. We can reduce defect from avoiding wear the indoor shoes in daily life.
What makes our table tennis shoes the best?
Technical benefits: how do you know what you are looking for?