Decathlon ball recycling project
With our Sustainability Project, we collect your used tennis balls and give them a second life. We will turn them into shoe soles and your sustainable tennis shoes!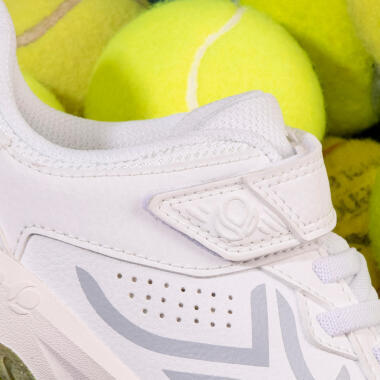 The idea originally started in our Artengo HQ and our Taiwanese innovation team, where they were looking for a solution to recycle used tennis balls. After multiple trials and errors, they finally found a way to formulate the rubber from used tennis balls and integrate them into the sole of our recycled tennis shoes.
Key innovation and development process
The main innovation behind this project is instead of using complex methods to turn used tennis balls into virgin rubber. Instead, we are tapping into a more straightforward concept and process that includes the felt of the ball. Test results show that tennis shoe soles made from 20% recycled tennis ball rubber mixed with virgin rubber perform as well as, if not better, than the usual virgin rubber used.
What is the need for these eco-friendly shoes?
Give a second life to used tennis balls + reduce CO2 for rubber outsole.
How many balls are wasted every year in a tennis academy? 
For one tennis academy of 7 coaches, after 12 months, a total of 5600 balls are thrown into the bin per year… 
How does it work?

After collecting the balls, they will be sent to Taiwan for shredding and binding at two factories. Then the mould will be sent to Vietnam for the cut and binding to these eco-friendly shoes. 
Where is the ball collection point?
We currently offer the service at the Decathlon stores in Central and Causeway Bay.
"Every ball matters" project
In HK, there are also several institutions or individuals aiming for the same objective. One example is "Every Ball Matters" project initiated by Parth Sane, a very young tennis player, to create awareness to recycle and re-purpose tennis balls.
Sustainability at decathlon
Apart from Services, Decathlon also aims to be environmentally conscious when designing our products. Our teams are committed to ensure that by 2026, 100% of our products will be designed with a more respectful approach to the environment.
Sustainability at Decathlon
Sustainability at Decathlon
Our eco designed tennis recommendations