The ultimate guide to tuen mun's best sports grounds!
Check out Decathlon's new store in Tuen Mun and discover the best of Hong Kong's northwest!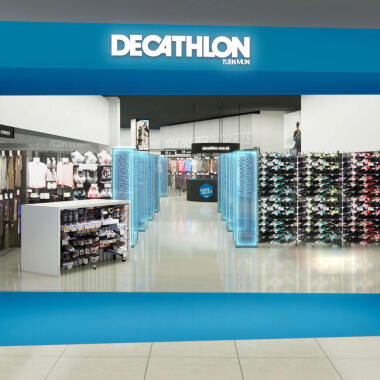 Tuen Mun has plenty of good sports venues, but until now, residents of the area had to travel further afield to find a large sports store. This summer, however, Decathlon is due to open its first store in the western New Territories, meaning that local residents will no longer need to travel halfway across Hong Kong to find their favourite sports gear.

This article provides a brief guide to Tuen Mun's best venues for basketball, running, hiking and cycling. Pay a visit to Decathlon's new store in Tuen Mun and get kitted out for your next workout!
Siu hei court sports ground
This colourful sports ground was the filming location for an episode of the popular Hong Kong variety show 'ERROR Selfish Project'.

Covering an area of more than 40,000 square metres, the unique venue is located on the roof of the Siu Hei Commercial Centre car park, and features a full-size basketball court, a multipurpose court, two half-courts and two 150-metre running tracks. Different grids and markings make the courts suitable for a wide range of sports and training scenarios – players can warm up on the court while waiting or do various hopping and jumping exercises. There is also a special track for self-balancing scooters to keep young children entertained and stimulate their interest in sports.

Grab a basketball from the new Decathlon store in Tuen Mun and check out this fantastic venue!
Situated just a stone's throw away from Siu Hei Court Sports Ground, Tuen Mun Promenade is another unique location that became popular after featuring in the Hong Kong romantic drama film Beyond the Dream. Approximately two kilometres long, the seaside promenade is a great place to take a leisurely stroll and watch the world go by – whatever time of day you come here, you're bound to see plenty of people running and fishing.  An evening jog along the seafront is a great way to take in the surrounding scenery and escape from the stresses of the pandemic, not to mention hitting your goal of 10,000 steps per day!

During hot weather, don't forget to take plenty of rest and rehydrate at regular intervals.  If you struggle with the heat, Decathlon offers a range of products to keep you cool during the summer season.
Hiking: leung tin au gorge, hong kong's "grand canyon"
Known for its stunning rock formations, the Grand Canyon in Arizona is a must-see destination on many people's bucket lists. However, due to international travel restrictions, a trip to the Grand Canyon is likely to remain off the cards for the foreseeable future. Thankfully, Hong Kong has plenty of natural attractions waiting to be discovered, including Leung Tin Au Gorge in Tuen Mun, also known as "Hong Kong's Grand Canyon".

The entrance to the gorge is a 10-minute walk from the Leung King MTR Light Rail station. Apart from the first section which is paved, most of the walk is along rugged, stony paths, so extra care is required en route.  After reaching the summit, you will be rewarded with a magnificent view of Leung Tin Au Gorge. Although the gorge is not in quite the same league as the 1500-metre deep Grand Canyon, the unique scenery makes the walk more than worthwhile. The rocks in the gorge have been gradually eroded by exposure to the elements and may be much less secure than they appear, so make sure you stay well away from the cliff edge. The path then continues towards Ha Pak Lai. The entire route takes around two hours to complete. For your safety, wear a pair of hiking shoes with good grip and don't hike alone.

Some parts of Leung Tin Au belong to a restricted military zone that conducts regular live military exercises and drills, so don't forget to familiarise yourself with the area in advance, and avoid entering a restricted area during a live drill.
Cycling: tuen mun cycle track
Cycling is a popular leisure activity, and the cycle track from Tai Wai to Tai Mei Tuk is one of Hong Kong's best-known cycling routes. The New Territories has an excellent cycling infrastructure – following the official opening of the Sheung Shui to Yuen Long cycling track last year, it is now possible to cycle the entire length of the 60 km cycle route between Tuen Mun and Ma On Shan, which passes through Yuen Long, Sheung Shui, Fanling, Tai Po and Sha Tin. The route takes in a diverse range of scenery and takes around 6 hours at a leisurely pace.

If you don't fancy cycling the entire route, you can choose a shorter section, such as from Tuen Mun to Yuen Long, which passes a number of historical and cultural attractions, local restaurants and cafes. You can also combine this section with a visit to the popular wetland areas of Ha Pak Nai and Nam Sang Wai.

In addition to the mentioned products, Decathlon also offers an extensive range of sports clothing and equipment, including everything from summer water sports to home workout gear. Pay a visit to Tuen Mun this summer and discover our new store!
Tuen Mun store: Tuen Mun V city, store M-92
Opening date: 15 July