Why wear sports bra for running?
Did you know that only 15% of women wear a bra that is suitable for their sport?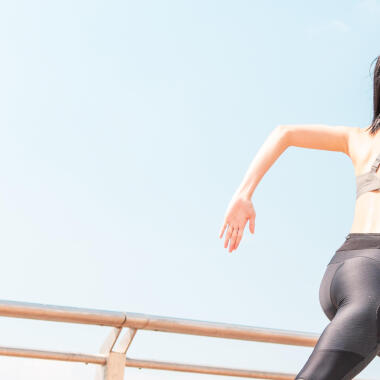 Runners are often more concerned with their shoes and choosing clothing that's right for the weather. But running-specific bras and crop tops are important for both comfort and support. It's a matter of health.
Give women the support they need
Your bust moves up and down with each stride you take. It happens whether you have modest curves or more ample proportions, although bigger bust sizes will experience a greater degree of bouncing. This can be uncomfortable and painful, especially when you wear regular bras with underwiring which can poke the breast and damage tissue. Prolonged use of these bras while running can cause irreversible damage, decreasing the firmness and support structure of the breasts, and even causing sagging and deformation.

Maybe it's time to reconsider sport bras.
Onegoal: support
Kalenji's sport bras and crop tops offer the support you need while running. How? First, they are specially designed just for running. Contrary to regular bras that support the bust from the bottom, a running bra's shape and textile components help "envelope" your breasts to limit horizontal movement and absorb shocks.

Wide straps help distribute weight evenly and avoid creating pressure points at the shoulders. Every Kalenji bra style has been validated through a laboratory test. This exclusive test proves that our Comfort Running bra reduces bounce by 44% compared with a conventional bra when practising high-impact sport.
Just for running
Bust support is good, but it shouldn't come at any expense - you still want to be comfortable during your run. So our design teams focus specifically on 2 points: chafing and perspiration wicking. 

Our Comfort Running Bra features "anti-perspirant" textiles coupled with perforations made by ultrasound. The cross-over straps provide freedom of movement, especially between the shoulder blades. Our seamless assembly techniques help reduce the risk of chafing on long runs.
Which is better: a bra or crop top?
Due to their structure, crop tops are best for small and medium bust sizes. They are quick and easy to put on and can often be worn alone, such as for summer runs or races.

Bras are perfect for bustier women thanks to their shaped cups. They are available in specific sizes and can be adjusted for a better fit and support.
Sport bra that don't flatten
Forget about sport bras that leave you shapeless. Styles like the Comfort Running Bra were designed to provide all the comfort and support you would expect from a running bra, but without smashing ladies into submission.