Running | 6 things to do when running during covid-19
The pandemic has shut the world from going outside. Being outside now comes with the obligation of wearing a mask and maintaining social distance.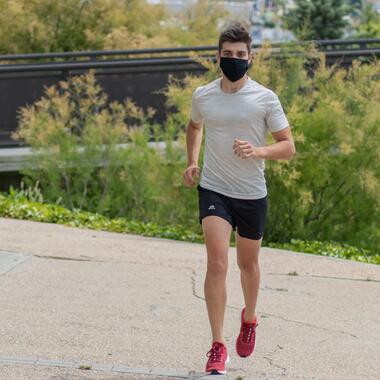 For us all, it has been a shift from our day-to-day lives to staying home for safety and good health. For those who used to hit the gym or exercise daily, it has not been easy. You must be missing the feeling of sweating out calories as you run on the road or treadmill. 

If your neighbourhood is spacious enough to accommodate you with a run, you should take proper precautions before, during, and after heading out for a run during the pandemic. 

 
1. Follow the norms
Be responsible. Wear a mask when running and maintain more than 6 feet distance between you and individuals around you. Maintain distance even when you are in motion. Stay indoors if you live in a containment zone or a hotspot. There are plenty of home exercises that make you run. Or, you can switch it up with various other routines as well.
It is necessary to wear the right clothes to make your running time more efficient. It simply makes all the difference! Choose clothes that can absorb your sweat easily - running T-shirts and pants should be lightweight and absorbent. Avoid wearing cotton. The Run Dry t-shirts' synthetic fabric, allows your sweat to dry away quickly. 
Wear shorts that are designed specifically for running so that you have enough breathability. The Kalenji shorts come with moisture management, absorbing perspiration quickly. Wear shoes that are lightweight and comfortable, preferably ones with cushions for a smoother run.
3. Accessorise
When you are out running, you might want to feel your best, knowing you will be heading out after a long time. Wear a sports watch so that you can time your runs. Take breaks accordingly, which is essential now and then. Don't exert yourself too much especially if you're wearing a mask. Carry a water bottle at all times to rehydrate yourself, as you sweat a lot. If holding a water bottle is a task, you can always use a waist bag to hold your water bottle.
4. Leave headphones at home
You must have used your earphones to its maximum capacity while you were at home. For many of us, they open a portal to a world of good music and great shows. But when you are out for a run without earphones, you notice a lot of sounds, ones that you were not able to since you were at home for so long. Natural sounds improve your mental wellbeing. The lack of traffic on the road gives way to various sounds we probably had not heard in a while. Give yourselves a chance to listen to them all again.
5. Assess your running patterns 
When you head out for a run, make sure you utilise your time wisely. Staying out for long is not advisable. A good 20-30-minute run on a daily or alternate day basis should suffice for you to maintain fitness. Make sure you increase your pace gradually. Keep track of your step count per minute. Do not forget to take breaks in between. Understand when your body is exerted, or tired from the run. Your sports watch can come in handy here as it tracks your movement, step count, the amount of time you spend on a slow or fast pace. It helps you to analyse your running time.
6. Find alternatives
The situation currently is quite unpredictable. It is always better to opt for indoor workout options other than going out for a run. If you have the right clothes, the right accessories in place, you can easily workout at home as well! Check out all the free materials online and get started properly.
Know that we are in this together. We should understand the necessity to follow the guidelines if we have to be in the pink of health. Whenever you go out for a run, make sure you don't go to crowded places and keep a safe distance. Wear a mask at all times. Do not stay out for a long time. Start with a quick workout routine at home so that by the time you are back from the short run, you feel good physically and mentally. Take care of your health. Happy running!