100 Women's Cardio Fitness Leggings - Black
Product Code : 169566 8393829
Designed for cardio activities (step, low-impact aerobics, indoor cycling, etc.) at a low to medium intensity.
A comfortable, elegant design. Wear during your workout or before/afterwards over your leggings.
---
Color : BLACK
3XS / W24 L28 Online stock 123
2XS / W26 L28 Online stock 253
XS / W28 L29 Online stock 246
S / W30 L29 Online stock 176
M / W33 L29 Online stock 119
L / W35 L29 Online stock 67
XL / W38 L29 Online stock 0
Home Delivery : Between 3 and 5 days.
Pick up in-store
Service not available
Home Delivery
Select Your Location
FREE for orders above HKD499
Currently not available online. Check the stock in stores on product page. Check stock in stores !
Our Stores
Notify me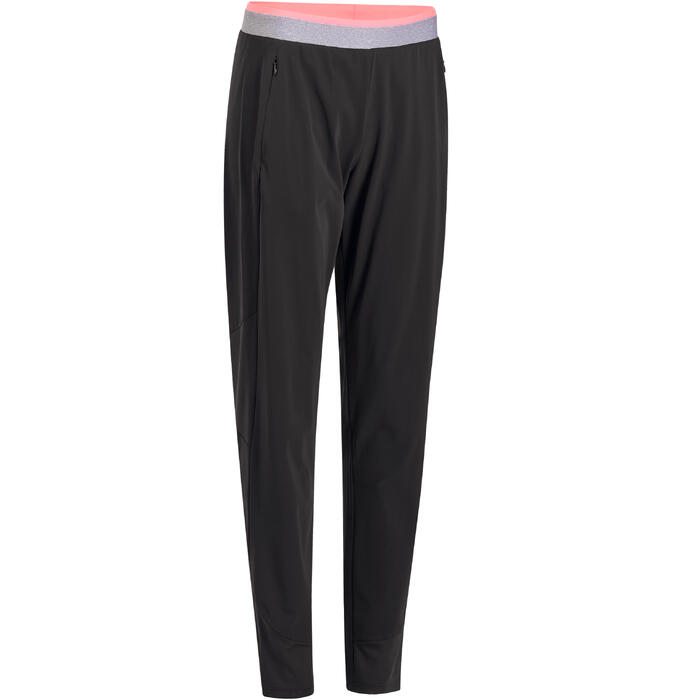 Your request has been registered
You will receive a notification at :
­
Please validate the captcha
Products benefits
Moisture management
Fabric that actively wicks away perspiration to keep you feeling dry.
Stretch
The stretch fabric offers greater ease and comfort.
Ventilation
Ventilated fabric for better moisture management.
Pockets
A zip pocket keeps small items safe during your workout.
Regular fit
These bottoms show off your figure with their straight, comfortable cut.
Elasticated waistband
The wide waistband keeps the bottoms firmly in place as you exercise.
Mesh inserts
Areas specially designed to wick perspiration: behind the knees and at the ankles.
A rating to compare the environmental impact of products
A product's environmental impact is calculated for its entire life cycle using various indicators. An overall rating (ABCDE) is given, allowing you to easily identify products with the best environmental performance by comparing similar products to each other (T-shirts, bottoms, backpacks etc.).
Decathlon openly displays the environmental ratings of its products.
Find out more: http://sustainability.decathlon.com/
Product concept & technology
TESTS
This product has undergone washing and drying tests to verify that it retains its shape and colour. These tests are regularly performed by an independent laboratory and allow us to ensure that our quality standards are always upheld.
Product Composition
Main fabric : 77.0% Polyester (PES), Main fabric : 23.0% Elasthane Yoke (General) : 82.0% Polyester (PES), Yoke (General) : 18.0% Elasthane Waist band : 89.0% Polyester (PES), Waist band : 11.0% Elasthane
Main fabric : 77.0% Polyester (PES), Main fabric : 23.0% Elasthane Yoke (General) : 82.0% Polyester (PES), Yoke (General) : 18.0% Elasthane Waist band : 89.0% Polyester (PES), Waist band : 11.0% Elasthane
Main fabric : 77.0% Polyester (PES), Main fabric : 23.0% Elasthane Yoke (General) : 82.0% Polyester (PES), Yoke (General) : 18.0% Elasthane Waist band : 89.0% Polyester (PES), Waist band : 11.0% Elasthane
Main fabric : 77.0% Polyester (PES), Main fabric : 23.0% Elasthane Yoke (General) : 82.0% Polyester (PES), Yoke (General) : 18.0% Elasthane Waist band : 89.0% Polyester (PES), Waist band : 11.0% Elasthane
Main fabric : 77.0% Polyester (PES), Main fabric : 23.0% Elasthane Yoke (General) : 82.0% Polyester (PES), Yoke (General) : 18.0% Elasthane Waist band : 89.0% Polyester (PES), Waist band : 11.0% Elasthane
Main fabric : 77.0% Polyester (PES), Main fabric : 23.0% Elasthane Yoke (General) : 82.0% Polyester (PES), Yoke (General) : 18.0% Elasthane Waist band : 89.0% Polyester (PES), Waist band : 11.0% Elasthane
Main fabric : 77.0% Polyester (PES), Main fabric : 23.0% Elasthane Yoke (General) : 82.0% Polyester (PES), Yoke (General) : 18.0% Elasthane Waist band : 89.0% Polyester (PES), Waist band : 11.0% Elasthane