500 Baby Gym Bottoms - Pink/Orange
Product Code : 301597 8501764
Breathable, soft, technical... Our design team gave it their all to create these attractive bottoms for small athletes and fans of Baby Gym!
Is your child a fan of Baby Gym? Then it's hard to pass up these bottoms, which have silicone over the knees: a nice trick for overcoming obstacles!
---
Color : PINK


12 Months Online stock 15
18 Months Online stock 7
2 Years Online stock 0
3 Years Online stock 0
12 Months Online stock 24
18 Months Online stock 0
2 Years Online stock 0
3 Years Online stock 65
4 Years Online stock 63
5 Years Online stock 0
6 Years Online stock 0
Home Delivery : Between 3 and 5 days
Pick up in-store
Service not available
Home Delivery
Select Your Location
FREE for orders above HKD499
Currently not available online. Click to check the stock in stores. Check stock in stores !
Our Stores
Notify me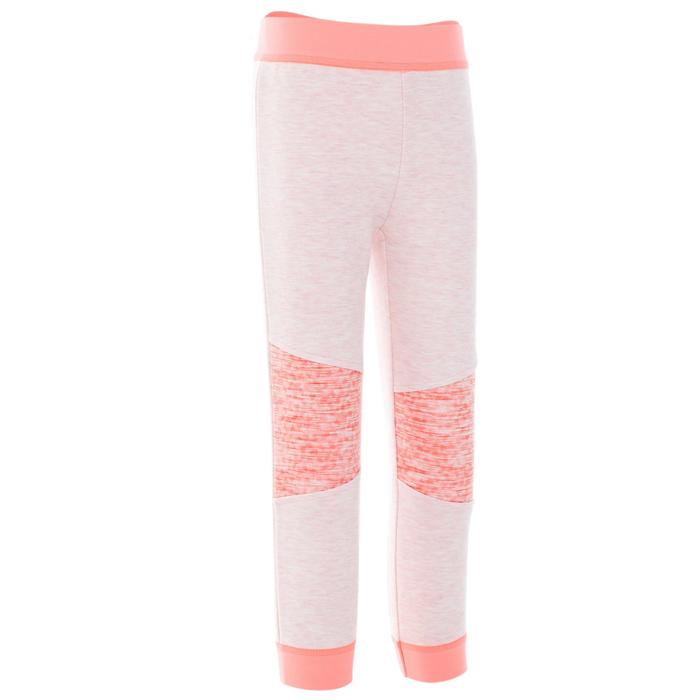 Your request has been registered
You will receive a notification at :
­
Please validate the captcha
Products benefits
Moisture management
Its cotton and polyester composition quickly wicks away heat and humidity.
Grip
The silicone knee grips help children move. Clever!
Warmth
The 500 bottoms are breathable and protect from cold thanks to their tight knit.
Stability
Little backs are nice and warm thanks to the elasticated waistband!
Grip
Since budding gymnasts are invited to jump, run, and crawl during their practise, the Domyos design team created bottoms with knee grips. The goal? Give kids a little helping hand during their practise. One way to help them develop their motor skills and use their clothing to benefit their activity! A way to improve much more quickly over Baby Gym obstacles!
Support
Being hindered during Baby Gym movements is out of the question! The Domyos designers have understood that: thanks to the elasticated waistband, which allows children to more easily put on their bottoms prior to practise, these bottoms will give kids true freedom to move. In addition to the waistband, the crotch of the bottoms, which runs from the low back to between the legs, has strong support to keep kids covered.
Breathability
The 500 bottoms allow kids to stay warm and comfy while fully enjoying Baby Gym. Temperatures can quickly climb at the gym. The product's breathable fabric wicks away heat and humidity, so kids stay nice and dry.
What should your child wear for Baby Gym?
To be comfortable during sports, your child can count on Domyos products: T-shirt, bottoms or leggings, and a jacket that they can remove if the temperature rises! The goal is not to impede their movements, so they can practise in comfort, without constantly needing to hitch up their pants or pull down their T-shirt. Their clothing will be more or less technical depending on their level... With a good pair of shoes, they'll be at the top of their game!
Baby Gym
Do you know about Baby Gym? Accessible to kids from age 1 to 6, this recreational activity aims to have them move through obstacle courses made of suitable equipment: tunnels, beams, soft mats, trampoline... so they can crawl, jump, learn to balance, and work on their motor skills. This fun sport, that is generally all about enjoyment, can be done at a gym or at home, indoors or outdoors.
The benefits of Baby Gym
Does your child do Baby Gym? Did you know that underneath its recreational exterior, this activity actually promotes a child's psychomotor development? Through a variety of activities and discovering new experiences, your little gymnast will learn to balance, develop their motor skills and coordination, and simply get to know their body and its capabilities! A great way for them to gain self-confidence.
Product concept & technology
TESTS
This product has undergone washing and drying tests to verify that it retains its shape and colour. These tests are regularly performed by an independent laboratory and allow us to ensure that our quality standards are always upheld.
Product Composition
Main fabric : 67.0% Cotton, Main fabric : 33.0% Polyester (PES) Yoke (General) : 78.0% Polyester (PES), Yoke (General) : 17.0% Viscose, Yoke (General) : 5.0% Elasthane
Main fabric : 67.0% Cotton, Main fabric : 33.0% Polyester (PES) Yoke (General) : 78.0% Polyester (PES), Yoke (General) : 17.0% Viscose, Yoke (General) : 5.0% Elasthane
Main fabric : 67.0% Cotton, Main fabric : 33.0% Polyester (PES) Yoke (General) : 78.0% Polyester (PES), Yoke (General) : 17.0% Viscose, Yoke (General) : 5.0% Elasthane
Main fabric : 67.0% Cotton, Main fabric : 33.0% Polyester (PES) Yoke (General) : 78.0% Polyester (PES), Yoke (General) : 17.0% Viscose, Yoke (General) : 5.0% Elasthane
Main fabric : 67.0% Cotton, Main fabric : 33.0% Polyester (PES) Yoke (General) : 78.0% Polyester (PES), Yoke (General) : 17.0% Viscose, Yoke (General) : 5.0% Elasthane
Main fabric : 67.0% Cotton, Main fabric : 33.0% Polyester (PES) Yoke (General) : 78.0% Polyester (PES), Yoke (General) : 17.0% Viscose, Yoke (General) : 5.0% Elasthane
Main fabric : 67.0% Cotton, Main fabric : 33.0% Polyester (PES) Yoke (General) : 78.0% Polyester (PES), Yoke (General) : 17.0% Viscose, Yoke (General) : 5.0% Elasthane
Main fabric : 67.0% Cotton, Main fabric : 33.0% Polyester (PES) Yoke (General) : 78.0% Polyester (PES), Yoke (General) : 17.0% Viscose, Yoke (General) : 5.0% Elasthane
Main fabric : 67.0% Cotton, Main fabric : 33.0% Polyester (PES) Yoke (General) : 78.0% Polyester (PES), Yoke (General) : 17.0% Viscose, Yoke (General) : 5.0% Elasthane
Main fabric : 67.0% Cotton, Main fabric : 33.0% Polyester (PES) Yoke (General) : 78.0% Polyester (PES), Yoke (General) : 17.0% Viscose, Yoke (General) : 5.0% Elasthane
Main fabric : 67.0% Cotton, Main fabric : 33.0% Polyester (PES) Yoke (General) : 78.0% Polyester (PES), Yoke (General) : 17.0% Viscose, Yoke (General) : 5.0% Elasthane
product.InfoConceptTechnology.maintenancePicture.label

Machine wash - 30° max - normal

Do not bleach

Do not tumble dry

Iron - Maximum temperature of 110°C - No Steam

Do not dry-clean