500 Baby Gym Shorts - Grey
Product Code : 150382 8382505
Designed for gym.
Fabric with fine plush loops on the inside. The perfect length for all sports. An elasticated waistband to keep them in place while exercising.
---
Color : Pewter

12 Months Online stock 11
18 Months Online stock 18
2 Years Online stock 21
3 Years Online stock 31
4 Years Online stock 28
5 Years Online stock 9
6 Years Online stock 0
12 Months Online stock 11
18 Months Online stock 7
3 Years Online stock 7
4 Years Online stock 0
6 Years Online stock 0
Home Delivery : Between 3 and 5 days.
Pick up in-store
Service not available
Home Delivery
Select Your Location
FREE for orders above HKD499
Currently not available online. Check the stock in stores on product page. Check stock in stores !
Our Stores
Notify me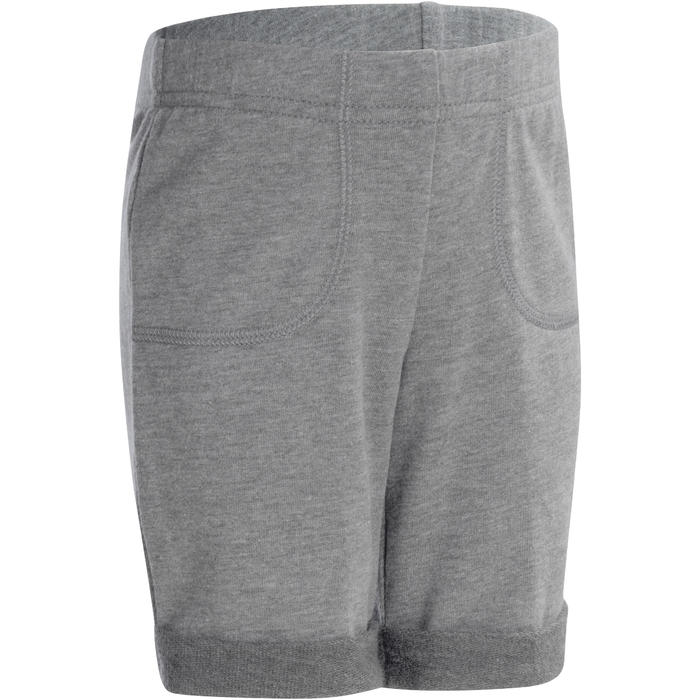 Your request has been registered
You will receive a notification at :
­
Please validate the captcha
Products benefits
Softness
Cotton-rich fabric with soft, small plush loops against the skin.
Stretch
Naturally stretchy fabric and a wide cut for good freedom of movement.
Stability
Elasticated waistband for easier dressing.
Technical information
What is kids' gym?
Fun gymnastic activities on specially designed equipment with gym instructors to lead the activities. These circuits are made up of different stations (beams, steps, slopes, tunnels, rollers, spring boards, etc.) that are perfect for kids to walk, run, jump, balance, climb, roll, etc.
What are the benefits of gym for kids?
Gym activities promote psychomotor development in young children, in particular motor skills, coordination and balance.
What should your child wear for doing gym?
A comfortable outfit that's suitable for the season: soft-knit T-shirt and shorts or bottoms, and a jacket or tracksuit for warming up. And a pair of Domyos bootees to avoid slipping on gym equipment.
Above-the-knee-length shorts for freedom of movement
Above-the-knee-length shorts that won't be in the way when kneeling.
Excellent freedom of movement.
A very supple and stretchy fabric.
Heathered effect with two colours.
Fitted elasticated waistband to keep things comfy around the waist while stopping them falling down as your child moves about.
A rating for comparing the environmental impact of products
The environmental impacts of the product are calculated across its entire lifecycle and using various indicators. An overall rating (ABCDE) is given, allowing you to easily identify products with the best environmental performance by comparing similar products to each other (T-shirts, bottoms, backpacks etc.).
Decathlon openly displays the environmental ratings of its products.
Find out more: http://sustainability.decathlon.com/
Product concept & technology
TESTS
This product has undergone washing and drying tests to verify that it retains its shape and colour. These tests are regularly performed by an independent laboratory and allow us to ensure that our quality standards are always upheld.
Product Composition
Main fabric : 51.0% Cotton, Main fabric : 49.0% Polyester (PES)
Main fabric : 51.0% Cotton, Main fabric : 49.0% Polyester (PES)
Main fabric : 51.0% Cotton, Main fabric : 49.0% Polyester (PES)
Main fabric : 51.0% Cotton, Main fabric : 49.0% Polyester (PES)
Main fabric : 51.0% Cotton, Main fabric : 49.0% Polyester (PES)
Main fabric : 51.0% Cotton, Main fabric : 49.0% Polyester (PES)
Main fabric : 51.0% Cotton, Main fabric : 49.0% Polyester (PES)
Main fabric : 51.0% Cotton, Main fabric : 49.0% Polyester (PES)
Main fabric : 51.0% Cotton, Main fabric : 49.0% Polyester (PES)
Main fabric : 51.0% Cotton, Main fabric : 49.0% Polyester (PES)
Main fabric : 51.0% Cotton, Main fabric : 49.0% Polyester (PES)
Main fabric : 51.0% Cotton, Main fabric : 49.0% Polyester (PES)