500 Men's Short Sleeve UV Protection Surfing Top T-Shirt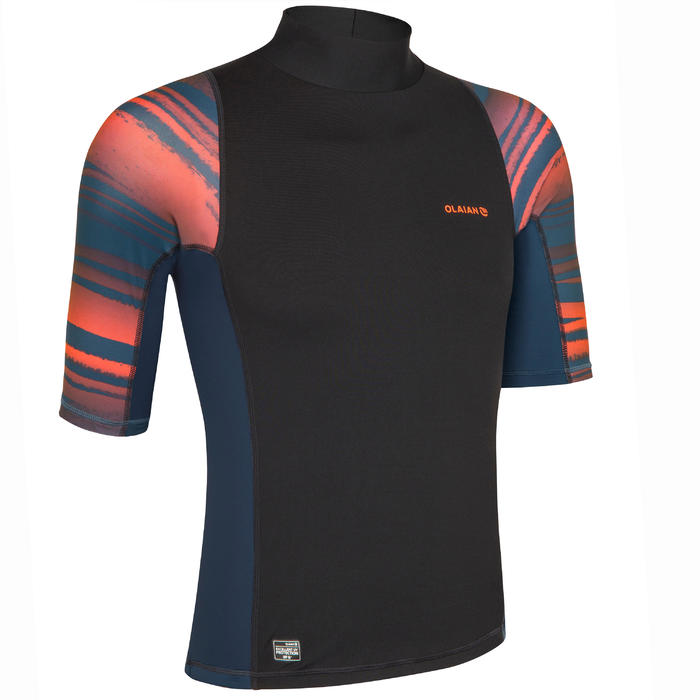 Top - Evaluation of the entire life cycle of the product, its impact on the environment, including climate change and the depletion of natural resources.
Know more
Men's Surfing Short Sleeve UV Protection Top T-Shirt 500 - Neon Print
Our team of designers has developed a UV-protection T-shirt that is perfectly suited to surfing in warm water, for sessions lasting up to two hours
UV-resistant short-sleeved T-shirt for protection from the sun, even in the water, and to limit irritation when in contact with the board.Fitted cut and drawstring for stability in waves.
---
Color : BLACK/Fluo orange/Carbon grey
Size
L Online stock 1
XL Online stock 5
Size large (67%)
67 %
of users say this fits Large
Our customers evaluate the size
Delivery : Available
---
FREE Next Day Home Delivery for orders above $499
Add $80 for Same Day Delivery
Pick up in-store
Service not available
Delivery
Select Your Location
FREE for orders above HKD499
Currently not available online. Click to check the stock in stores. Check stock in stores !
Our Stores
Notify me
Your request has been registered
You will receive a notification at :
Please validate the captcha
Size Guide
Products benefits
Sun protection
UPF 50+ fabric. Sun protection even when wet. Blocks at least 95% of UV rays.
Reduced chafing
Tight-fitting cut and seamless panels under the arms. 2-hour sessions.
Resitant to impact of waves
Drawstring and loop at the top bottom to keep it firmly in place in waves.
Quick drying
Quick-drying synthetic polyester material.
Easy maintenance
The textile mesh prevents grains of sand from getting stuck.
How to choose your UV protection T-shirt (Part 1)
All of our UV-resistant T-shirts are UPF 50+, i.e. they have the maximum level of sun protection. The choice between them will therefore be made based on the length of the sleeves and will depend on what it will be used for. The constraints are greatest for surfing so we decided to build our range primarily for surfing.
For surfing, the choice will be made according to the duration of your sessions: 1 hour, 2 hours or 3 hours.
How to choose your UV protection T-shirt (Part 2: According to the duration of the session)
1 hour: Occasional practice. You can choose between a loose fit (priority to ease of dressing and comfort when dry) or a fitted cut (priority to comfort when wet). A loop system to connect it to the shorts ensures the stability of the product.
2 hours: Regular practice. Comfort when wet is enhanced by the seamless panels under the arms and the drawstring which further increases stability.
3 hours: Intensive practice. Additional warmth to help you stay in the water for longer.
UV protection even when wet
The fabric of this OLAIAN UV-resistant product blocks at least 98% of UVB radiation and 95% of UVA (UPF 50+). This guarantees effective protection from the sun. It can be used both in and out of the water, for water or nautical sports. The density of the textile fibres filters out UV rays, for long-lasting protection, even after washing. Caution: the elastane contained in the fibre may deteriorate in chlorinated water.
What does UPF 50+ mean?
UPF is a sun protection factor (Ultra Violet Protection Factor) and is standardised worldwide. It defines the protection level of a fabric and more precisely the proportion of UV rays it lets through. To meet the standards, it must block at least 95% of UV rays. UPF 50+ means that the fabric blocks at least 95 % of UVA and 98 % of UVB rays.
Reduced chafing
This UV-resistant T-shirt helps limit rubbing and chafing due to contact with the surfboard or bodyboard. It can also be used under a wetsuit to limit rubbing, particularly around the neck and armpits. We have added seamless panels under the arms to limit irritation due to paddling movements. Our test protocols confirmed that irritation was indeed limited during two-hour sessions.
Support and stability in the waves
This OLAIAN UV-resistant top has a drawstring at the hips. This lets you tighten the top so that it stays firmly in place. It has also been designed so that the drawstring of your boardshorts can be attached to it to stop the top from riding up while you surf.
Warmth and wind
The minimum water temperature recommended for the use of this UV-protection T-shirt is 22°C. Air temperature may increase or decrease this recommendation. Our thermal models (over 2 hours) are made of either fleece, neoprene or both. The presence of wind can have an impact which can be uncomfortable as soon as the wind exceeds 15 km/h: In this case, choose a model with neoprene.
Multi water sports UV protection T-shirt
Our UV tops are designed to meet the needs of the most demanding surfers. Our design choices also make them compatible with other water sports such as swimming, kite surfing, windsurfing, wakeboarding, water skiing, sea wading or SUP (stand up paddle boarding).
Behaviour when in the sun
Although this T-shirt provides protection from the sun, phenomena such as reflections (from the water, sand, etc.), heat, time of day, etc., must be taken into account. Wearing this T-shirt does not exempt the wearer from adopting suitable behaviour: wear sunglasses, wear a hat or cap, regularly apply an appropriate sun cream, drink regularly, etc.
Surfing sun protection
https://www.olaian.fr/conseils/la-protection-solaire-en-surf-tp_3890
A score to compare the environmental impact of products
The environmental impact of the product is calculated over its entire life cycle with different indicators. An overall score (ABCDE) is attributed to help you easily identify the products with the best environmental performance by comparing products of the same type with one another (T-shirts, trousers, backpacks, etc.).
Decathlon has voluntarily opted to apply this environmental labelling scheme.
For more information, visit: http://sustainability.decathlon.com/
What is the OLAIAN brand?
OLAIAN, DECATHLON'S SURFING BRAND
Based in Hendaye, in South West France, OLAIAN is Decathlon's surfing brand. In our offices at the water's edge, we can design a UV-protection T-shirt and then on the same day test it directly in real practice conditions
Product concept & technology
Product Composition
Main fabric 85% Polyester, 15% Elasthane
Main fabric 85% Polyester, 15% Elasthane
Main fabric 85% Polyester, 15% Elasthane
Main fabric 85% Polyester, 15% Elasthane
Main fabric 85% Polyester, 15% Elasthane
Main fabric 85% Polyester, 15% Elasthane
Main fabric 85% Polyester, 15% Elasthane
Main fabric 85% Polyester, 15% Elasthane
Main fabric 85% Polyester, 15% Elasthane
Main fabric 85% Polyester, 15% Elasthane
Maintenance advice
Wash before first use. Rinse in clean water after use.
TESTS
Developed and tested by our design teams in Hendaye, France. The fabrics used for this product are laboratory tested to ensure the best possible quality and durability.
User Restrictions
Water > 22°C. Sun protection even when wet. Filters 95% of UV.
PRODUCT MAINTENANCE

Machine wash - 30° max - gentle

Do not bleach

Do not tumble dry

Do not iron

Do not dry-clean
Approved By
All of our sun protection components are laboratory tested by our engineers. They meet the current standard: EN 13758-2. We conduct tests on all of the materials used before starting production. We also have our own measuring equipment in our laboratories to supplement the tests conducted in external laboratories. The products are laboratory tested when wet and dry as well as in use whilst worn (with the stretch that occurs during use).