ST 500 Women's Mountain Bike Helmet - Blue/Pink
Product Code : 10967 8540109
Designed for protecting your head during sport touring.
This MTB 500 helmet adapts so you can forget you're wearing it with its inner foam padding for greater comfort, its 21 vents, and its adjustment wheel. Complies with helmet standard EN 1078.
---








M/53-59cm Online stock 0
L/59-61cm Online stock 0
M Online stock 12
L Online stock 27
M Online stock 21
L Online stock 28
M/53-59cm Online stock 9
L/59-61cm Online stock 9
M/53-59cm Online stock 25
L/59-61cm Online stock 15
M Online stock 0
L Online stock 0
M/53-59cm Online stock 0
L/59-61cm Online stock 0
M/53-59cm Online stock 0
L/59-61cm Online stock 0
Home Delivery : Between 3 and 5 days
Pick up in-store
Service not available
Home Delivery
Select Your Location
FREE for orders above HKD499
Currently not available online. Click to check the stock in stores. Check stock in stores !
Our Stores
Notify me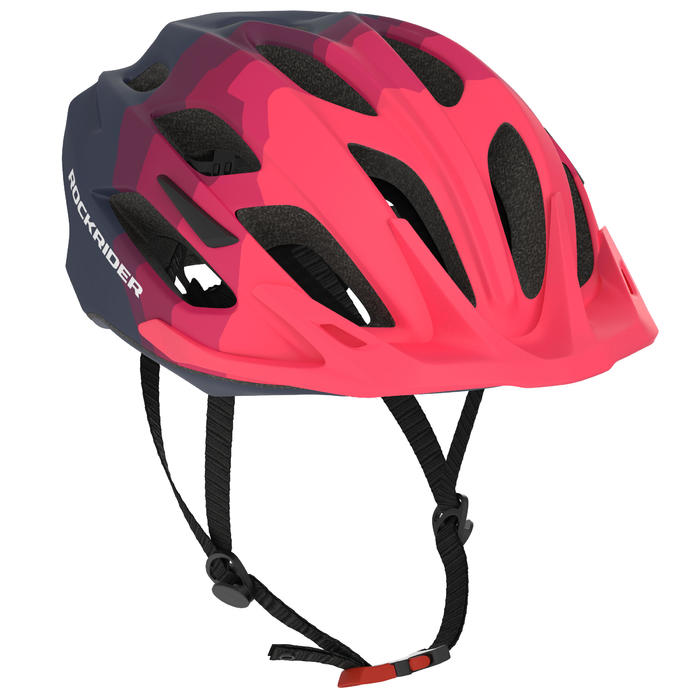 Your request has been registered
You will receive a notification at :
­
Please validate the captcha
Products benefits
User comfort
Forget it: its comfortable removable foam pads prevent pressure points.
Stability
The 3D tightening system guarantees a good hold during your rides.
Ventilation
Don't get too hot: air circulates through the 21 vents.
Ease of use
Make your life easier: adjust the straps and the wheel to fit your head
HOW DO YOU CHOOSE YOUR MOUNTAIN BIKE HELMET SIZE?
To find out your helmet size, just measure your head size (from the forehead to the top of the neck). This mountain bike helmet is available in two sizes:
M: 53 - 59 cm
L: 59 - 61 cm
XL:60 - 64cm
WHEN SHOULD I REPLACE MY HELMET?
We recommend replacing your helmet in 2 cases:
1/ After a fall
In the event of a fall, the material of your helmet can deteriorate or even break. Sometimes, you won't even notice. That is why we recommend replacing it if you have the slightest doubt.
2/ After 5 years of use
The foam of your helmet degrades over time. It can deteriorate due to impact, where it is stored, the climate, and its use. We recommend replacing your helmet at least every 5 years
HOW DO I ADJUST MY HELMET?
3 quick steps to follow to adjust your helmet in 5 minutes:
1/ Clip the 2 straps with the buckle: check that you can still slide 2 fingers between the strap and your chin.
2/ Adjust the straps so that they form a "Y" on each side of your ears. Just below the ear.
3/ Finally, adjust the tightness around your head.
The helmet should be in contact with your head, without tipping forward, backward, or sideways, even when you're moving.
HOW DO I ATTACH/REMOVE THE VISOR?
The Rockrider 500 mountain bike helmet has a detachable visor.
Unclip and reclip it whenever you want using the connector on each side.
However, we recommend keeping it on your helmet during your mountain bike rides. It protects you from branches, sun, and spray.
COMPATIBLE ACCESSORIES
This helmet is not adapted to attach a headlamp or other lighting source. Do you want to film your rides with a mountable camera? For your safety, we recommend attaching your sport camera directly onto the handlebars or on your torso with a suitable harness.
COMBINING SPORT & SAFETY
The helmet can seem restrictive at first. The Rockrider team is unanimous: for mountain biking, helmets have an important role to play.
Moreover, we all wear a helmet. For us, helmets are essential. Don't forget to wear one! ;)
product.productCharacteristic.Warranty.title
2 years
product.productCharacteristic.Weight.title
0.286kg in size M
Product concept & technology
STORAGE ADVICE
Store the helmet in a dry place away from direct sunlight, and avoid high temperatures (> 60°C). Clean the outside with a simple soft sponge and neutral soap.
User Restrictions
Suitable for skating & skateboarding. Not for motor sports.
Product Composition
Foam : 100.0% Expanded Polystyrene (EPS) Shell : 100.0% Polycarbonate (PC) Buckles : 100.0% Polyoxymethylene (POM) Webbing : 100.0% Polypropylene (PP)
Foam : 100.0% Expanded Polystyrene (EPS) Shell : 100.0% Polycarbonate (PC) Buckles : 100.0% Polyoxymethylene (POM) Webbing : 100.0% Polypropylene (PP)
Foam : 100.0% Expanded Polystyrene (EPS) Shell : 100.0% Polycarbonate (PC) Buckles : 100.0% Polyoxymethylene (POM) Webbing : 100.0% Polypropylene (PP)
Foam : 100.0% Expanded Polystyrene (EPS) Shell : 100.0% Polycarbonate (PC) Buckles : 100.0% Polyoxymethylene (POM) Webbing : 100.0% Polypropylene (PP)
Foam : 100.0% Expanded Polystyrene (EPS) Shell : 100.0% Polycarbonate (PC) Buckles : 100.0% Polyoxymethylene (POM) Webbing : 100.0% Polypropylene (PP)
Foam : 100.0% Expanded Polystyrene (EPS) Shell : 100.0% Polycarbonate (PC) Buckles : 100.0% Polyoxymethylene (POM) Webbing : 100.0% Polypropylene (PP)
Foam : 100.0% Expanded Polystyrene (EPS) Shell : 100.0% Polycarbonate (PC) Buckles : 100.0% Polyoxymethylene (POM) Webbing : 100.0% Polypropylene (PP)
Foam : 100.0% Expanded Polystyrene (EPS) Shell : 100.0% Polycarbonate (PC) Buckles : 100.0% Polyoxymethylene (POM) Webbing : 100.0% Polypropylene (PP)
Foam : 100.0% Expanded Polystyrene (EPS) Shell : 100.0% Polycarbonate (PC) Buckles : 100.0% Polyoxymethylene (POM) Webbing : 100.0% Polypropylene (PP)
Foam : 100.0% Expanded Polystyrene (EPS) Shell : 100.0% Polycarbonate (PC) Buckles : 100.0% Polyoxymethylene (POM) Webbing : 100.0% Polypropylene (PP)
Foam : 100.0% Expanded Polystyrene (EPS) Shell : 100.0% Polycarbonate (PC) Buckles : 100.0% Polyoxymethylene (POM) Webbing : 100.0% Polypropylene (PP)
Foam : 100.0% Expanded Polystyrene (EPS) Shell : 100.0% Polycarbonate (PC) Buckles : 100.0% Polyoxymethylene (POM) Webbing : 100.0% Polypropylene (PP)
Foam : 100.0% Expanded Polystyrene (EPS) Shell : 100.0% Polycarbonate (PC) Buckles : 100.0% Polyoxymethylene (POM) Webbing : 100.0% Polypropylene (PP)
Foam : 100.0% Expanded Polystyrene (EPS) Shell : 100.0% Polycarbonate (PC) Buckles : 100.0% Polyoxymethylene (POM) Webbing : 100.0% Polypropylene (PP)
Foam : 100.0% Expanded Polystyrene (EPS) Shell : 100.0% Polycarbonate (PC) Buckles : 100.0% Polyoxymethylene (POM) Webbing : 100.0% Polypropylene (PP)
Foam : 100.0% Expanded Polystyrene (EPS) Shell : 100.0% Polycarbonate (PC) Buckles : 100.0% Polyoxymethylene (POM) Webbing : 100.0% Polypropylene (PP)
Foam : 100.0% Expanded Polystyrene (EPS) Shell : 100.0% Polycarbonate (PC) Buckles : 100.0% Polyoxymethylene (POM) Webbing : 100.0% Polypropylene (PP)
Foam : 100.0% Expanded Polystyrene (EPS) Shell : 100.0% Polycarbonate (PC) Buckles : 100.0% Polyoxymethylene (POM) Webbing : 100.0% Polypropylene (PP)
Foam : 100.0% Expanded Polystyrene (EPS) Shell : 100.0% Polycarbonate (PC) Buckles : 100.0% Polyoxymethylene (POM) Webbing : 100.0% Polypropylene (PP)
Foam : 100.0% Expanded Polystyrene (EPS) Shell : 100.0% Polycarbonate (PC) Buckles : 100.0% Polyoxymethylene (POM) Webbing : 100.0% Polypropylene (PP)
Foam : 100.0% Expanded Polystyrene (EPS) Shell : 100.0% Polycarbonate (PC) Buckles : 100.0% Polyoxymethylene (POM) Webbing : 100.0% Polypropylene (PP)