500 Women's Cardio Fitness T-Shirt - Faded Lilac
Product Code : 160862 8543498
Designed for cardio activities (cardio boxing, cardio pulse, etc.) at a medium intensity.
T-shirt with a straight cut to keep you as comfy as possible while you work out. Additional panels in ventilated fabric to increase breathability.
---
Color : Navy blue/LIGHT GREY


UK 8 - EU 36 Online stock 0
UK 10 - EU 38 Online stock 0
UK 12 - EU 40 Online stock 0
UK 14 - EU 42 Online stock 0
UK 16 - EU 44 Online stock 0
UK 6 - EU 34 Online stock 80
UK 8 - EU 36 Online stock 70
UK 10 - EU 38 Online stock 83
UK 12 - EU 40 Online stock 96
UK 14 - EU 42 Online stock 71
UK 16 - EU 44 Online stock 117
Home Delivery :
Pick up in-store
Service not available
Home Delivery
Select Your Location
FREE for orders above HKD499
Currently not available online. Click to check the stock in stores. Check stock in stores !
Our Stores
Notify me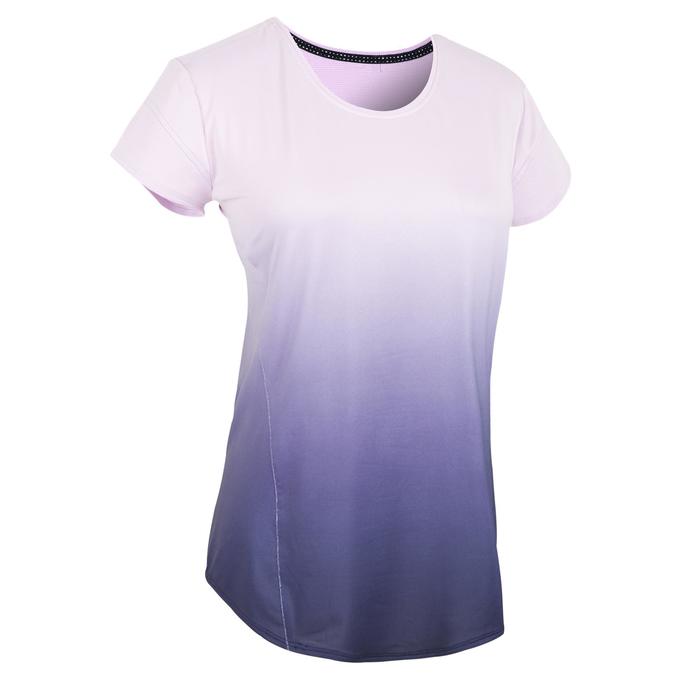 Your request has been registered
You will receive a notification at :
­
Please validate the captcha
Products benefits
Moisture management
Breathable, quick drying fabric keeps you dry.
Stretch
The stretch fabric offers greater ease and comfort as you move.
Ventilation
Ventilated fabric provides better moisture management.
Lightweight
The fabrics used are very light, making the garment more comfortable.
Regular fit
The cut fits all body types and ensures excellent freedom of movement.
Ultra soft fabric
Microfibre feel against the fabric for added comfort: feels like a second skin.
Stylish print
A stylish print to perfect your sporty look.
Are these products tested before being sold?
Of course! All our fabrics must successfully pass rigorous lab tests to ensure your comfort and safety. We test them for colour-fastness, resistance to repeated washing, moisture management and more - we call these our "torture tests".
And after that? Is that it?
No, there's more! We then have sports users put our products through the ringer. We listen to and analyse their feedback to fix what needs to be improved. And only then is your sports outfit ready!
What if I'm not satisfied with my product?
You have 365 days to return your product to any Decathlon store if it doesn't meet your expectations (obviously not if it's dripping with sweat). You can also try out products for 7 days for free (by preauthorising your debit/credit card which will then be charged after 7 days) in order to be sure, when you make your purchase, you have the product you want.
A rating to compare products' environmental impact
A product's environmental impact is calculated for its entire life cycle using various indicators. An overall rating (ABCDE) is given, allowing you to easily identify products with the best environmental performance by comparing similar products to each other (T-shirts, bottoms, backpacks etc.).
Decathlon voluntarily displays the environmental ratings of its products.
Find out more: http://sustainability.decathlon.com/
Product concept & technology
TESTS
The DOMYOS Women's Cardio Fitness clothing has been tested by external users to ensure that it is comfortable and performs in terms of breathability, freedom of movement and lightness.
Product Composition
Main fabric : 85.0% Polyester (PES), Main fabric : 15.0% Elasthane Yoke (General) : 82.0% Polyester (PES), Yoke (General) : 18.0% Elasthane
Main fabric : 85.0% Polyester (PES), Main fabric : 15.0% Elasthane Yoke (General) : 82.0% Polyester (PES), Yoke (General) : 18.0% Elasthane
Main fabric : 85.0% Polyester (PES), Main fabric : 15.0% Elasthane Yoke (General) : 82.0% Polyester (PES), Yoke (General) : 18.0% Elasthane
Main fabric : 85.0% Polyester (PES), Main fabric : 15.0% Elasthane Yoke (General) : 82.0% Polyester (PES), Yoke (General) : 18.0% Elasthane
Main fabric : 85.0% Polyester (PES), Main fabric : 15.0% Elasthane Yoke (General) : 82.0% Polyester (PES), Yoke (General) : 18.0% Elasthane
Main fabric : 85.0% Polyester (PES), Main fabric : 15.0% Elasthane Yoke (General) : 82.0% Polyester (PES), Yoke (General) : 18.0% Elasthane
Main fabric : 85.0% Polyester (PES), Main fabric : 15.0% Elasthane Yoke (General) : 82.0% Polyester (PES), Yoke (General) : 18.0% Elasthane
Main fabric : 85.0% Polyester (PES), Main fabric : 15.0% Elasthane Yoke (General) : 82.0% Polyester (PES), Yoke (General) : 18.0% Elasthane
Main fabric : 85.0% Polyester (PES), Main fabric : 15.0% Elasthane Yoke (General) : 82.0% Polyester (PES), Yoke (General) : 18.0% Elasthane
Main fabric : 85.0% Polyester (PES), Main fabric : 15.0% Elasthane Yoke (General) : 82.0% Polyester (PES), Yoke (General) : 18.0% Elasthane
Main fabric : 85.0% Polyester (PES), Main fabric : 15.0% Elasthane Yoke (General) : 82.0% Polyester (PES), Yoke (General) : 18.0% Elasthane
Main fabric : 85.0% Polyester (PES), Main fabric : 15.0% Elasthane Yoke (General) : 82.0% Polyester (PES), Yoke (General) : 18.0% Elasthane
Main fabric : 85.0% Polyester (PES), Main fabric : 15.0% Elasthane Yoke (General) : 82.0% Polyester (PES), Yoke (General) : 18.0% Elasthane
Main fabric : 85.0% Polyester (PES), Main fabric : 15.0% Elasthane Yoke (General) : 82.0% Polyester (PES), Yoke (General) : 18.0% Elasthane
Main fabric : 85.0% Polyester (PES), Main fabric : 15.0% Elasthane Yoke (General) : 82.0% Polyester (PES), Yoke (General) : 18.0% Elasthane
Main fabric : 85.0% Polyester (PES), Main fabric : 15.0% Elasthane Yoke (General) : 82.0% Polyester (PES), Yoke (General) : 18.0% Elasthane
product.InfoConceptTechnology.maintenancePicture.label

Machine wash - 40° max - normal

Do not bleach

Do not tumble dry

Iron - Maximum temperature of 110°C - No Steam

Do not dry-clean