500 Women's Slim-Fit Gentle Gym & Pilates T-Shirt - Pink
Product Code : 154251 8554991
Our designers created this T-shirt for Pilates and gentle gym activities. This product was designed for moderate-intensity exercise.
You'll love the quality of this slim-fit T-shirt with a feminine neckline. Fabric specifically designed to keep you dry during your workouts.
---
Color : PINK





2XS Online stock 6
XS Online stock 12
S Online stock 14
M Online stock 10
L Online stock 11
XL Online stock 7
2XS Online stock 64
XS Online stock 92
S Online stock 162
M Online stock 226
L Online stock 252
XL Online stock 169
2XS Online stock 111
XS Online stock 134
S Online stock 171
M Online stock 219
L Online stock 195
XL Online stock 82
2XS Online stock 70
XS Online stock 82
S Online stock 123
M Online stock 162
L Online stock 168
XL Online stock 113
2XS Online stock 36
XS Online stock 95
S Online stock 119
M Online stock 72
L Online stock 116
XL Online stock 30
2XS Online stock 0
XS Online stock 0
S Online stock 14
M Online stock 15
L Online stock 8
XL Online stock 8
2XS Online stock 29
XS Online stock 36
S Online stock 51
M Online stock 151
L Online stock 0
XL Online stock 121
Home Delivery : Between 3 and 5 days
Pick up in-store
Service not available
Home Delivery
Select Your Location
FREE for orders above HKD499
Currently not available online. Click to check the stock in stores. Check stock in stores !
Our Stores
Notify me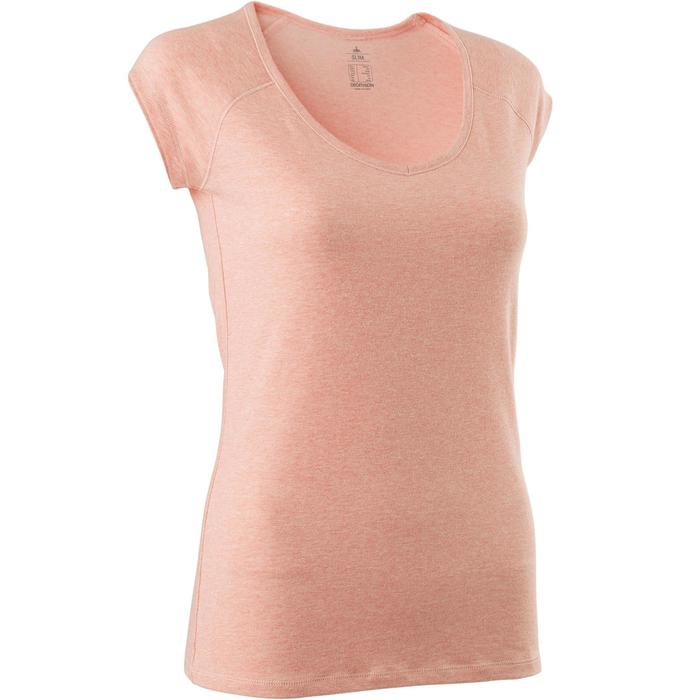 Your request has been registered
You will receive a notification at :
­
Please validate the captcha
Products benefits
Softness
Cotton-rich fibres for softness and comfort.
Moisture management
Wicks moisture away from the skin.
Stretch
The elastane in the fabric guarantees freedom of movement.
What makes the Pilates & Gentle Gym Slim-Fit T-Shirt so great?
Because we're all different, our gentle gym & pilates T-shirts come in two different styles: slim and regular fit. The slim-fit T-shirt enhances your figure with its close-fitting cut and attractive V-shaped neckline. You'll love the soft cotton and the light, breathable material. Your ally during regular, moderate fitness activities for exceptional comfort throughout your workout.
.
Benefits of the gentle Gym & Pilates T-shirt
Easy care and long lasting. The fabric and colours hold up perfectly to repeated machine washing. The fabric dries extremely fast and needs no ironing. Your number one companion for your daily fitness activities!
The design of our gentle Gym & Pilates products:
The gentle gym & pilates clothing range has been designed for regular gentle gym & pilates activities (fitness, gentle gym, stretching, toning, muscle strengthening, pilates) whether at a low or high intensity - perfect for keeping in shape, enhancing your figure and staying healthy. The gentle Gym and Pilates design team's goal is to provide you with the perfect combination of comfort and breathability. Our products are tested in real use and we regularly make changes based on customer feedback
A rating to compare products' environmental impact
The environmental impacts of the product are calculated across its entire lifecycle and using various indicators. An overall rating (ABCDE) is given, allowing you to easily identify products with the best environmental performance by comparing similar products to each other (T-shirts, bottoms, backpacks etc.).
Decathlon openly displays the environmental ratings of its products.
Find out more: http://sustainability.decathlon.com/
Product concept & technology
TESTS
This product has undergone washing and drying tests to verify that it retains its shape and colour. These tests are regularly performed by an independent laboratory and allow us to ensure that our quality standards are always upheld.
User Restrictions
This product is not designed for intensive use.
Product Composition
Main fabric : 35.0% Polyester (PES), Main fabric : 34.0% Cotton, Main fabric : 28.0% Lyocell, Main fabric : 3.0% Elasthane
Main fabric : 35.0% Polyester (PES), Main fabric : 34.0% Cotton, Main fabric : 28.0% Lyocell, Main fabric : 3.0% Elasthane
Main fabric : 35.0% Polyester (PES), Main fabric : 34.0% Cotton, Main fabric : 28.0% Lyocell, Main fabric : 3.0% Elasthane
Main fabric : 35.0% Polyester (PES), Main fabric : 34.0% Cotton, Main fabric : 28.0% Lyocell, Main fabric : 3.0% Elasthane
Main fabric : 35.0% Polyester (PES), Main fabric : 34.0% Cotton, Main fabric : 28.0% Lyocell, Main fabric : 3.0% Elasthane
Main fabric : 35.0% Polyester (PES), Main fabric : 34.0% Cotton, Main fabric : 28.0% Lyocell, Main fabric : 3.0% Elasthane
Main fabric : 35.0% Polyester (PES), Main fabric : 34.0% Cotton, Main fabric : 28.0% Lyocell, Main fabric : 3.0% Elasthane
Main fabric : 35.0% Polyester (PES), Main fabric : 34.0% Cotton, Main fabric : 28.0% Lyocell, Main fabric : 3.0% Elasthane
Main fabric : 35.0% Polyester (PES), Main fabric : 34.0% Cotton, Main fabric : 28.0% Lyocell, Main fabric : 3.0% Elasthane
Main fabric : 35.0% Polyester (PES), Main fabric : 34.0% Cotton, Main fabric : 28.0% Lyocell, Main fabric : 3.0% Elasthane
Main fabric : 35.0% Polyester (PES), Main fabric : 34.0% Cotton, Main fabric : 28.0% Lyocell, Main fabric : 3.0% Elasthane
Main fabric : 35.0% Polyester (PES), Main fabric : 34.0% Cotton, Main fabric : 28.0% Lyocell, Main fabric : 3.0% Elasthane
Main fabric : 35.0% Polyester (PES), Main fabric : 34.0% Cotton, Main fabric : 28.0% Lyocell, Main fabric : 3.0% Elasthane
Main fabric : 35.0% Polyester (PES), Main fabric : 34.0% Cotton, Main fabric : 28.0% Lyocell, Main fabric : 3.0% Elasthane
Main fabric : 35.0% Polyester (PES), Main fabric : 34.0% Cotton, Main fabric : 28.0% Lyocell, Main fabric : 3.0% Elasthane
Main fabric : 35.0% Polyester (PES), Main fabric : 34.0% Cotton, Main fabric : 28.0% Lyocell, Main fabric : 3.0% Elasthane
Main fabric : 35.0% Polyester (PES), Main fabric : 34.0% Cotton, Main fabric : 28.0% Lyocell, Main fabric : 3.0% Elasthane
Main fabric : 35.0% Polyester (PES), Main fabric : 34.0% Cotton, Main fabric : 28.0% Lyocell, Main fabric : 3.0% Elasthane
Main fabric : 35.0% Polyester (PES), Main fabric : 34.0% Cotton, Main fabric : 28.0% Lyocell, Main fabric : 3.0% Elasthane
Main fabric : 35.0% Polyester (PES), Main fabric : 34.0% Cotton, Main fabric : 28.0% Lyocell, Main fabric : 3.0% Elasthane
Main fabric : 35.0% Polyester (PES), Main fabric : 34.0% Cotton, Main fabric : 28.0% Lyocell, Main fabric : 3.0% Elasthane
Main fabric : 35.0% Polyester (PES), Main fabric : 34.0% Cotton, Main fabric : 28.0% Lyocell, Main fabric : 3.0% Elasthane
Main fabric : 35.0% Polyester (PES), Main fabric : 34.0% Cotton, Main fabric : 28.0% Lyocell, Main fabric : 3.0% Elasthane
Main fabric : 35.0% Polyester (PES), Main fabric : 34.0% Cotton, Main fabric : 28.0% Lyocell, Main fabric : 3.0% Elasthane
Main fabric : 35.0% Polyester (PES), Main fabric : 34.0% Cotton, Main fabric : 28.0% Lyocell, Main fabric : 3.0% Elasthane
Main fabric : 35.0% Polyester (PES), Main fabric : 34.0% Cotton, Main fabric : 28.0% Lyocell, Main fabric : 3.0% Elasthane
Main fabric : 35.0% Polyester (PES), Main fabric : 34.0% Cotton, Main fabric : 28.0% Lyocell, Main fabric : 3.0% Elasthane
Main fabric : 35.0% Polyester (PES), Main fabric : 34.0% Cotton, Main fabric : 28.0% Lyocell, Main fabric : 3.0% Elasthane
Main fabric : 35.0% Polyester (PES), Main fabric : 34.0% Cotton, Main fabric : 28.0% Lyocell, Main fabric : 3.0% Elasthane
Main fabric : 35.0% Polyester (PES), Main fabric : 34.0% Cotton, Main fabric : 28.0% Lyocell, Main fabric : 3.0% Elasthane
Main fabric : 35.0% Polyester (PES), Main fabric : 34.0% Cotton, Main fabric : 28.0% Lyocell, Main fabric : 3.0% Elasthane
Main fabric : 35.0% Polyester (PES), Main fabric : 34.0% Cotton, Main fabric : 28.0% Lyocell, Main fabric : 3.0% Elasthane
Main fabric : 35.0% Polyester (PES), Main fabric : 34.0% Cotton, Main fabric : 28.0% Lyocell, Main fabric : 3.0% Elasthane
Main fabric : 35.0% Polyester (PES), Main fabric : 34.0% Cotton, Main fabric : 28.0% Lyocell, Main fabric : 3.0% Elasthane
Main fabric : 35.0% Polyester (PES), Main fabric : 34.0% Cotton, Main fabric : 28.0% Lyocell, Main fabric : 3.0% Elasthane
Main fabric : 35.0% Polyester (PES), Main fabric : 34.0% Cotton, Main fabric : 28.0% Lyocell, Main fabric : 3.0% Elasthane
Main fabric : 35.0% Polyester (PES), Main fabric : 34.0% Cotton, Main fabric : 28.0% Lyocell, Main fabric : 3.0% Elasthane
Main fabric : 35.0% Polyester (PES), Main fabric : 34.0% Cotton, Main fabric : 28.0% Lyocell, Main fabric : 3.0% Elasthane
Main fabric : 35.0% Polyester (PES), Main fabric : 34.0% Cotton, Main fabric : 28.0% Lyocell, Main fabric : 3.0% Elasthane
Main fabric : 35.0% Polyester (PES), Main fabric : 34.0% Cotton, Main fabric : 28.0% Lyocell, Main fabric : 3.0% Elasthane
Main fabric : 35.0% Polyester (PES), Main fabric : 34.0% Cotton, Main fabric : 28.0% Lyocell, Main fabric : 3.0% Elasthane
Main fabric : 35.0% Polyester (PES), Main fabric : 34.0% Cotton, Main fabric : 28.0% Lyocell, Main fabric : 3.0% Elasthane
Main fabric : 35.0% Polyester (PES), Main fabric : 34.0% Cotton, Main fabric : 28.0% Lyocell, Main fabric : 3.0% Elasthane
Main fabric : 35.0% Polyester (PES), Main fabric : 34.0% Cotton, Main fabric : 28.0% Lyocell, Main fabric : 3.0% Elasthane
Main fabric : 35.0% Polyester (PES), Main fabric : 34.0% Cotton, Main fabric : 28.0% Lyocell, Main fabric : 3.0% Elasthane
product.InfoConceptTechnology.maintenancePicture.label

Machine wash - 30° max - normal

Do not bleach

Tumble dry - low heat

Iron - Maximum temperature of 110°C - No Steam

Do not dry-clean