520 Women's 2-in-1 Cardio Shorts - Black and Blue Print
Product Code : 178178 8484702
Designed for cardio activities (cardio boxing, cardio pulse, etc.) at a medium intensity.
2-in-1 shorts inspired by the tropics. The breathable first layer wicks away perspiration and keeps your movements comfy. Elastic at the waist to keep them in place.
---
Color : BLACK
2XS Online stock 18
XS Online stock 0
S Online stock 44
M Online stock 12
L Online stock 0
Home Delivery : Between 3 and 5 days
Pick up in-store
Service not available
Home Delivery
Select Your Location
FREE for orders above HKD499
Currently not available online. Click to check the stock in stores. Check stock in stores !
Our Stores
Notify me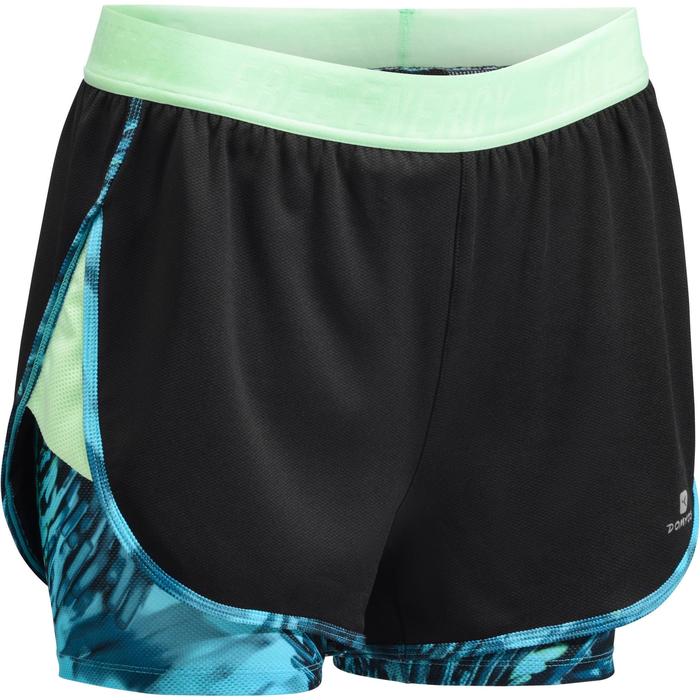 Your request has been registered
You will receive a notification at :
­
Please validate the captcha
Products benefits
Moisture management
Fabric that actively wicks away perspiration to keep you feeling dry.
Stretch
The stretch fabric offers greater ease and comfort.
Ventilation
Ventilated fabric for better moisture management.
A specific cut
2-in-1 shorts for comfort and freedom of movement.
Breathable fabrics
Ultra-breathable, stretchy fabric for more performance.
Elasticated waistband
A waistband with a "Free Energy" print keeps the shorts in place even during your most intense workouts.
A rating to compare the environmental impact of products
A product's environmental impact is calculated for its entire life cycle using various indicators. An "ABCDE" rating system has been created to help you quickly see which products offer the best environmental performance. Use it to compare two similar products (T-shirts, bottoms, backpacks).
Decathlon actively promotes this visible environmental rating policy.
Web: sustainability.decathlon.com
Explanation video: https://youtu.be/8t63KkRwn_8
product.productCharacteristic.Warranty.title
2 years
Product concept & technology
TESTS
The DOMYOS Women's Cardio Fitness clothing has been tested by external users to ensure that it is comfortable and performs in terms of breathability, freedom of movement and lightness.
Product Composition
Main fabric : 90.0% Polyester (PES), Main fabric : 10.0% Elasthane Lining : 95.0% Polyester (PES), Lining : 5.0% Elasthane Elastic Band : 64.0% Polyamide, Elastic Band : 26.0% Polyester (PES), Elastic Band : 10.0% Elasthane
Main fabric : 90.0% Polyester (PES), Main fabric : 10.0% Elasthane Lining : 95.0% Polyester (PES), Lining : 5.0% Elasthane Elastic Band : 64.0% Polyamide, Elastic Band : 26.0% Polyester (PES), Elastic Band : 10.0% Elasthane
Main fabric : 90.0% Polyester (PES), Main fabric : 10.0% Elasthane Lining : 95.0% Polyester (PES), Lining : 5.0% Elasthane Elastic Band : 64.0% Polyamide, Elastic Band : 26.0% Polyester (PES), Elastic Band : 10.0% Elasthane
Main fabric : 90.0% Polyester (PES), Main fabric : 10.0% Elasthane Lining : 95.0% Polyester (PES), Lining : 5.0% Elasthane Elastic Band : 64.0% Polyamide, Elastic Band : 26.0% Polyester (PES), Elastic Band : 10.0% Elasthane
Main fabric : 90.0% Polyester (PES), Main fabric : 10.0% Elasthane Lining : 95.0% Polyester (PES), Lining : 5.0% Elasthane Elastic Band : 64.0% Polyamide, Elastic Band : 26.0% Polyester (PES), Elastic Band : 10.0% Elasthane
Main fabric : 90.0% Polyester (PES), Main fabric : 10.0% Elasthane Lining : 95.0% Polyester (PES), Lining : 5.0% Elasthane Elastic Band : 64.0% Polyamide, Elastic Band : 26.0% Polyester (PES), Elastic Band : 10.0% Elasthane
Main fabric : 90.0% Polyester (PES), Main fabric : 10.0% Elasthane Lining : 95.0% Polyester (PES), Lining : 5.0% Elasthane Elastic Band : 64.0% Polyamide, Elastic Band : 26.0% Polyester (PES), Elastic Band : 10.0% Elasthane
Main fabric : 90.0% Polyester (PES), Main fabric : 10.0% Elasthane Lining : 95.0% Polyester (PES), Lining : 5.0% Elasthane Elastic Band : 64.0% Polyamide, Elastic Band : 26.0% Polyester (PES), Elastic Band : 10.0% Elasthane
Main fabric : 90.0% Polyester (PES), Main fabric : 10.0% Elasthane Lining : 95.0% Polyester (PES), Lining : 5.0% Elasthane Elastic Band : 64.0% Polyamide, Elastic Band : 26.0% Polyester (PES), Elastic Band : 10.0% Elasthane
Main fabric : 90.0% Polyester (PES), Main fabric : 10.0% Elasthane Lining : 95.0% Polyester (PES), Lining : 5.0% Elasthane Elastic Band : 64.0% Polyamide, Elastic Band : 26.0% Polyester (PES), Elastic Band : 10.0% Elasthane
Main fabric : 90.0% Polyester (PES), Main fabric : 10.0% Elasthane Lining : 95.0% Polyester (PES), Lining : 5.0% Elasthane Elastic Band : 64.0% Polyamide, Elastic Band : 26.0% Polyester (PES), Elastic Band : 10.0% Elasthane
Main fabric : 90.0% Polyester (PES), Main fabric : 10.0% Elasthane Lining : 95.0% Polyester (PES), Lining : 5.0% Elasthane Elastic Band : 64.0% Polyamide, Elastic Band : 26.0% Polyester (PES), Elastic Band : 10.0% Elasthane
Main fabric : 90.0% Polyester (PES), Main fabric : 10.0% Elasthane Lining : 95.0% Polyester (PES), Lining : 5.0% Elasthane Elastic Band : 64.0% Polyamide, Elastic Band : 26.0% Polyester (PES), Elastic Band : 10.0% Elasthane
Main fabric : 90.0% Polyester (PES), Main fabric : 10.0% Elasthane Lining : 95.0% Polyester (PES), Lining : 5.0% Elasthane Elastic Band : 64.0% Polyamide, Elastic Band : 26.0% Polyester (PES), Elastic Band : 10.0% Elasthane
product.InfoConceptTechnology.maintenancePicture.label

Machine wash - 40° max - normal

Do not bleach

Do not tumble dry

Iron - Maximum temperature of 110°C - No Steam

Do not dry-clean