900 Men's Golf Short Sleeve Warm Weather Polo - Heather Black
Product Code : 170720 8402571
Designed for playing golf in hot weather.
This piqué knit golf polo shirt is perfect for playing in temperatures over 22°C thanks to its lightweight material that wicks away perspiration and keeps you dry.
---
Color : BLACK




S Online stock 37
M Online stock 95
L Online stock 78
XL Online stock 97
2XL Online stock 57
3XL Online stock 36
S Online stock 0
M Online stock 0
L Online stock 0
XL Online stock 0
2XL Online stock 36
3XL Online stock 27
S Online stock 29
M Online stock 37
L Online stock 69
XL Online stock 82
2XL Online stock 41
3XL Online stock 23
S Online stock 0
M Online stock 0
L Online stock 0
XL Online stock 0
2XL Online stock 32
3XL Online stock 30
Home Delivery : Between 3 and 5 days.
Pick up in-store
Service not available
Home Delivery
Select Your Location
FREE for orders above HKD499
Currently not available online. Check the stock in stores on product page. Check stock in stores !
Our Stores
Notify me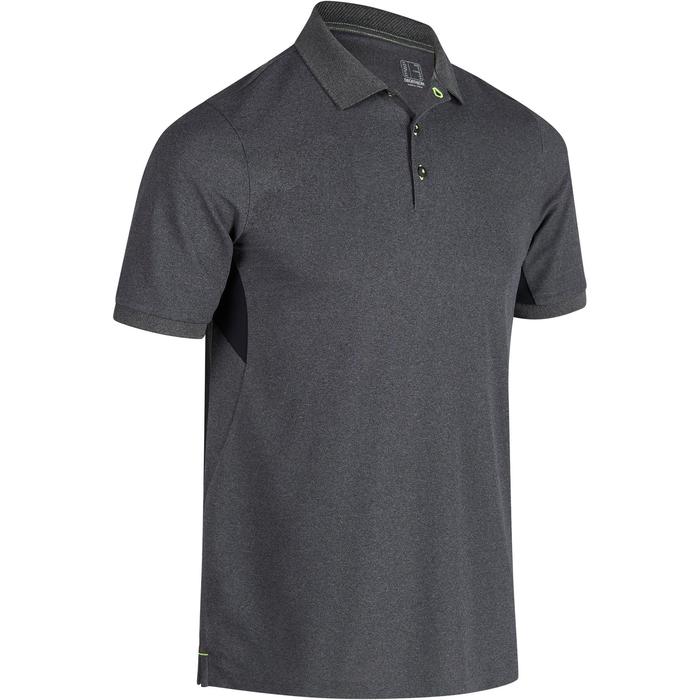 Your request has been registered
You will receive a notification at :
­
Please validate the captcha
Products benefits
Freedom of movement
Stretchy fabric and cut perfectly suited to range of golf swing motion.
Moisture management
Fabric wicks away perspiration and keeps you dry.
Odour control
Inlays treated to provide odour control underarms
Technical information
Sizing information
In the picture, our model is wearing a size M and measures 1.87 metres.
It's the details that make the difference
Polo-shirt's length ensures lower back and stomach are well covered even when finishing swing.
It was designed with a 3 button placket, so you can raise collar to protect the back of your neck from the sun.
The details inside the collar enhance polo's breathability.
Inesis product design
We develop our products to provide you with comfortable clothes to play the game whatever your level of skill. Our team of golf enthusiasts design each INESIS product after having observed and listened to users, to make golf always synonymous with enjoyment.
Product concept & technology
TESTS
This polo shirt has been subjected to consecutive washing and drying tests to check for its capacity to retain its shape and colour. 100% polyester composition of main fabric makes your polo longer lasting to washing. These tests are performed by an external laboratory to ensure that our quality requirements are met throughout the design process.
Product Composition
Main fabric : 100.0% Polyester (PES) Yoke (General) : 82.0% Polyamide, Yoke (General) : 18.0% Elasthane
Main fabric : 100.0% Polyester (PES) Yoke (General) : 82.0% Polyamide, Yoke (General) : 18.0% Elasthane
Main fabric : 100.0% Polyester (PES) Yoke (General) : 82.0% Polyamide, Yoke (General) : 18.0% Elasthane
Main fabric : 100.0% Polyester (PES) Yoke (General) : 82.0% Polyamide, Yoke (General) : 18.0% Elasthane
Main fabric : 100.0% Polyester (PES) Yoke (General) : 82.0% Polyamide, Yoke (General) : 18.0% Elasthane
Main fabric : 100.0% Polyester (PES) Yoke (General) : 82.0% Polyamide, Yoke (General) : 18.0% Elasthane
Main fabric : 100.0% Polyester (PES) Yoke (General) : 82.0% Polyamide, Yoke (General) : 18.0% Elasthane
Main fabric : 100.0% Polyester (PES) Yoke (General) : 82.0% Polyamide, Yoke (General) : 18.0% Elasthane
Main fabric : 100.0% Polyester (PES) Yoke (General) : 82.0% Polyamide, Yoke (General) : 18.0% Elasthane
Main fabric : 100.0% Polyester (PES) Yoke (General) : 82.0% Polyamide, Yoke (General) : 18.0% Elasthane
Main fabric : 100.0% Polyester (PES) Yoke (General) : 82.0% Polyamide, Yoke (General) : 18.0% Elasthane
Main fabric : 100.0% Polyester (PES) Yoke (General) : 82.0% Polyamide, Yoke (General) : 18.0% Elasthane
Main fabric : 100.0% Polyester (PES) Yoke (General) : 82.0% Polyamide, Yoke (General) : 18.0% Elasthane
Main fabric : 100.0% Polyester (PES) Yoke (General) : 82.0% Polyamide, Yoke (General) : 18.0% Elasthane
Main fabric : 100.0% Polyester (PES) Yoke (General) : 82.0% Polyamide, Yoke (General) : 18.0% Elasthane
Main fabric : 100.0% Polyester (PES) Yoke (General) : 82.0% Polyamide, Yoke (General) : 18.0% Elasthane
Main fabric : 100.0% Polyester (PES) Yoke (General) : 82.0% Polyamide, Yoke (General) : 18.0% Elasthane
Main fabric : 100.0% Polyester (PES) Yoke (General) : 82.0% Polyamide, Yoke (General) : 18.0% Elasthane
Main fabric : 100.0% Polyester (PES) Yoke (General) : 82.0% Polyamide, Yoke (General) : 18.0% Elasthane
Main fabric : 100.0% Polyester (PES) Yoke (General) : 82.0% Polyamide, Yoke (General) : 18.0% Elasthane
Main fabric : 100.0% Polyester (PES) Yoke (General) : 82.0% Polyamide, Yoke (General) : 18.0% Elasthane
Main fabric : 100.0% Polyester (PES) Yoke (General) : 82.0% Polyamide, Yoke (General) : 18.0% Elasthane
Main fabric : 100.0% Polyester (PES) Yoke (General) : 82.0% Polyamide, Yoke (General) : 18.0% Elasthane
Main fabric : 100.0% Polyester (PES) Yoke (General) : 82.0% Polyamide, Yoke (General) : 18.0% Elasthane