900 Tritan Plastic 0.8L Hiking Water Bottle with Instant Spout - Green
Product Code : 122249 8364533
Designed for hikers who need to carry their fluids and drink on the go.
Opens instantly with one hand, spout for easy "upright" drinking, strong transparent Tritan plastic (0.8L).
---
Color : GREEN




Unique size Online stock 338
Unique size Online stock 50
Unique size Online stock 86
Unique size Online stock 1047
Home Delivery : Between 3 and 5 days
Pick up in-store
Service not available
Home Delivery
Select Your Location
FREE for orders above HKD499
Currently not available online. Click to check the stock in stores. Check stock in stores !
Our Stores
Notify me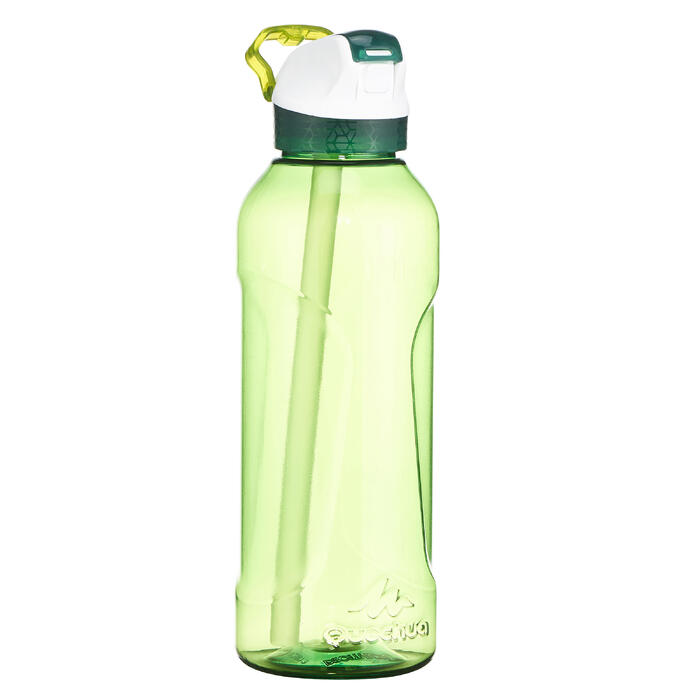 Your request has been registered
You will receive a notification at :
­
Please validate the captcha
Products benefits
Easy opening / closing
Opens and closes instantly with 1 hand, spout built into the top.
Durability
Made of Tritan: a shatterproof transparent plastic and taste-free material.
Ease of use
Tube for drinking "upright", wide opening, handle, graduations. 0.8L.
Isothermal
Non-isothermal. To keep your drink cool, use the 1L isothermal bag.
Directions for use
Tritan is not isothermal. Use a bag if you want to keep liquids cool.
Do not use with fizzy drinks or fatty substances (dairy products, oil, etc.). Do not put in the microwave or freezer.
The water bottle is transparent and has 200 ml graduations so that you can see how much liquid remains or prepare energy drinks.
Functions
Using the tube, you can drink by "sucking", keeping the head upright.
It is possible to drink as you would with a conventional bottle (remove the tube inside). However, this may be noisy (duck or dolphin sound…) because of air coming in contact with the water.
The top has a handle so that it can be easily carried in your hand or hung from a backpack with a strap or snap hook.
Maintenance advice
Clean your water bottle after each use with a conventional washing-up liquid and water. The product may also be placed in the dishwasher if necessary. Please note: when washing in the dishwasher, the seal of the top may come off. Make sure you put it back if this happens, because this is what prevents the water bottle from leaking. Leave the bottle and top to dry separately and fully.
First use
Rinse the entire product 3 times with clear water before using for the first time.
Materials and regulations
All of our products and materials are compliant with the regulations in force for food contact and do not contain Bisphenol A (BPA).
Weight and dimensions
Volume: 0.8 litre
Size: Ø 7.8 cm x 24.5 cm
Weight: 128 g
Also available: 0.5 L and 0.8 L
product.productCharacteristic.Warranty.title
2 years
Product concept & technology
STORAGE ADVICE
Wash and dry before storing. Store without closing. Store in a clean and dry place.
User Restrictions
Not for fizzy drinks, fatty food, freezers or microwave ovens.
Product Composition
Cap : 36.0% Polypropylene (PP), Cap : 32.0% Polyamide, Cap : 28.0% Silicon, Cap : 3.9% Acrylonitrile butadiene styrene (ABS), Cap : 0.1% Stainless steel Bottle/Body : 100.0% TRITAN
Cap : 36.0% Polypropylene (PP), Cap : 32.0% Polyamide, Cap : 28.0% Silicon, Cap : 3.9% Acrylonitrile butadiene styrene (ABS), Cap : 0.1% Stainless steel Bottle/Body : 100.0% TRITAN
Cap : 36.0% Polypropylene (PP), Cap : 32.0% Polyamide, Cap : 28.0% Silicon, Cap : 3.9% Acrylonitrile butadiene styrene (ABS), Cap : 0.1% Stainless steel Bottle/Body : 100.0% TRITAN
Cap : 36.0% Polypropylene (PP), Cap : 32.0% Polyamide, Cap : 28.0% Silicon, Cap : 3.9% Acrylonitrile butadiene styrene (ABS), Cap : 0.1% Stainless steel Bottle/Body : 100.0% TRITAN