900 Women's 2-in-1 Cardio Fitness Shorts - Blue Graphic Print
Product Code : 171389 8484701
For those who love circuit training, HIIT classes and pushing your limits: our design teams created this product with you in mind!
The 900 collection is packed with technical features. These shorts stay in place thanks to their waistband, as well as being very breathable and giving plenty of room for movement
---
Color : DARK BLUE



XS Online stock 0
S Online stock 0
M Online stock 27
L Online stock 2
2XS Online stock 24
XS Online stock 21
S Online stock 38
M Online stock 25
L Online stock 16
2XS Online stock 18
XS Online stock 29
S Online stock 29
M Online stock 7
L Online stock 29
2XS Online stock 282
XS Online stock 349
S Online stock 345
M Online stock 247
L Online stock 125
Home Delivery : Between 3 and 5 days
Pick up in-store
Service not available
Home Delivery
Select Your Location
FREE for orders above HKD499
Currently not available online. Click to check the stock in stores. Check stock in stores !
Our Stores
Notify me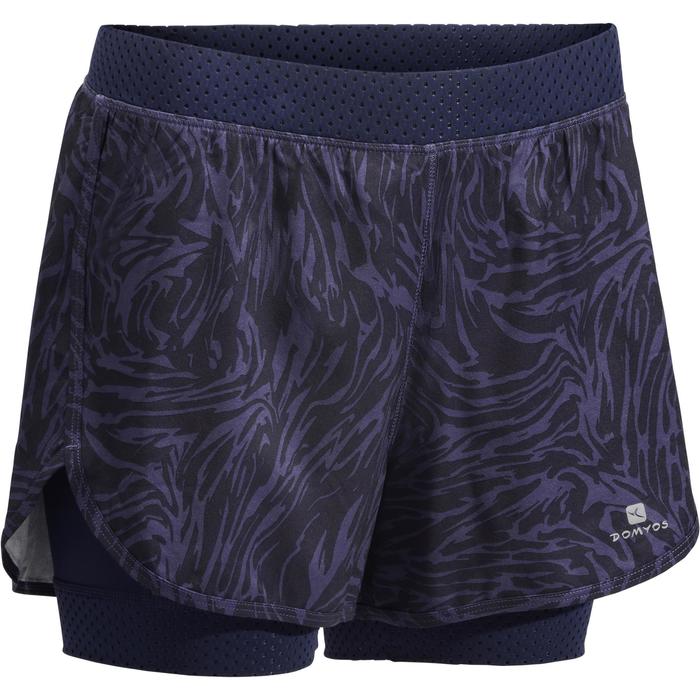 Your request has been registered
You will receive a notification at :
­
Please validate the captcha
Products benefits
Moisture management
Breathable, quick drying fabric to keep you dry.
Stretch
The stretch fabric offers greater ease and comfort.
Ventilation
Ventilated fabric for better moisture management.
A feminine touch
Feminine shorts thanks to the sheer details, floaty fabrics and sophisticated lines.
A great fit
The waistband hugs your waist snugly so you don't have to worry about the shorts slipping down.
Are products tested before being sold?
Of course! All our fabrics must successfully pass rigorous lab tests to ensure your comfort and safety. We test them for colourfastness, resistance to repeated washing, perspiration wicking and more - we call these our "torture tests".
And after that? Is that it?
Not so fast. We then have sports users put our products through the ringer. We listen to and analyse their feedback to fix what needs to be improved. And only then is your sports clothing ready!
And if you're not happy with your product?
You have 365 days to return your product to any DECATHLON store if it does not meet your expectations (although, maybe not straight after a workout...). You can also try products out for seven days before you pay (with a pre-authorisation on your bank card, which will be automatically debited after seven days) to be sure you the product suits your needs!
A rating to compare the environmental impact of products
A product's environmental impact is calculated for its entire life cycle using various indicators. An "ABCDE" rating system has been created to help you quickly see which products offer the best environmental performance. Use it to compare two similar products (T-shirts, bottoms, backpacks).
Decathlon actively promotes this visible environmental rating policy.
Web: sustainability.decathlon.com
Explanation video: https://youtu.be/8t63KkRwn_8
Product concept & technology
TESTS
This product has undergone washing and drying tests to verify that it retains its shape and colour. These tests are regularly performed by an independent laboratory and allow us to ensure that our quality standards are always upheld.
Product Composition
Main fabric : 86.0% Polyester (PES), Main fabric : 14.0% Elasthane Lining : 78.0% Polyamide, Lining : 22.0% Elasthane Yoke (General) : 79.0% Polyamide, Yoke (General) : 21.0% Elasthane
Main fabric : 86.0% Polyester (PES), Main fabric : 14.0% Elasthane Lining : 78.0% Polyamide, Lining : 22.0% Elasthane Yoke (General) : 79.0% Polyamide, Yoke (General) : 21.0% Elasthane
Main fabric : 86.0% Polyester (PES), Main fabric : 14.0% Elasthane Lining : 78.0% Polyamide, Lining : 22.0% Elasthane Yoke (General) : 79.0% Polyamide, Yoke (General) : 21.0% Elasthane
Main fabric : 86.0% Polyester (PES), Main fabric : 14.0% Elasthane Lining : 78.0% Polyamide, Lining : 22.0% Elasthane Yoke (General) : 79.0% Polyamide, Yoke (General) : 21.0% Elasthane
Main fabric : 86.0% Polyester (PES), Main fabric : 14.0% Elasthane Lining : 78.0% Polyamide, Lining : 22.0% Elasthane Yoke (General) : 79.0% Polyamide, Yoke (General) : 21.0% Elasthane
Main fabric : 86.0% Polyester (PES), Main fabric : 14.0% Elasthane Lining : 78.0% Polyamide, Lining : 22.0% Elasthane Yoke (General) : 79.0% Polyamide, Yoke (General) : 21.0% Elasthane
Main fabric : 86.0% Polyester (PES), Main fabric : 14.0% Elasthane Lining : 78.0% Polyamide, Lining : 22.0% Elasthane Yoke (General) : 79.0% Polyamide, Yoke (General) : 21.0% Elasthane
Main fabric : 86.0% Polyester (PES), Main fabric : 14.0% Elasthane Lining : 78.0% Polyamide, Lining : 22.0% Elasthane Yoke (General) : 79.0% Polyamide, Yoke (General) : 21.0% Elasthane
Main fabric : 86.0% Polyester (PES), Main fabric : 14.0% Elasthane Lining : 78.0% Polyamide, Lining : 22.0% Elasthane Yoke (General) : 79.0% Polyamide, Yoke (General) : 21.0% Elasthane
Main fabric : 86.0% Polyester (PES), Main fabric : 14.0% Elasthane Lining : 78.0% Polyamide, Lining : 22.0% Elasthane Yoke (General) : 79.0% Polyamide, Yoke (General) : 21.0% Elasthane
Main fabric : 86.0% Polyester (PES), Main fabric : 14.0% Elasthane Lining : 78.0% Polyamide, Lining : 22.0% Elasthane Yoke (General) : 79.0% Polyamide, Yoke (General) : 21.0% Elasthane
Main fabric : 86.0% Polyester (PES), Main fabric : 14.0% Elasthane Lining : 78.0% Polyamide, Lining : 22.0% Elasthane Yoke (General) : 79.0% Polyamide, Yoke (General) : 21.0% Elasthane
Main fabric : 86.0% Polyester (PES), Main fabric : 14.0% Elasthane Lining : 78.0% Polyamide, Lining : 22.0% Elasthane Yoke (General) : 79.0% Polyamide, Yoke (General) : 21.0% Elasthane
Main fabric : 86.0% Polyester (PES), Main fabric : 14.0% Elasthane Lining : 78.0% Polyamide, Lining : 22.0% Elasthane Yoke (General) : 79.0% Polyamide, Yoke (General) : 21.0% Elasthane
Main fabric : 86.0% Polyester (PES), Main fabric : 14.0% Elasthane Lining : 78.0% Polyamide, Lining : 22.0% Elasthane Yoke (General) : 79.0% Polyamide, Yoke (General) : 21.0% Elasthane
Main fabric : 86.0% Polyester (PES), Main fabric : 14.0% Elasthane Lining : 78.0% Polyamide, Lining : 22.0% Elasthane Yoke (General) : 79.0% Polyamide, Yoke (General) : 21.0% Elasthane
Main fabric : 86.0% Polyester (PES), Main fabric : 14.0% Elasthane Lining : 78.0% Polyamide, Lining : 22.0% Elasthane Yoke (General) : 79.0% Polyamide, Yoke (General) : 21.0% Elasthane
Main fabric : 86.0% Polyester (PES), Main fabric : 14.0% Elasthane Lining : 78.0% Polyamide, Lining : 22.0% Elasthane Yoke (General) : 79.0% Polyamide, Yoke (General) : 21.0% Elasthane
Main fabric : 86.0% Polyester (PES), Main fabric : 14.0% Elasthane Lining : 78.0% Polyamide, Lining : 22.0% Elasthane Yoke (General) : 79.0% Polyamide, Yoke (General) : 21.0% Elasthane
product.InfoConceptTechnology.maintenancePicture.label

Machine wash - 30° max - normal

Do not bleach

Do not tumble dry

Iron - Maximum temperature of 110°C - No Steam

Do not dry-clean