Agility 700 HG Adult Hard Ground Leather Football Boot - Blue/Orange
Product Code : 117632 8496960
Designed for intermediate football players who play on hard ground or artificial turf pitches and who want comfortable leather shoes.
Are you looking for boots that give you great ball feel during matches? We've developed the Agility 700 leather boots to help you better feel the ball.
---
Color : Asphalt blue

UK 5.5 - EU 39 Online stock 0
UK 6.5 - EU 40 Online stock 0
UK 7 - EU 41 Online stock 6
UK 8 - EU 42 Online stock 0
UK 8.5 - EU 43 Online stock 0
UK 9.5 - EU 44 Online stock 0
UK 10.5 - EU 45 Online stock 0
UK 5.5 - EU 39 Online stock 0
UK 6.5 - EU 40 Online stock 0
UK 7 - EU 41 Online stock 2
UK 8 - EU 42 Online stock 11
UK 8.5 - EU 43 Online stock 0
UK 9.5 - EU 44 Online stock 11
UK 10.5 - EU 45 Online stock 0
Home Delivery : Between 3 and 5 days.
Pick up in-store
Service not available
Home Delivery
Select Your Location
FREE for orders above HKD499
Currently not available online. Check the stock in stores on product page. Check stock in stores !
Our Stores
Notify me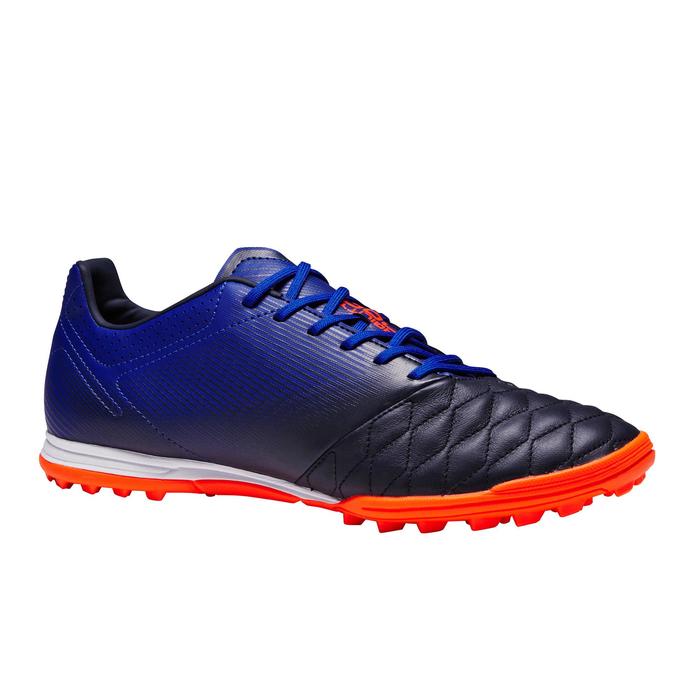 Your request has been registered
You will receive a notification at :
­
Please validate the captcha
Products benefits
Ball control
Leather makes the boot more supple and improves ball feel.
Cushioning
The EVA midsole shock absorbs impacts on hard ground.
Fitting comfort
Insole with cushioning on the heel and forefoot. Flexible, cushioned upper.
Traction
Sole with multiple small size studs ensuring good grip.
Abrasion resistance
Upper and outsole are resistant to wear on dry pitches.
Grip
Multiple small studs provide solid footing on hard grounds such as gravel/sand based pitches or certain artificial turf pitches.
Ball feel
After watching football players on the pitch, we realised that expert players want an excellent ball feel at all times for improved handling accuracy. Our engineers chose a supple vamp made from cowhide that provides superior ball feel.
User comfort
We know that comfortable football boots are essential to help you stay focused on the game. That's why our design teams made the Agility 700 HG with a pre-shaped insole and PORON pads at the heel and forefoot for durable cushioning and heel support.
Cushioning
We know that football pitches are sometimes very hard, which is why our engineers equipped the Agility 900's outsole with EVA inserts in the heel. These inserts provide better cushioning and dampen shock waves spreading through your foot.
Durability
We know that training and playing matches repeatedly, combined with abrasive ground contact are factors that accelerate your boots' wear and tear.
This is why our engineers chose to use cowhide, offering an excellent balance of comfort and durability.
For the sole, we opted for TPU for its excellent durability, including during intensive play, to meet the needs of intermediate players.
Personalisation
Because every player is unique, you can have your boots personalised at your local store's workshop (first name, surname, etc.)
product.productCharacteristic.Warranty.title
2 years
Product concept & technology
STORAGE ADVICE
Store in a dry place. Remove shoes from your bag.
User Restrictions
Do not machine wash.
Product Composition
Outer sole of : 60.0% Rubber - Synthetic, Outer sole of : 40.0% Ethylene Vinyl Acetate (EVA) Upper of : 70.0% Polyurethane (PU), Upper of : 30.0% Leather - Cow Lining and sock of : 100.0% Polyester (PES)
Outer sole of : 60.0% Rubber - Synthetic, Outer sole of : 40.0% Ethylene Vinyl Acetate (EVA) Upper of : 70.0% Polyurethane (PU), Upper of : 30.0% Leather - Cow Lining and sock of : 100.0% Polyester (PES)
Outer sole of : 60.0% Rubber - Synthetic, Outer sole of : 40.0% Ethylene Vinyl Acetate (EVA) Upper of : 70.0% Polyurethane (PU), Upper of : 30.0% Leather - Cow Lining and sock of : 100.0% Polyester (PES)
Outer sole of : 60.0% Rubber - Synthetic, Outer sole of : 40.0% Ethylene Vinyl Acetate (EVA) Upper of : 70.0% Polyurethane (PU), Upper of : 30.0% Leather - Cow Lining and sock of : 100.0% Polyester (PES)
Outer sole of : 60.0% Rubber - Synthetic, Outer sole of : 40.0% Ethylene Vinyl Acetate (EVA) Upper of : 70.0% Polyurethane (PU), Upper of : 30.0% Leather - Cow Lining and sock of : 100.0% Polyester (PES)
Outer sole of : 60.0% Rubber - Synthetic, Outer sole of : 40.0% Ethylene Vinyl Acetate (EVA) Upper of : 70.0% Polyurethane (PU), Upper of : 30.0% Leather - Cow Lining and sock of : 100.0% Polyester (PES)
Outer sole of : 60.0% Rubber - Synthetic, Outer sole of : 40.0% Ethylene Vinyl Acetate (EVA) Upper of : 70.0% Polyurethane (PU), Upper of : 30.0% Leather - Cow Lining and sock of : 100.0% Polyester (PES)
Outer sole of : 60.0% Rubber - Synthetic, Outer sole of : 40.0% Ethylene Vinyl Acetate (EVA) Upper of : 70.0% Polyurethane (PU), Upper of : 30.0% Leather - Cow Lining and sock of : 100.0% Polyester (PES)
Outer sole of : 60.0% Rubber - Synthetic, Outer sole of : 40.0% Ethylene Vinyl Acetate (EVA) Upper of : 70.0% Polyurethane (PU), Upper of : 30.0% Leather - Cow Lining and sock of : 100.0% Polyester (PES)
Outer sole of : 60.0% Rubber - Synthetic, Outer sole of : 40.0% Ethylene Vinyl Acetate (EVA) Upper of : 70.0% Polyurethane (PU), Upper of : 30.0% Leather - Cow Lining and sock of : 100.0% Polyester (PES)
Outer sole of : 60.0% Rubber - Synthetic, Outer sole of : 40.0% Ethylene Vinyl Acetate (EVA) Upper of : 70.0% Polyurethane (PU), Upper of : 30.0% Leather - Cow Lining and sock of : 100.0% Polyester (PES)
Outer sole of : 60.0% Rubber - Synthetic, Outer sole of : 40.0% Ethylene Vinyl Acetate (EVA) Upper of : 70.0% Polyurethane (PU), Upper of : 30.0% Leather - Cow Lining and sock of : 100.0% Polyester (PES)
Outer sole of : 60.0% Rubber - Synthetic, Outer sole of : 40.0% Ethylene Vinyl Acetate (EVA) Upper of : 70.0% Polyurethane (PU), Upper of : 30.0% Leather - Cow Lining and sock of : 100.0% Polyester (PES)
Outer sole of : 60.0% Rubber - Synthetic, Outer sole of : 40.0% Ethylene Vinyl Acetate (EVA) Upper of : 70.0% Polyurethane (PU), Upper of : 30.0% Leather - Cow Lining and sock of : 100.0% Polyester (PES)
Outer sole of : 60.0% Rubber - Synthetic, Outer sole of : 40.0% Ethylene Vinyl Acetate (EVA) Upper of : 70.0% Polyurethane (PU), Upper of : 30.0% Leather - Cow Lining and sock of : 100.0% Polyester (PES)
product.InfoConceptTechnology.maintenancePicture.label

Do not wash