Beginner Hooded Zip-Up Basketball Jacket - Dark Grey/Black
Product Code : 114649 8392988
Designed for beginner basketball players training, warming up, and wearing before and after matches.
This jacket is designed for playing basketball. Made from materials that provide an ideal level of warmth during play. It has two side pockets, a full-length zip, and a hood.
---
Color : Carbon grey/BLACK


S Online stock 40
M Online stock 75
L Online stock 0
XL Online stock 0
2XL Online stock 0
S Online stock 52
M Online stock 46
L Online stock 64
XL Online stock 62
2XL Online stock 40
Home Delivery : Between 3 and 5 days
Pick up in-store
Service not available
Home Delivery
Select Your Location
FREE for orders above HKD499
Currently not available online. Click to check the stock in stores. Check stock in stores !
Our Stores
Notify me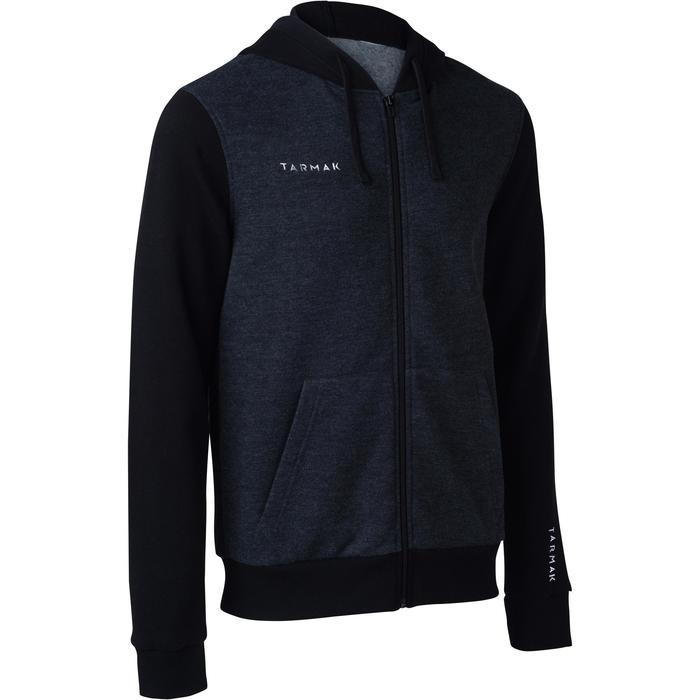 Your request has been registered
You will receive a notification at :
­
Please validate the captcha
Products benefits
Warmth
Play at the right temperature with this lightweight and comfortable jacket.
Freedom of movement
Made from soft materials so you can enjoy excellent freedom of movement!
Why choose this basketball jacket?
This jacket is a real asset for all basketball players. It can be worn for training, warming up, and before and after matches. The brushed fabric ensures you're always at the right temperature.
It is has a full-length zip that makes it easy to put on or take off at your convenience. You'll also like the two side pockets and the hood with a drawstring. (401g in size L)
Freedom of movement: stay comfortable!
This basketball jacket is made from soft material. Despite its warmth retention properties, it is still lightweight and very comfortable to wear. The loose cut makes it easy to move as you play. Play freely!
Who designs the Tarmak basketball products?
Tarmak is a team of keen basketball players who develop products especially for playing basketball. Our entire textile product range is designed to meet the needs of even the most demanding basketball players and help you enjoy your training and matches to the fullest.
Did you know that all Tarmak products are tested in real-world match conditions?
The design team behind the TARMAK products is based at Kipstadium in Northern France. It is constantly aiming to make basketball a more enjoyable experience. All our products are designed with materials for which we have verified the quality in terms of moisture management, durability, etc. Each and every shoe model is tested in real-world situations by basketball players for several weeks, and undergo changes based on your feedback.
Get all our sports tips on training and choosing the right basketball gear!
Tarmak supports you as you play basketball whether you're a beginner or a regular player.
Discover our tips for training, getting kitted out or having fun alone or in a group.
A score to compare products' environmental impacts
The product's environmental impacts are calculated over its entire life span and with various indicators. An overall rating (ABCDE) is given, allowing you to easily identify products with the best environmental performance by comparing similar products to each other (T-shirts, bottoms, backpacks etc.).
Decathlon openly displays the environmental ratings of its products.
Find out more: http://sustainability.decathlon.com/
product.productCharacteristic.Warranty.title
2 years
Product concept & technology
Maintenance advice
Machine wash at 30°C. Do not tumble dry.
STORAGE ADVICE
We recommend keeping this product in a dry place. After use, take it out of your sport bag to wash and dry it.
TESTS
This product has undergone washing and drying tests to make sure it retains its shape and colour. These tests allow us to ensure our quality expectations are met.
Product Composition
Main fabric : 58.0% Polyester (PES), Main fabric : 42.0% Cotton Yoke (General) : 58.0% Cotton, Yoke (General) : 38.0% Polyester (PES), Yoke (General) : 4.0% Elasthane
Main fabric : 58.0% Polyester (PES), Main fabric : 42.0% Cotton Yoke (General) : 58.0% Cotton, Yoke (General) : 38.0% Polyester (PES), Yoke (General) : 4.0% Elasthane
Main fabric : 58.0% Polyester (PES), Main fabric : 42.0% Cotton Yoke (General) : 58.0% Cotton, Yoke (General) : 38.0% Polyester (PES), Yoke (General) : 4.0% Elasthane
Main fabric : 58.0% Polyester (PES), Main fabric : 42.0% Cotton Yoke (General) : 58.0% Cotton, Yoke (General) : 38.0% Polyester (PES), Yoke (General) : 4.0% Elasthane
Main fabric : 58.0% Polyester (PES), Main fabric : 42.0% Cotton Yoke (General) : 58.0% Cotton, Yoke (General) : 38.0% Polyester (PES), Yoke (General) : 4.0% Elasthane
Main fabric : 58.0% Polyester (PES), Main fabric : 42.0% Cotton Yoke (General) : 58.0% Cotton, Yoke (General) : 38.0% Polyester (PES), Yoke (General) : 4.0% Elasthane
Main fabric : 58.0% Polyester (PES), Main fabric : 42.0% Cotton Yoke (General) : 58.0% Cotton, Yoke (General) : 38.0% Polyester (PES), Yoke (General) : 4.0% Elasthane
Main fabric : 58.0% Polyester (PES), Main fabric : 42.0% Cotton Yoke (General) : 58.0% Cotton, Yoke (General) : 38.0% Polyester (PES), Yoke (General) : 4.0% Elasthane
Main fabric : 58.0% Polyester (PES), Main fabric : 42.0% Cotton Yoke (General) : 58.0% Cotton, Yoke (General) : 38.0% Polyester (PES), Yoke (General) : 4.0% Elasthane
Main fabric : 58.0% Polyester (PES), Main fabric : 42.0% Cotton Yoke (General) : 58.0% Cotton, Yoke (General) : 38.0% Polyester (PES), Yoke (General) : 4.0% Elasthane
Main fabric : 58.0% Polyester (PES), Main fabric : 42.0% Cotton Yoke (General) : 58.0% Cotton, Yoke (General) : 38.0% Polyester (PES), Yoke (General) : 4.0% Elasthane
Main fabric : 58.0% Polyester (PES), Main fabric : 42.0% Cotton Yoke (General) : 58.0% Cotton, Yoke (General) : 38.0% Polyester (PES), Yoke (General) : 4.0% Elasthane
Main fabric : 58.0% Polyester (PES), Main fabric : 42.0% Cotton Yoke (General) : 58.0% Cotton, Yoke (General) : 38.0% Polyester (PES), Yoke (General) : 4.0% Elasthane
Main fabric : 58.0% Polyester (PES), Main fabric : 42.0% Cotton Yoke (General) : 58.0% Cotton, Yoke (General) : 38.0% Polyester (PES), Yoke (General) : 4.0% Elasthane
Main fabric : 58.0% Polyester (PES), Main fabric : 42.0% Cotton Yoke (General) : 58.0% Cotton, Yoke (General) : 38.0% Polyester (PES), Yoke (General) : 4.0% Elasthane
product.InfoConceptTechnology.maintenancePicture.label

Machine wash - 30° max - normal

Do not bleach

Tumble dry - low heat

Iron - Maximum temperature of 150°C

Do not dry-clean