500 woodland camouflage Bermuda hunting shorts, black
Product Code : 145634 8355308
Our hunter-designers have developed these Bermuda hunting shorts for a lightweight feel when hunting small game in hot weather. Suitable for observing wildlife
Very durable and practical Bermuda shorts with 2 cargo pockets and one zipped pocket. The semi-elasticated waist adapts to all body shapes and offers better support.
---
Color : GREY






S Online stock 0
M Online stock 27
L Online stock 40
XL Online stock 0
2XL Online stock 30
S Online stock 7
M Online stock 16
L Online stock 26
XL Online stock 3
2XL Online stock 10
S Online stock 0
M Online stock 9
L Online stock 19
XL Online stock 21
2XL Online stock 14
S Online stock 24
M Online stock 0
L Online stock 46
XL Online stock 45
2XL Online stock 26
S Online stock 2
M Online stock 20
L Online stock 2
XL Online stock 20
2XL Online stock 18
S Online stock 0
M Online stock 38
L Online stock 47
XL Online stock 54
2XL Online stock 17
Home Delivery : Between 3 and 5 days
Pick up in-store
Service not available
Home Delivery
Select Your Location
FREE for orders above HKD499
Currently not available online. Click to check the stock in stores. Check stock in stores !
Our Stores
Notify me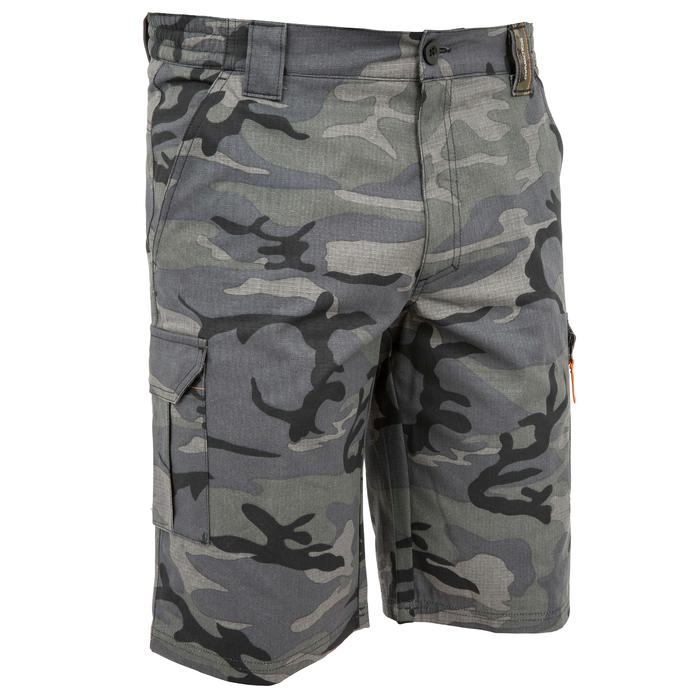 Your request has been registered
You will receive a notification at :
­
Please validate the captcha
Products benefits
Durability
Fabric tested to withstand 49000 rubs without rupturing. Reinforced seams.
Lightweight
100% cotton fabric (250 g/m²). 355g in size L.
Pockets
5 pockets: 2 for the hands, 2 cargo pockets and 1 zipped pocket.
Anatomic design
Comfortable semi-elasticated waist.
Durability
250 g/sqm cotton ripstop fabric (parachute cloth weave).
Double stitching (assembly seams) and bar tacks at all the high-stress areas: pocket openings, loops, base of zip. Reinforced stitching at fly zip. Highly resistant thread: 4 stitches/cm.
Pockets
2 hand pockets.
2 very large bellows pockets with press stub fastening.
1 zipped vertical pocket.
Comfort
100% cotton fabric and semi-elasticated waistband.
A score to compare the environmental impact of products
The product's environmental impacts are calculated across its entire life cycle using various indicators. An overall score (ABCDE) is attributed to help you easily identify the products with the best environmental performance by comparing products of the same type with one another (T-shirts, trousers, backpacks, etc.).
Decathlon chose to apply this voluntary environmental labelling scheme.
For more info: http://sustainability.decathlon.com/
Product concept & technology
STORAGE ADVICE
Bermuda hunting shorts to be stored in a dry, ventilated place.
User Restrictions
Iron at a maximum temperature of 150°.
Product Composition
Main fabric : 100.0% Cotton Pocket : 65.0% Polyester (PES), Pocket : 35.0% Cotton
Main fabric : 100.0% Cotton Pocket : 65.0% Polyester (PES), Pocket : 35.0% Cotton
Main fabric : 100.0% Cotton Pocket : 65.0% Polyester (PES), Pocket : 35.0% Cotton
Main fabric : 100.0% Cotton Pocket : 65.0% Polyester (PES), Pocket : 35.0% Cotton
Main fabric : 100.0% Cotton Pocket : 65.0% Polyester (PES), Pocket : 35.0% Cotton
Main fabric : 100.0% Cotton Pocket : 65.0% Polyester (PES), Pocket : 35.0% Cotton
Main fabric : 100.0% Cotton Pocket : 65.0% Polyester (PES), Pocket : 35.0% Cotton
Main fabric : 100.0% Cotton Pocket : 65.0% Polyester (PES), Pocket : 35.0% Cotton
Main fabric : 100.0% Cotton Pocket : 65.0% Polyester (PES), Pocket : 35.0% Cotton
Main fabric : 100.0% Cotton Pocket : 65.0% Polyester (PES), Pocket : 35.0% Cotton
Main fabric : 100.0% Cotton Pocket : 65.0% Polyester (PES), Pocket : 35.0% Cotton
Main fabric : 100.0% Cotton Pocket : 65.0% Polyester (PES), Pocket : 35.0% Cotton
Main fabric : 100.0% Cotton Pocket : 65.0% Polyester (PES), Pocket : 35.0% Cotton
Main fabric : 100.0% Cotton Pocket : 65.0% Polyester (PES), Pocket : 35.0% Cotton
Main fabric : 100.0% Cotton Pocket : 65.0% Polyester (PES), Pocket : 35.0% Cotton
Main fabric : 100.0% Cotton Pocket : 65.0% Polyester (PES), Pocket : 35.0% Cotton
Main fabric : 100.0% Cotton Pocket : 65.0% Polyester (PES), Pocket : 35.0% Cotton
Main fabric : 100.0% Cotton Pocket : 65.0% Polyester (PES), Pocket : 35.0% Cotton
Main fabric : 100.0% Cotton Pocket : 65.0% Polyester (PES), Pocket : 35.0% Cotton
Main fabric : 100.0% Cotton Pocket : 65.0% Polyester (PES), Pocket : 35.0% Cotton
Main fabric : 100.0% Cotton Pocket : 65.0% Polyester (PES), Pocket : 35.0% Cotton
Main fabric : 100.0% Cotton Pocket : 65.0% Polyester (PES), Pocket : 35.0% Cotton
Main fabric : 100.0% Cotton Pocket : 65.0% Polyester (PES), Pocket : 35.0% Cotton
Main fabric : 100.0% Cotton Pocket : 65.0% Polyester (PES), Pocket : 35.0% Cotton
Main fabric : 100.0% Cotton Pocket : 65.0% Polyester (PES), Pocket : 35.0% Cotton
Main fabric : 100.0% Cotton Pocket : 65.0% Polyester (PES), Pocket : 35.0% Cotton
Main fabric : 100.0% Cotton Pocket : 65.0% Polyester (PES), Pocket : 35.0% Cotton
Main fabric : 100.0% Cotton Pocket : 65.0% Polyester (PES), Pocket : 35.0% Cotton
Main fabric : 100.0% Cotton Pocket : 65.0% Polyester (PES), Pocket : 35.0% Cotton
Main fabric : 100.0% Cotton Pocket : 65.0% Polyester (PES), Pocket : 35.0% Cotton
product.InfoConceptTechnology.maintenancePicture.label

Machine wash - 40° max - gentle

Do not bleach

Tumble dry - low heat

Iron - Maximum temperature of 150°C

Do not dry-clean