BOYS' FREE 500 YELLOW SKI/SNOWBOARD TROUSERS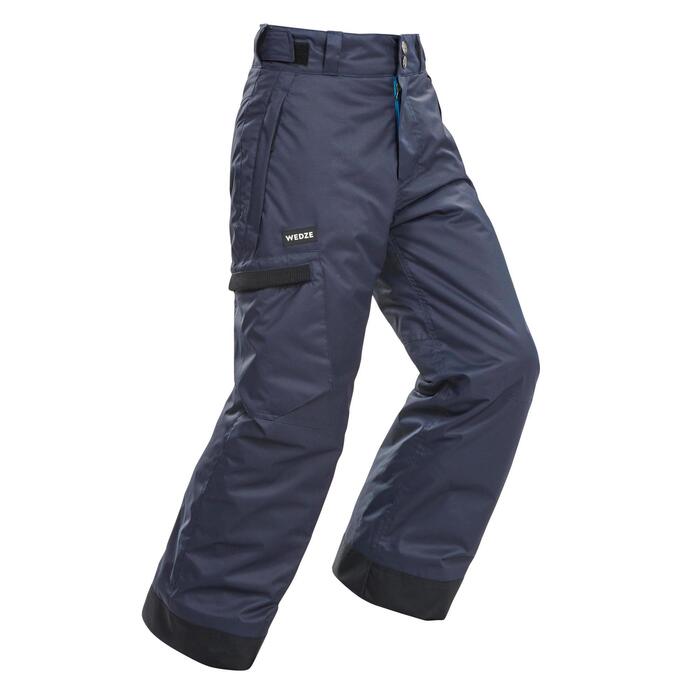 Trousers - Evaluation of the entire life cycle of the product, its impact on the environment, including climate change and the depletion of natural resources.
Know more
Boys' Skiing and Snowboarding Trousers SNB PA 500 - Dark Blue
We developed these snowboarding (and skiing) trousers to keep you warm and dry in the winter, for up to 3 weeks/year on all terrain.
As well as being warm, waterproof and breathable, the trousers provide 2 handy features for snowboarding:foam on the knees (comfort) + thicker wadding under the buttocks (warmth)Only for code 8556557.
---
Color : DARK BLUE/Turquoise blue
Size
6 Years Online stock 0
8 Years Online stock 0
10 Years Online stock 0
12 Years Online stock 0
14 Years Online stock 0
Size small (100%)
100 %
of users say this fits Small
Our customers evaluate the size
Delivery :
---
FREE delivery to Pick-up Points for orders above $299
FREE Next Day Home Delivery for orders above $499
Add $80 for Same Day Delivery
Pick up in-store
Service not available
Stores located in Hong Kong Island

Select your location
Causeway Bay
Central
Kowloon Bay
Mong Kok
Tseung Kwan O
Delivery
Select Your Location
FREE for orders above HKD499
Currently not available online. Click to check the stock in stores. Check stock in stores !
Our Stores
Notify me
Your request has been registered
You will receive a notification at :
Please validate the captcha
Similar Products
WEDZE
SKIING SALOPETTES FREERIDE 900 with Built-In Back Protector BIB PROTECT - PINK
Size Guide
WEDZE
SKIING SALOPETTES FREERIDE 900 with Built-In Back Protector BIB PROTECT - PINK
Products benefits
Warmth
Recycled 100 g/sqm wadding. Brushed knit lining (softness and warmth). Warmseat.
Waterproof
Waterproof (5000 mm coating). Sealed buttock seams.
User comfort
Kneepad: removable foam for comfort when kneeling in the snow.
Durability
Component resistant to abrasion and tears.
Freedom of movement
Good freedom of movement, even with protective shorts.
Breathability
Breathable component that facilitates perspiration wicking (RET = 11.1).
Adjustable
Lock&Walk system lets you raise the bottom of the trousers. Adjustable waist.
Pockets
3 pockets: 2 hand, 1 cargo
Warmseat
From the top of the trousers to the middle of the thigh, we have added wadding with 54% better thermal insulation than standard wadding.
The idea is simple: when snowboarding, you're still quite often sitting on your bum. For this waiting time, we decided to increase the thermal insulation.
And it's very pleasant on the chairlifts too.
ONLY for dark grey trousers (model code 85566557).
Kneepad
For added comfort, we have added removable foam to the knees.
Like for the warmseat, the idea is to make the waiting times when you're snowboarding more comfortable, when you're kneeling down.
This layer of comfort also provides insulation from the cold.
ONLY for dark grey trousers (model code 85566557).
How does my product warranty work?
This product is guaranteed for 2 years from the sale date indicated on the receipt. A product covered by the warranty will be repaired or exchanged free of charge. The warranty covers product defects, excluding those resulting from normal wear and tear and improper use.
How can I be sure that my trousers are strong and durable?
We guarantee our products for 2 years and will repair them using local professionals if you unfortunately damage them. Contact us on our website to find out more about what you need to do to have your product repaired.
We take particular care in choosing all the elements and assemblies that make up our products, so that they are as durable as possible for snowboarding use.
Can I compare products' environmental impact?
The product's environmental footprint is calculated over its entire lifespan using various indicators. A score is assigned, from A to E, to help you easily identify the most eco-friendly products by comparing similar type products. Decathlon is committed to this approach.
Find all our sustainable initiatives at http://developpement-durable.decathlon.com/
Can I be sure my trousers will properly protect me in bad weather?
To tackle bad weather (rain, snow, wind, etc), the trousers have been developed with a component and assembly that prevents water from getting in and reduces wind chill. To confirm waterproofing, this product was placed under a specially designed shower that reproduces the conditions encountered by a snowboarder in the field. Finally, we spent a few days snowboarding, in all conditions, to validate the waterproofing of the product.
Water often gets in through the seams. Do these trousers have waterproof seams?
In addition to the waterproof fabric, we reinforce the waterproofing of the trousers with taped seams. These are waterproof adhesive strips taped to the inside seams of the garment to make it perfectly watertight. These taped seams are present on the areas most exposed to snow (buttocks, hips).
What is the purpose of these trousers' water-repellent feature?
The water-repellent property of a fabric is its capacity to make water run off its surface without absorbing it thanks to a treatment applied to the outer surface of the fabric. The fabric does not soak up water and therefore remains lightweight and warm. This treatment must be renewed during the life of the product, after 2 to 3 washes on average, using the products available in our stores. All the waterproof trousers that we design for snowboarders are water-repellent.
"Coated" trousers: what are the advantages of this coating?
A breathable coating is a coating applied to a fabric in the form of a paste or liquid which creates a protective film. The breathable coating is a waterproof barrier that lets through water vapour produced by the body when snowboarding.
How do these trousers keep you warm?
To keep you warm, we use wadding insulation. Wadding is a synthetic component made from polyester which traps more or less air, depending on the length of the fibres. There are standard, technical and silicon-coated waddings that have distinct properties (warmth, light weight, elasticity...).
How should you dress to avoid feeling cold on the slopes?
In order to keep warm and dry, we recommend using the 3-layer rule. The principle is simple: wear 3 layers of clothing, which each have a specific function. Your undergarment must produce and retain warmth. Your hoodie or sweatshirt keeps you warm while the jacket protects you from the weather. All these layers should be breathable in order to evacuate humidity.
How do I look after my product?
To optimise the performance and durability of your product, we recommend: Machine wash separately at 30°C. Synthetic cycle. Turn the product inside out. Use a small amount of detergent. No softener. We recommend you wring it out by hand. Dry on a hanger in a warm, well-ventilated place. Do not dry clean. Do not place on a radiator. You can restore the water-resistance of the outer fabric using a fabric waterproofing spray. Read the labels carefully.
Product concept & technology
Product Composition
Padding 100% Polyester Lining 100% Polyester Main fabric 100% Polyester Foam 100% Ethylene Vinyl Acetate
Padding 100% Polyester Lining 100% Polyester Main fabric 100% Polyester Foam 100% Ethylene Vinyl Acetate
Padding 100% Polyester Lining 100% Polyester Main fabric 100% Polyester Foam 100% Ethylene Vinyl Acetate
Padding 100% Polyester Lining 100% Polyester Main fabric 100% Polyester Foam 100% Ethylene Vinyl Acetate
Padding 100% Polyester Lining 100% Polyester Main fabric 100% Polyester Foam 100% Ethylene Vinyl Acetate
Maintenance advice
Wash inside out. Wash with zip closed. Wash alone. Do not use fabric softener.
STORAGE ADVICE
Dry thoroughly before storing in a dry, well-ventilated place.
Legal Mentions
This product is designed for snowboarding (and skiing). If used otherwise, you may exceed the technical capacity of this product. We strongly recommend that you wear a helmet, back support and protective shorts to enjoy your snowboarding to the full.
PRODUCT MAINTENANCE

Machine wash - 30° max - gentle

Do not bleach

Tumble dry - low heat

Do not iron

Do not dry-clean