CAMPING/TREKKING ICE BOX COMPACT 10 LITRES BLUE
Product Code : 138152 8493847
Designed for hikers or campers who would like a soft ice box to keep their food and drink fresh for about 1/2 day.
Compact, it easily fits in a backpack accompanying you on your hikes.
---
Unique size Online stock 182
Home Delivery - :
Pick up in-store
Service not available
Home Delivery -
Select Your Location
FREE for orders above HKD499
This product is not available online. Check stock in stores !
Our Stores
pdm.privacy_policy_modal.title
Notify me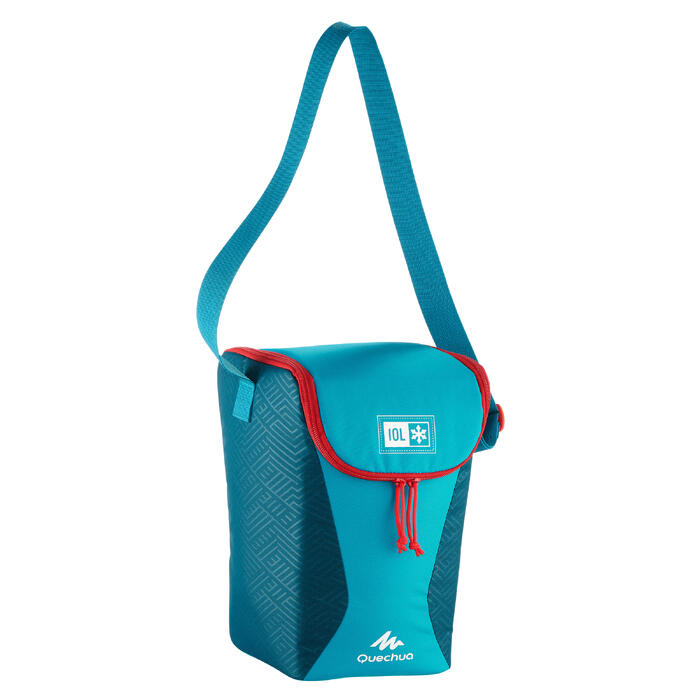 Your request has been registered
You will receive a notification at :
PRODUCT BENEFITS
Isothermal
Keeps food for 5h* without ice blocks *: EN 12546-2 certified test
Compact design
Simply fold to reduce size.
Carrying comfort
1-Adjustable strap. 2- Very light: 208 grams
Ease of use
1-Easy wide zip opening 2- compact size: 33 cm * 20 cm * 7 cm
TECHNICAL INFORMATION
SIZE
Dimensions folded: 33 cm x 20 cm x 7 cm
WATERPROOF
Be careful, this ice box is not waterproof.
Directions for use
To improve the thermal performance of the ice box, we recommend:
1- the use of 2 ice packs.
2- to leave the ice box in the shade
3- to open the ice box only when necessary and to close it quickly again.
PRODUCT CONCEPT & TECHNOLOGY
STORAGE ADVICE
Wash and dry before storing. Store in a clean and dry place.
User Restrictions
Not waterproof. Do not load with more than 4 kg.
Product Composition
"Foam : 100.0% Polyethylene (PE) Inner fabric : 100.0% Polyamide (PA) Main fabric : 100.0% Polyester (PES)"
USER REVIEWS
1 User recommends this product
HELLO
你們寫了: 這個冰袋並不防水 !
但是你們又寫了 : 為了改善冰袋的保溫效能建議使用2個保冰袋 ?

結果: 我測試出來, 放了你們1個 QUECHUA CHINA ICE PACK 後, 很快便發現在袋身外有濕透/出水問題了 !!

對用家來說, 問題會有以下:
1) 袋身濕透後比較困難放在身旁 ~
試問有誰希望把衣服給弄濕了 ? 又有凍冰冰的感覺 ?

2) 袋身濕了...相信也會影響冷凍效果吧 ?

3) 請問在袋身用料是否可以作出改善?
REMARKS: 我同時間也測試了 INSULATED COVER FOR HIKING FLASK
0.75 TO 1L (那款:122269) 並沒有發現袋身外有出水(濕透)問題!

謝謝!
More
Response from the Brand

你好 Angel,感謝你的回饋。

對於你不愉快的體驗,我們深感抱歉。

其實此冰袋並沒有提供防水的功能,若果你需要於行走期間便用它,我們不建議你放ICE PACK於冰袋當中,因為漏水有機會是溫差造成的,現在香港的氣溫炎熱,溫差影響ICE PACK出水及冰袋的漏水問題。

而它的保溫功能可達約五個小時,你可以需要時才開啟,以防止保溫功能失效,我們建議你多用一個袋子放於袋身外面,以加強保溫功能。

很抱歉造成你的不便,我們會與製作團隊討論,以研究完善產品。

再一次感謝你的支持。

Vanessa
More